Friday the 13th - Body Count 8-10
Don't be afraid! This horror movie porn film really is more erotic than it is scary. In fact, there's no reason to be scared at all. Though I don't foresee myself enjoying it much in the future myself, it could really work for someone who enjoys horror spoofs and hetero sex complete with the obligatory manual, oral, and PIV sex positions.

And if you're wondering why there's a range in the body count, you might just have to see the film and decide for yourself!
Published:
Pros:
Humorous and Not Scary, Decent Acting, Amazing Setting, Some Arousing Sex Scenes
Cons:
Inconsistent Music, Predictable Sex, No Variety in Body Types, No Character Development
So this porn is, obviously, a parody of Friday the 13th. Yeah, I was scared to watch it at first because I had no idea what to expect. But I assure the nervous out there that this porn will not undo the arousal of the sex scenes with actual horror. So then, without something actually frightening how do they get away with a horror movie parody? Well the plot is that Jason has flesh eating jizz. I know what you must be thinking. "What?! Flesh eating jizz?"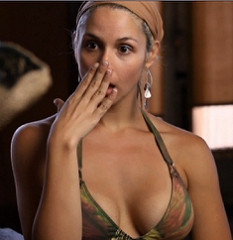 This is one of the character's faces when she first heard the legend too (which, by the way, is a hilarious scene). Yup, flesh eating jizz. And not only that but the effects for it in the film is humorously thick and in very large amounts. I felt confident that they must be using vanilla pudding, hair conditioner, or something to that effect. So, you see, there's nothing to be afraid of. Though I won't promise that's how all the characters "die". But I do promise that it's nothing to be squeamish over.
The Sex Scenes
So here's the quick synopsis of the five sex scenes:
1. The first is random! No concrete explanation of who these two are or why they're there. It just skips straight to "they're gonna have sex now". There was also a lot of bugs flying around that not only distracted me but worried me for their sanitation. And there was WAY too much spitting for my liking. I gagged a bit. But hey, it could be someone else's thing. Another interesting tidbit is the attempt at incorporating some light dominance/submissive play (aka D/s). But it was a humorous attempt at best as the dominant one merely stated, "ok, you can do that" every time the supposed submissive one did something new. This is also the only scene that engages in anal sex.
2. The second sex scene is at least with characters that have been introduced to the viewer but my issue with them is that they're doing everything the first couple did almost to the tee. Thankfully there's less talking and less spitting.
3. The third is a flashback scene with
really
unexplained characters. But it's important to the plot line and you'll probably guess why when/if you watch the scene. And just like the second pairing, they cover all the bases of manual, oral, and vaginal penetrative sex.
4. The fourth is a threesome (two women and one man) which is a detour from the typical of the porn so far. Again these characters are poorly explained. In fact, they're drinking and playing board games through most of the movie. But this is the only homosexual action that happens in the movie.
5. The fifth scene is back to two of the characters we met at the beginning of the film. We watch as they engage in their victory sex which ironically might seal their doom according to their own theory that they're safe from harm as long as they don't have sex. The only other interesting detail of this scene is what the man comes into the room wearing before stripping naked. Seriously, what is that?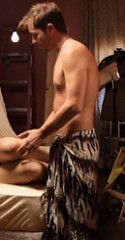 So the sex scenes aren't bad and aren't boring, but there's not a lot of variety. There's one case of anal sex, one of a threesome (which is also the only same-sex action), just about everyone is shaved down there (including the men), and there's almost no body type variety. So as long as what this film offers in terms of sex appeals to you, you're in luck! If not, hopefully you'll just enjoy the humorous spoofing to make up for it.
Plot/Cinematography/Soundtrack
I actually really like how they opened the film. They chose an amazing film location for the story and the background music for the most part was right on with the tone and rhythm. Even the music in the sex scenes weren't too cheesy. My only criticism in that area is that they opened sex scenes with music and the track would run out long before the scene was over. And once that song ended, the rest of the scene is silent. It was a little like stepping off a moving sidewalk and suddenly feeling awkward as you resettle into a slow pace.
Experience
Their cinematography was also pretty well done. There are even some parts of the film that they use fancy panning of the camera that adds a little art to this porn. Again though, there's a criticism. The splicing together of cuts during the sex scenes was a bit sloppy as we see them in one position in a first cut and then they move for the second cut and magically return to the first position for a third cut.

As for the plot, I think they did a good job with what they could glean from a horror movie inspiration. They made it as serious as it could be while keeping you focused on being turned on rather than scared. But above all, I love the comedy of the monster penis and that really is what helped me watch this porn and not get worried I'd be too scared to get through it. But the "climax" of the plot line is a bit, well, anti-climatic. But as long as you're watching it for the sex, that's not really an issue.

Cast

Sara Sloane
Tabitha Stevens
Ralph
Kris Slater
Asa Akira
Rocco Reed
Mark Wood
Brooklyn Lee
Brooke Lee Adams
Courtney Cummz
Mr. Pete
Cheyne Collins
Kagney Linn
Carlo

Miscellaneous Experience

I know this is rather random but I can't help myself. You order espresso from a barista and alcohol from a bartender, so which is Tabitha Stevens' character really? Whichever it is, I think she does an excellent job and is hilarious without even trying. I wish she played a larger role, even if it were just speaking, in the film.

And the somewhat main character says my absolute favorite line in the whole thing: "Horror movie mistake number seven: You don't go walking into a f*cking basement after a large crash." Though she may make hilariously exaggerated faces and seem like a ditsy blond, this is the smartest line in the whole porn film.
This product was provided free of charge to the reviewer. This review is in compliance with the FTC guidelines.

Thank you for viewing
Official Friday The 13th Parody
review page!