Different Strokes for Different Folks
If you like giving or receiving massages, but you or your partner's hands tend to get sore or tired, give the Contour M a try!
Published:
Pros:
Ergonomic
Great for self or partnered massage
Can be heated and cooled
Cons:
Slippery
Hard to tell how hard you are pressing!
My husband and I love massages. It is the best gift we give and receive. However, the act of massaging really hurts his hands and fingers. I bought the Contour M for the sole purpose of helping with that.
The M is a very smooth ceramic massage stone that can be heated in warm water (NOT the microwave!) or chilled in cold water for massage with the benefits that relaxing temperatures can bring. If you play with temperature, make sure you test it first so that you don't injure the receiver with a temperature that's too extreme.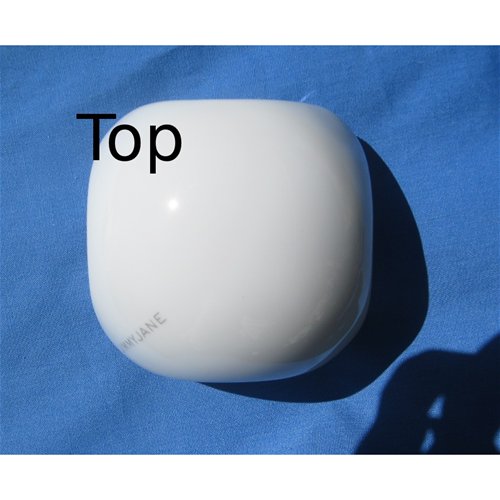 The Contour M is roughly 3 inches wide by 3 inches long by 2 inches deep. It has two sides that gives three distinct massage types. The large top dome is for long but shallow strokes, the four points on the bottom is for mulit-point massage, and the points can be used individually for deep, penetrating massage. Massages are best done with some sort of massage oil, but clean up of the M is easy. Just wash with some dish detergent, rinse, and dry.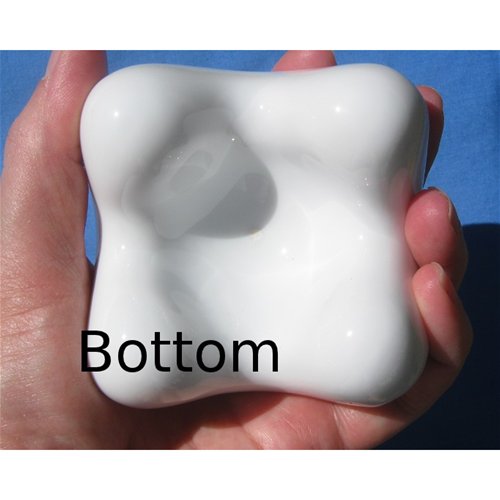 I was very surprised at the packaging. With JimmyJane being such a high-end company, I expected some really gorgeous packaging. What I got was a white cardboard box, printed on each side with some product information. The inside of the box is a strange pinkish-red, and has a white insert that contains the M along with a small instruction booklet. The insert acts as a sort of restrictive padding, keeping the M in place inside of the box. In short, the packaging works, it's not awful, but it's not what I was expecting. To be fair, this is more of a health and relaxation tool, not a sex toy, and the package reflects that.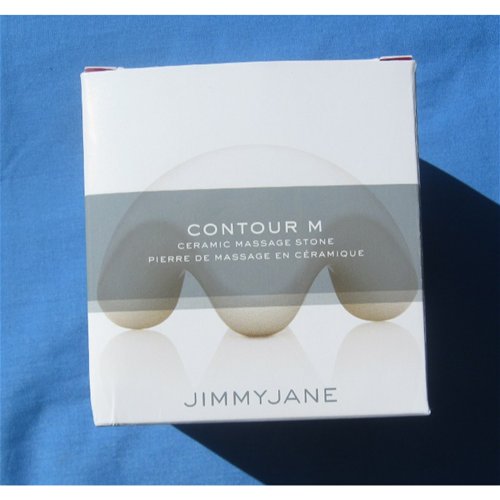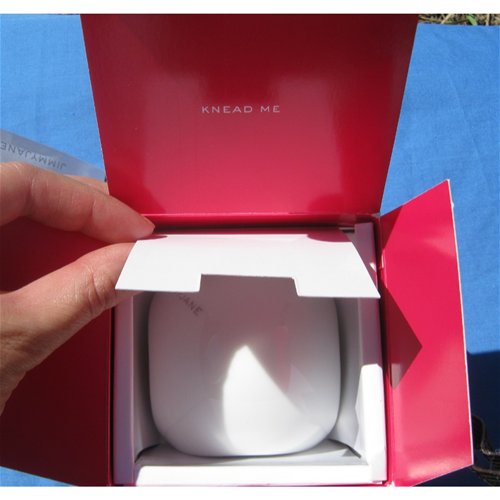 But you can get most of that information from the product page. What you want to know is how it feels. Well, my husband and I spent some time working with the M, using sweet almond oil scented with essential oils as our massage oil. We discovered that we like different points and strokes. He really likes the four-point massage with some of the one-point thrown in. He likes it mostly on his shoulders and back, and finds it to be different, but neither better nor worse than just using my hands on him. While using it on him, I found it fit very comfortably in my hand, and my fingers did not get tired using it.
When he used it on me, it was a different story. I found the four points to be much too intense. There was a lot of "Ow...Ow...OW!!!" on my part. The points felt almost sharp against me. The same sensation that he loved, I hated. However, I did like the more shallow massage that the dome top gives. It was much more comfortable and relaxing. He also reports that his hand does not get tired while using it.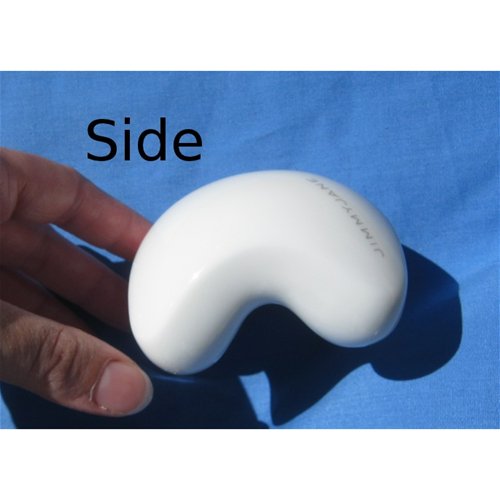 In the end, I loved this tool, but we did find two drawbacks. One, with it being so smooth, it is extremely slippery once massage oil is on it. We had to wipe it off a few times during our massages. This is somewhat concerning since it is ceramic and breakable if dropped. The other is that the same wonderful ergonomic fit it has in the hand also makes it very hard to tell just how hard you are pressing against the receiver of the massage, and it is very easy to push to hard.
Even with it's two drawbacks, I'm glad I bought it. It even comes in handy when I just need some me time, but don't have my husband handy. It's pretty, it's classy, it's relaxing. As long as you are aware of the issues it has, you should have no problem.
Follow-up commentary
2 months after original review
I loved, loved, loved the Contour M, right until the end. One afternoon, I had used it on myself and left it on the bed. When my husband and I got into bed that night, I didn't see it, knocked it onto the floor, and heard it shatter. The good news is that the M is so great, I'll probably be replacing it. It is worth it.
This product was provided at a discounted price in exchange for an unbiased review. This review is in compliance with the FTC guidelines.

Thank you for viewing
Contour M
– sex toy review page!