Knead Me all Over
This is a great massager and a great gift. Appropriate for all. It has a simple but elegant design and it works wonderfully, gliding across your skin and my bumm. I would say that everyone needs one of these. You can use it with your massage candles, oils, or lotions.
Published:
Pros:
Glide across your skin
Can be warmed
Can be cooled
Works with all lotions or oils
Cons:
NONE
The Contour M by JimmyJane
The contour M is actually a porcelain massage stone. It can be used in many different ways to knead out the knots in your back, shoulders, arms, legs and my favorite, my butt. You can use it on yourself or use it for some romantic massages with your partner. I have always loved to have my butt rubbed and I love it when my husband uses the broader part when massaging my butt. It actually puts me to sleep. The Contour M is very versatile you can use just one of the numbs for more of a pinpoint type of action. You can use the 4 numbs all at once or you can flip it over and use the larger surface area on your butt.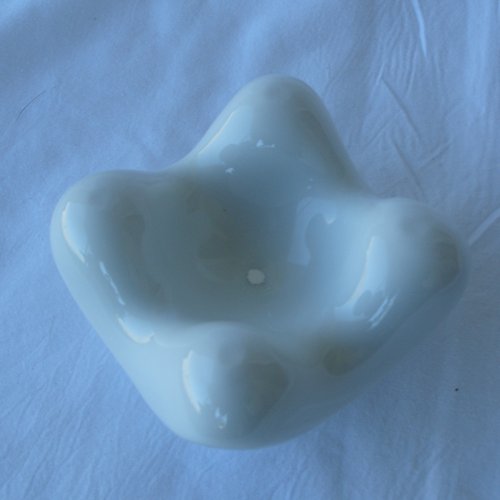 The Contour M is made from a double fired porcelain. It is smooth and has no textures. It has an Eden safety rating of 9. It is highly resistant to thermal shock and it can warm it up in some hot water or put it in the fridge to cool it down. Be sure to check the temperature on you inner wrist to that you don't get burned.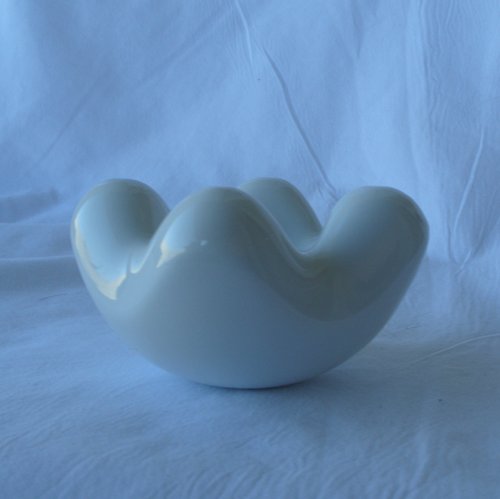 You can use the Contour M with any types of lubricants, lotions, massage oils and even your massage candles. It cleans up easily, just like any of your ceramic food products. You can bleach it, throw it in the dishwasher, boil it. You can use antibacterial soaps and water, toy sprays or wipes. If you use it with the massage candle wax you may need to scrape it off with your finger nails if it dries. Be very careful not to drop the contour M because like all of your ceramics it can break or chip if you drop it on the tile floors.
Do not use it if it has chips of breaks in it because you can cause damage to the skin. As I am writing this I am sitting here using it on my upper arms and shoulder and it feels great. It glides across your skin nicely. There aren't any imperfections in the finish. It does have the JimmyJane logo on one of the corners. It looks very elegant and classy despite the fact that there isn't any embellishments on it.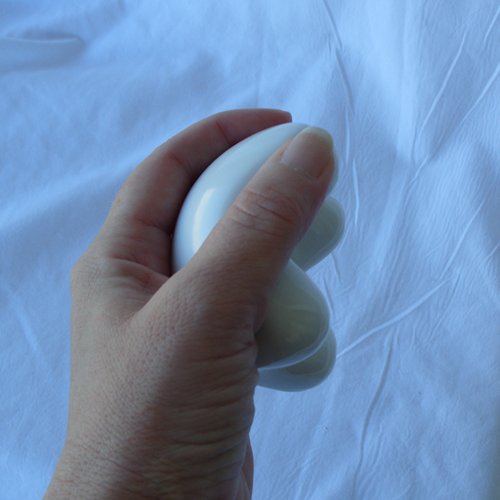 The Contour M fits nicely in the palm of my hand. It is 4 ¾ inches from one middle area to the other. It has the 4 numbs that stick out approximately ½ inch off of the main body. It honestly fits nicely in your hand no matter which way that you use it.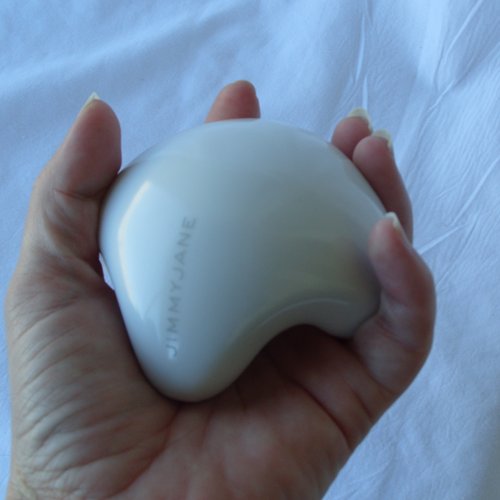 The packaging is simple but nice, the box has a picture of the contour M on it and it is white and grey, when you open the box in pink inside has white writing on it that says
"KNEAD ME"
The contour is padded in white cardboard and has a product information pamphlet with it.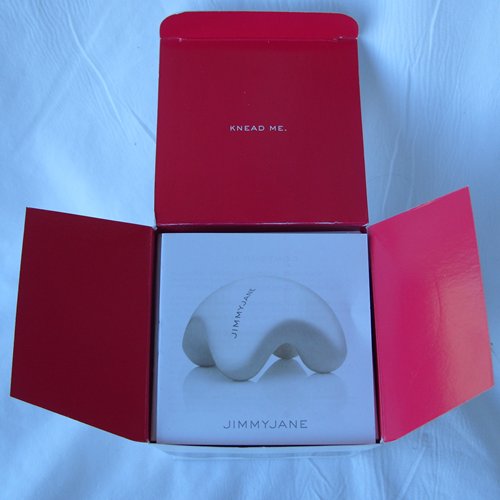 I have used this several times with my husband and he has used it on me and I have used it on myself. I really love it. It lives on my night stand and it has no special storage issues. You can put it anywhere as long as it wont get knocked onto the floor and broken.
I am very impressed and I do believe that some of my friends will be receiving this one as a gift. The packaging is great, it doesn't look anything like a sex type of toy and it works great.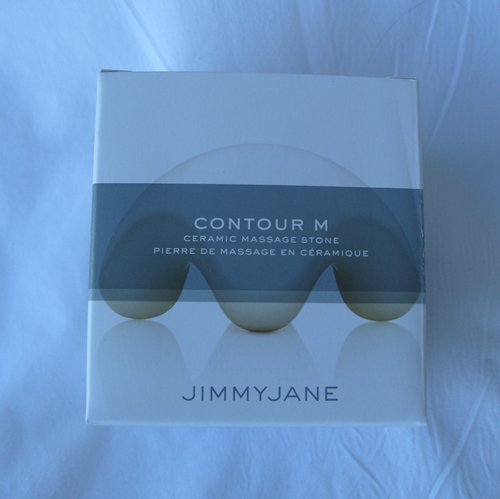 When it is warmed up or used with the massage candle wax, the effect is so relaxing and it can be used for deeper massages as well as lighter. I didn't feel like I was being hurt when it was used on me.
Follow-up commentary
3 months after original review
I love this one for when we are lying in bed getting cozy. Great for foreplay and just some good old back rubs. It works great to get the knots out of the back.
This content is the opinion of the submitting contributor and is not endorsed by EdenFantasys.com

Thank you for viewing
Contour M
– massager review page!