I Knead You!
Contour M is a great product to have on hand to help soothe sore muscles and create an intimate experience with your partner. Its ergonomic shape makes it comfortable to use and the design makes it an all-in-one type of tool. Add in its great ability to hold temperature, the fact that it's compatible with any massage oil/lotion, and how discreet it is; and you really couldn't ask for a better product!
Published:
Pros:
- Ergonomic
- Versatile
- Easy To Use
- Holds Temperature Well
- Compatible With All Lubes/Oils
Cons:
- None
Use/Design
Contour M from Jimmyjane is a ceramic massage stone that's ergonomic and easy to use. This versatile massage aid can be used on your own, but is a little more limited since there are obvious areas of that body that would be hard to reach without assistance. When using with a partner, the sky is the limit! Whether you're trying to help soothe sore muscles or are paving the way to an erotic and sexy evening, this great tool is sure to please!
The design of this toy is what really sets it apart from other massage aids. No matter what kind of pain you're experiencing or what kind of pleasure you're hoping to provide to your partner, this is the one to grab! There are three obvious ways that this stone can be used: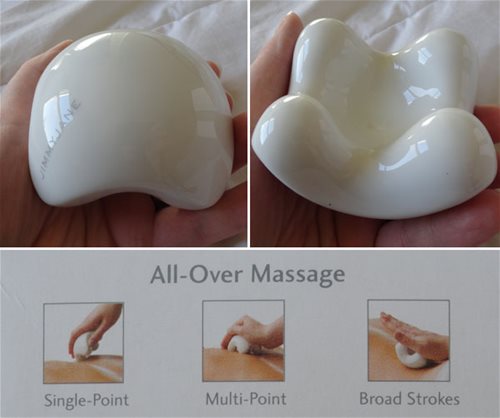 Broad Stimulation
- The smooth, curved area of the top is great for providing a lighter, broad massage. Great for the back and larger areas of the body. Hold the stone with the four base pieces up and the rounded top directly against the skin. It's best for starting the massage, cooling down from it, and for providing a lighter massage in general. This is perhaps the best way to use it if you're sharing a sexy evening together.
Multi-Point Stimulation
- The four base pieces are designed to provide a deeper massage than the flat top which is used for broad stimulation. Holding the stone with the rounded top against the palm of your hand feels much more natural and is easy to use. With all four points coming in contact with the body, this way of using the stone is great for sore muscles on larger areas of the body.
Single-Point Stimulation
- The deepest massage you can get from this stone is by using only one base piece at a time. With the rounded area still against your fingers/hand and only one area of the stone against your body, this is great for a more pin-point, focused massage. This is great for smaller areas of the body; tight muscles in your shoulders, feet, etc.
Always make sure you're communicating well with your partner, whether you're the one giving the massage or receiving. You don't want to create discomfort, the point is to relax and soothe you. Start off with a lighter pressure and don't be afraid to ask your partner if it's enough or what would work best for them. Also, don't be afraid to speak up if you're experiencing discomfort at the hands of your partner. It's better to speak up and enjoy your massage, than keep silent and be in pain.
To make this massage aid even better, you can also heat it up or cool it off depending on the sensation you're going for. Having a warm stone pressed against your body can be very relaxing and heat is great for sore muscles. In order to change the temperature of the stone, certain things are acceptable and certain things aren't.
For heating
- Carefully place the stone in a sink or bowl full of warm water. After about 5-10 minutes there should be a noticeable difference in the temperature of the stone. Always make sure you test the temperature before placing it against your partner's body. You want the stone to be warm, not hot. This is the best way to heat it up.
Never
heat this in the microwave since it could heat unevenly, causing you or your partner to get burned by the stone.
For cooling
- You can also place this product in a sink or bowl of ice water to really create an interesting sensation, but you can also put it in the refrigerator ahead of time and have it ready for when you are. There isn't much of a concern about it being too cold other than it causing your partner to tense up rather than relax. This stone
should not
be cooled off in the freezer since that
could
cause injury as well, though less likely.
This material holds its temperature quite well. There are several factors that contribute to how long the temperature lasts, but keeping a bowl of ice water or warm water next to where you're massaging can be helpful once you notice the temperature changing.
Material/Texture/Size
Contour M is made out of
ceramic
which has an Eden safety rating of 9/10. This great material is made from food-grade material, is hypo-allergenic, non-porous, and is latex and phthalates free.
Experience
(continued..)
This stone is nice and smooth and the only texture to speak of is the company name shallowly etched into one side of the top. It's not obvious in use but can lightly be felt with your fingers. The smooth design of it is great since it glides easily over the body. There's no drag to the surface, no concerns about lint or dust, and is stimulating while remaining very simple. The whole massage aid is very firm and has no moving parts to it.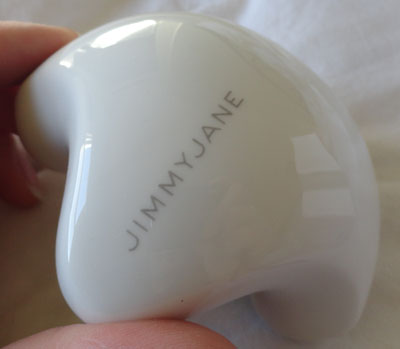 The size is compact, which is also another great quality of the product. It's non-threatening and fits easily in the palm of your hand. Because it's a smaller size, it can easily be taken with you on the go. It would fit inside a purse, backpack, briefcase, etc. and wouldn't be embarrassing if you were caught flying with it. It's very discreet and nothing about it makes it obvious that it came from a sex toy shop unless you're familiar with the company name. I would suggest putting it inside a pouch first since you don't want the surface to become scratched or for something to damage the toy. It is ceramic which means that it
could
break if not handled properly.
Care/Maintenance
This non-porous product can be used with any lubricant type or massage oil/lotion. You can feel safe busting out your favorite oil without concern since it won't cause any damage to your stone. Just be careful when handling since the material can get pretty slippery.
After use, you can clean it with dish soap (Dawn works really well) and warm water and can dry it with a non-abrasive towel or can leave it out to air dry. Storing this stone in the original box is fine, but a small toy pouch would also work well, especially one that's padded. If this is something you use often, there's no concern about leaving it out either. The discreet design will prevent people from raising their eyebrows at the sight of it.
Packaging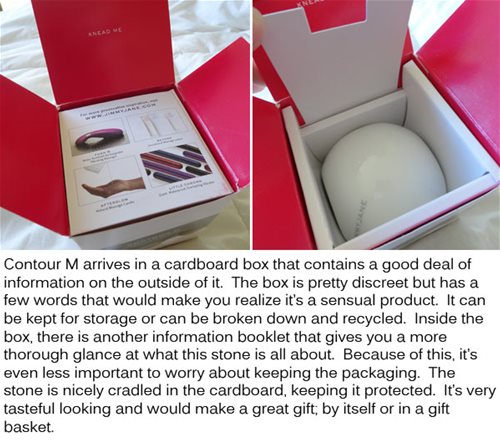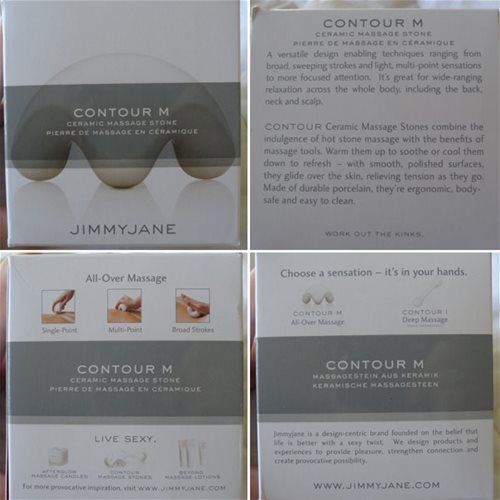 Experience
This massage aid is really great because of its versatility. That being said, you do need to be careful that too much pressure isn't applied. Even when I tried it first on myself, I was a little too aggressive and it caused a little discomfort. As long as you take it slow and easy, it should be fine. Being on the giving end, this toy is easy to use and hold, and works great at soothing sore muscles when you're on the receiving end. I would highly recommend this item since it's not only a useful tool in general (without even being a sexual product), but it's a great product to add some intimacy to you sex life.
Personal Comments
Inside the information booklet there are several warnings, it's important to pay attention to and follow them in order to get the most out of this product.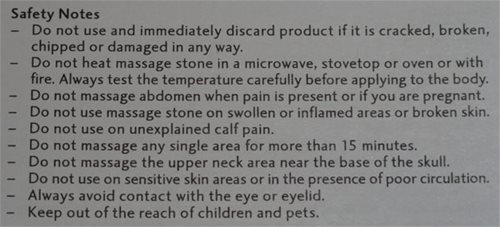 This content is the opinion of the submitting contributor and is not endorsed by EdenFantasys.com

Thank you for viewing
Contour M
– massager review page!