Work It Massager
The Contour M made by JimmyJane is a ceramic massage stone that combines the indulgence of hot stone massage with the benefits of a sensual massage. Made of durable porcelain, it's ergonomic, body-safe, and easy to clean. The stone is also good to get all your kinks out after a busy day. Warm it up to soothe or cool it down to refresh. Its smooth polished surface glides over the skin, relieving tension as you go.
Published:
Pros:
Stress Reliever
Versatile Massager
Lovely Design
Cons:
Doesn't Vibrate
Use
The lovely Contour M massager is provided to us by JimmyJane. Contour M is designed for versatility and this is a beautiful product intended to relax the whole body. You may use it solo on the parts that you can reach or to massage someone else. It may also be a magnificent and sensual item to get anyone in the mood. When giving a sexy massage, find out what's comfortable for your partner and pay close attention to the amount of pressure being applied. Unlike the Contour I, the Contour M is good for broader and shallower stimulation.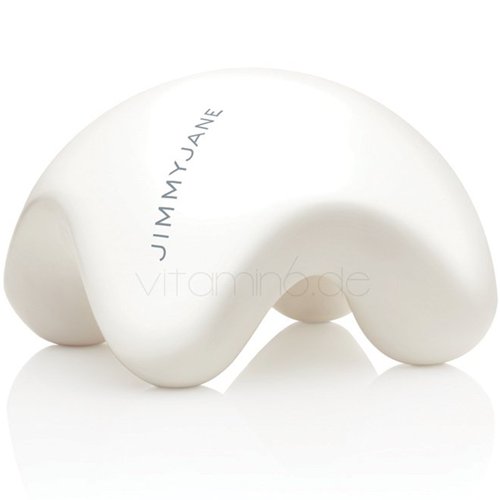 Material / Texture
The Contour M is made out of ceramic. The massage stone has a smooth polished surface that glides over the skin relieving tension as you massage. Ceramic is very safe since it rates a 9 on Eden's Material Safety Scale. This is also a non-porous material. Ceramic is usually made of double-fired porcelain which is biocompatible, durable, and easy to clean. This is considered of high strength, hardness, high durability and high resistance to thermal shock which means you can warm it or cool it according to your preferences. You'll be glad to know it's food-grade material, hypo-allergenic, latex free, and phthalates free.
Design / Shape / Size
The color of the massage stone is mainly white with a tint of gloss. As I'm reading the information it says that Jimmyjane is a design-centric brand founded on the belief that life is better with a sexy twist. These products are designed to provide pleasure, strengthen connection, and create provocative possibility. The design allows for different massage points either by single-point, multi-point, or just overall broad strokes. Its versatile design enables techniques ranging from broad, sweeping strokes and light, multi-point sensations to more focused attention.
Sizes:
Length:
3"
Width:
3"
Height:
2 1/4"
Performance
This particular massager is great to provide an all-over massage. The Contour M is just simply a ceramic massage stone. The information that comes with the stone says that Contour Ceramic Massage Stones offer a modern take on traditional hot stone massage. Use them individually, or pair the stones for different massage techniques. Warm them up to soothe, or cool them down to refresh. If you wish you may use it along with your favorite massage oil. You can use the four nubs all at once for direct pressure. For deep tissue massage just use one nub for a concentrated pressure. For a shallower and lighter massage use the curved side of the massage stone.
Temperature Play
You may heat Contour M by submerging it in warm water or by pouring a small amount of warm oil. Warmth is relaxing and encourages circulation. Cool Contour M in the refrigerator or by running under cold water. Cold is invigorating and refreshes the body. If you want to add to the experience use a lotion or oil that provides warming, cooling, or euphoric massage sensations.
Care and Maintenance
This is a non-porous item which makes it very easy to clean. After you've used it for massaging, just hand wash the massage stone with a very mild dish detergent. After that just rinse in warm water and hand dry with a soft towel. It may also be cleaned with warm soapy water. Do not use anything abrasive. If you must use with warming or cooling lube for added sensation try to use either silicone or water based lubes.
Packaging
This massage stone came in its own unique box with a picture of it in the front. It also comes with an information booklet in different languages. I really think this would be an ideal gift. You may use this unique box to store your massage stone in it or you can just toss it away like I did.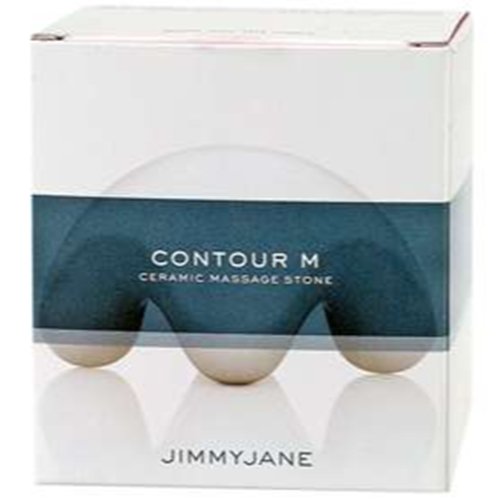 Most Important Key Safety Points
Don't use and immediately discard product if it's cracked, broken, chipped, or damaged in any way. Don't heat the massage stone in a microwave, stovetop, oven, or with fire. Always test the temperature carefully before applying to the body. Don't massage abdomen when pain is present or if you are pregnant. Don't massage any single area for more than 15 minutes. Don't massage the upper neck area near the base of the skull.
Experience
I'm impressed with this little gadget. It has all the qualities to provide a sensual massage. The best way to use it is with massage oils or to glide it over soft thin clothing. For kneading it's the bomb since it helps you work out all those smaller stress knots. It didn't feel awkward at all which was nice. I also didn't have trouble maneuvering it with my hand.
This product was provided at a discounted price in exchange for an unbiased review. This review is in compliance with the FTC guidelines.

Thank you for viewing
Contour M
– massager review page!