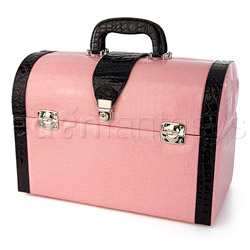 Devine playchest
Storage container
by DevineToys
What's Inside My Pink Box?
The Divine PlayChest is nice enough to sit by your bed in plain sight, yet provides locking security. It opens to clearly display its ample space for contents, which can be adjusted to accommodate fat toys and tall bottles. It is an excellent choice for someone interested in useful sex toy storage with the versatility to meet changing needs.
Published:
Pros:
A lovely case, high quality craftsmanship and excellent design.
Cons:
Steep, yet appropriate, price tag.
I'll echo the crowd - the Divine Playchest is a quality item. The construction is sound, the finish flawless, and the use of inner space optimally configured to allow an amazing variety of uses. Wanna store your entire, thirty item sex toy collection, even those tall lube bottles? No problem. Want a fabulous box to keep your stand up dildos lined up and on display for easy selection? No problem. Need to accommodate notoriously difficult to store toys like the Cone? No problem. Want to have a cute overnight bag? Why not...

Suffice to say, the Divine Playchest is exactly what it should be - a bag worth a cool hundred bucks that provides a storage option for sex toy collections.

Now really, the question becomes one of overall worth - a hundred bucks is a lot to spend on any sex toy/item...and especially much to be spending on something with no orgasm potential. So while it's worth a hundred bucks, is it *really* worth that? I argue yes, because despite having a collection of toys that is a bit above and beyond the average, I can think of countless uses for the Playchest. For example, it's an excellent box for displaying stand-up dildos for easy selection - and it fits a crazy number of vibrators, even tough to store ones like the Cone. Heck, it can even accommodate a paddle or two, making it a super cute bag to use as a toy bag for a night on the town or as a suitcase for a weekend away. And of course, it should be able to accommodate a moderate sex toy (and etc.) collection - including tall bottles and long dildos. No other sex toy storage case can do that with such ease and grace.

Now the case's usefulness is perhaps limited by its cuteness. It's the sort of thing that attracts attention, that gets your friends asking and your mom nosing. It's not exactly discreet, and it's also not exactly stack-able or easily stash-able - it is tall with a rounded top. So, give it a pass if you are concerned about nosy folks. Oh, sure, there are locks - and they work great. But there could still be questions.

All in all, however, the Divine PlayChest is really the perfect choice for someone looking for long term sex toy storage with style. Think of it as an addition to your luggage...
This product was provided at a discounted price in exchange for an unbiased review. This review is in compliance with the FTC guidelines.
Thank you for viewing
Devine playchest
– storage container review page!