Definitely Thicker Than Usual Lubes
This is a fabulously natural feeling, water-based lube. It has a thicker consistency for anal play, although I only used it vaginally & on my clitoris. The minimal, vegan ingredients are hypoallergenic and safe for all toy materials. I recommend anyone interested in trying a water-based Sliquid lube try this one. Unfortunately, I had a reaction to it, but I have an incredibly sensitive system & I don't think most people would have any problems with it!
Published:
Pros:
hypoallergenic, water-based, so it's safe for all toy materials, non-staining, thick
Cons:
scent can be bothersome for sensitive people, becomes a little tacky as dries
I was excited to find a water-based lube that was thicker than the usual Sliquid choices. I dislike having lube running and getting all over me & the bed. I gravitated to Sliquid products because I have chemical sensitivities & they have the following on every bottle, "Sliquid Promise: Our products are always FREE of DEA, gluten. glycerine, glycerol, parabens, PEG, propylene glycol, sorbitol, & sulphates...100% Vegan Friendly", as well as having this slogan, "Created by sensitive women, for sensible women." Now that sounded like a company for me! After reading all the reviews I could find, I was even more sure I wanted to try this very popular line and especially this thicker formula!
I was surprised at first when unwrapping the bottle as it didn't say Sassy Booty on the front, rather it just has a large sized "Sliquid", followed by "natural lubricating gel" beneath that & then then "Sassy" under both, in fancy script. The bottle is clear with a hot pink label, with white letters & graphics on it. They are also a few images of their logo, a lotus flower with the Venus female gender symbol, ♀ ,in the center.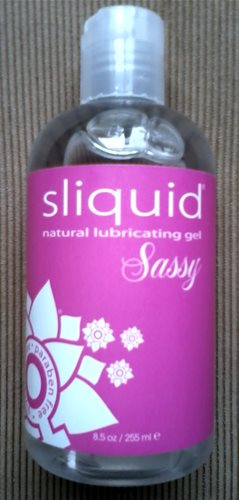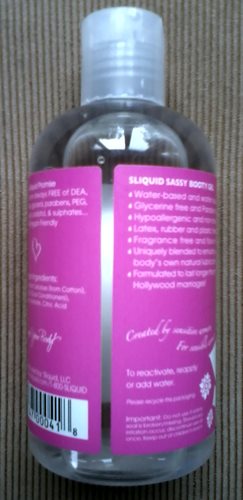 As you can see, the bottle doesn't scream sex product in any way & it's not until the small print on back that you see "sassy booty gel", but still no mention of sex or anal. It's about as discreet as it can get while still providing information. As a matter of fact, it looks very much like a bottle of bath gel, or shampoo. I can easily see someone thinking it is a lubricant for flat ironing your hair!(Keep that in mind if you need a cover story.)
Here are the minimal ingredients, which happen to be latex & rubber safe, as well as safe for all toy materials:
Purified Water, Plant Cellulose(from Cotton), Cyamopsis(Guar Conditioners), Potassium Sorbate, Citric Acid
The Plant Cellulose from Cotton is used for thickening & emulsifying, which means it helps keep the ingredients all blended together so they don't separate into different layers requiring you to remix before every use. The Cyamopsis(Guar Conditioners) is used to thicken & condition, while Potassium Sorbate is a preservative that inhibits the growth of micro organisms, (but it doesn't kill them). Finally, Citric Acid is used to adjust the pH level which means it brings the product to the desired acidity for safe use on the skin, as well as contributing some preservative effects.
The product itself is actually not entirely clear, it's slightly cloudy. I try to show that in the following picture: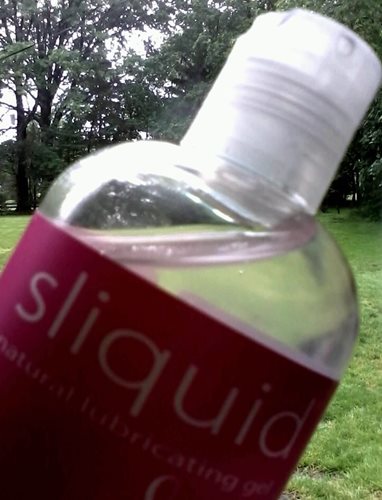 The consistency is slightly thick, like a liquid hand soap, dish washing soap, or hand sanitizer, (non-gel type). It did not have a taste to me, but I did sense the smell while tasting it. The scent is a slightly sweet, herbal smell, with a little fruity note to it. This is purely from the natural aroma of the ingredients, as it has no added fragrance or flavors. It squeezes out easily from the flip top bottle into drops that remain in place for quite a while before "melting" a little with your body heat. Here is a picture of a pea sized drop on my palm after almost 60 seconds. It took that long before it ran this amount which is much better than my regular water-based lubes: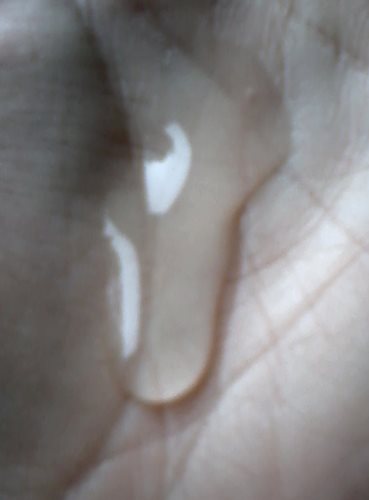 They claim on the label that Sassy Booty is, "Uniquely blended to emulate your body's own natural lubrication" and I find this to be mostly true. It feels wet & natural until it starts to dry out at which time it gets a little tacky. I was able to revive it by adding a little water on my fingers, or adding more of the lube. I find it is far less likely to dry up if it is internal, but externally it dries pretty quickly. I had to laugh when reading on the label that it was, "Formulated to last longer than most Hollywood marriages!" I suppose this also has to do with how much natural lubrication you make because that would add to it & increase the life of it. However, I can only speculate about how well it lasts if used anally & recommend reading another review such as this one
by Trysexual
.
Experience
When first applying this lube, I was originally willing to overlook the slightly fruity, herbal smell. Most people report not finding it strong, but I find it bothersome that the scent lingers until washed off. I find it feels very much like natural moisture when applied & was very pleased with the consistency that stayed where I put it & then even began to melt a little with my body heat, so it felt even more natural. However, after about 15 minutes of external use on my vulva, using my fingers, it began to dry & get tacky, but not stringy & it didn't form little balls or flakes. I next tried it internally with some toys & found, after several minutes, that I began to itch & burn. By the time I got to the bathroom to wash it off, it was pretty bad, but it easily rinsed off with water, thank goodness. I still recommend this to everyone looking for a water-based lube, but had to take off one star due to my reaction to it. Apparently, I have found another lube I can't use & the hunt continues for a compatible one for me, as well as my toys!
Follow-up commentary
8 days after original review
Everything about this water-based lube would be perfect for me, except that I had a negative reaction to some ingredients! It is nice and thick, which is something I have been searching for. The naturally fruity/flowery smell of the ingredients is easily enough overlooked by me and I am very sensitive to smells. Would I rather it not be there? Absolutely, but other than disliking it, I did not get sick from smelling it and that is a relief. Eventually, I will find out exactly what ingredients are causing my problems and then find a water-based lubricant I can enjoy using! Unfortunately, this was not the one for me, although I think it is likely a wonderful choice for most. So, if you want a body-safe, thicker, water-based lube, I highly recommend trying this one!
This content is the opinion of the submitting contributor and is not endorsed by EdenFantasys.com

Thank you for viewing
Sassy
– gel review page!