In orbit, but not out of this world
Astroglide was created by a happy accident, and it's a pretty remarkable find. This lube has a very smooth feel and I love that it also moisturizes my vagina. Not great for extended use, since it has a tendency to get tacky.
Published:
Pros:
Compatible with toys/condoms, moisturizes as well as lubricates, very little smell, easy clean-up
Cons:
Gets tacky during use
Astroglide is one of the most commonly used lubes, and most grocery stores even carry it. It has an interesting history. It was discovered by two chemists while working on the cooling system of a space shuttle. That's where the name comes from!
INGREDIENTS
The ingredients to this lube are as follows: Purified Water,
Glycerin
,
Propylene Glycol
,
Hydroxyethylcellulose
,
Aspartame
,
Methylparaben
,
Sodium Benzoate
. None of these ingredients seem to carry any risk for cancer or any other kind of serious harm, but one of them may be a mild eye irritant and others may cause allergic reactions for sensitive users.
USES
I've used this lube many times during intercourse and solo play. I first bought it because it's easily available and the packaging was appealing. It has a very smooth feel when first applied that feels great. It's not so slick that it reduces the sensations felt, unless you apply too much. The only problem I have with this product is that it gets tacky after about 20 minutes of use. The consistency turns to something resembling Elmer's glue, and it also turns white, like Elmer's glue. If you try to fix the problem by applying more lube, that just turns tacky as well. I've only experienced this problem during vaginal use, not anal. Perhaps it just has to do with the mixing of fluids. The only other lubes I've used were random free samples, and I've had the same problem with most of these lubes, except for a free sample of the
Lelo Personal Moisturizer
, which was wonderful except for the bitter smell.
I tend to only buy silicone toys, which are usually somewhat plush, non-porous, and have a slight drag to the surface which requires some lubrication for comfortable use for me. This lube works just fine with this kind of toy, and it washes off easily, even from the super-textured toys I prefer. The only toy I've had trouble washing this off of were the
Mantric Pleasure Beads
, which have an unusually sticky surface.
This lube is water-based, and is compatible with most toys and condoms. It will not work for shower sex, since it washes off with water. Astroglide also makes a
silicone version
that would be suitable for this use, although not for use with silicone toys.
One of the things I love about this lube is that it moisturizes my vagina as well as lubricating it. I've never had a bad reaction from this lubricant, but if you are sensitive, you may want to try the
glycerin and paraben free version
which is also water-based and safe with toy/condoms.
PACKAGING
The bottle it comes in does not leak in my experience, and it's easy to squirt out the right amount. It's also clear, so you can tell how much is left. It bears the famous purple logo. Here is a picture: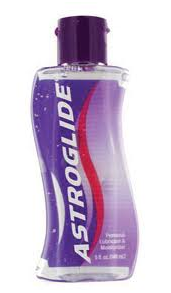 CLEAN-UP
Clean-up is easy; like all water-based lubes, it washes away with water. It's clear. If it gets on fabric, you can rinse the fabric or throw it in the washer if that's an option and there won't be a stain. I wouldn't recommend using it during oral sex, since it tastes pretty awful. The smell is not strong, and it's not unpleasant either. If I had to describe the smell, I would say ...
clean
?
CONCLUSION
This lube works very well for anal use, but it has a bad tendency to get tacky during vaginal use. I personally prefer the Lelo lube which is linked up above, despite the smell, but Astroglide has the advantage of being easily available, which the Lelo lube is not.
This content is the opinion of the submitting contributor and is not endorsed by EdenFantasys.com

Thank you for viewing
Astroglide
– lubricant review page!