Sassy, Slather it up!
When you need a thicker water based lube, This is my new go to. It is odorless and Tasteless. Made from 100% Vegan ingredients and non of the nasty stuff. Most important to me, NOT STICKY. No residue after use.
Published:
Pros:
Thick formula
Clear bottle
Glycerin and Paraben free
Won't stain your sheets
NOT STICKY!!!
Cons:
None
Sassy booty, Sliquids version of anal lube, Thicker than their H20 version.
Use
Sassy is intended for anal play, but it is still usable for vaginal play too!! Sassy is made from natural ingredients. No parabens and no glycerin. Sassy is water based and safe to use with all types of materials, Latex, Plastic, rubber and of course our beloved Silicone toys. It is safe to use with condoms.
Texture/Consistency/Thickness/Viscosity
Thicker than their H20 version. It is also thicker in comparison to Medium density Jack aide and KY yours and mine. It does have a slightly thinner consistency than KY and Astroglide. These are my frames of reference. I have noticed that you don't need to use as much as you think you do. When I have used some of the other lubes for anal play I have always used more than I would for vaginal purposes. So when I went to slathering up the anal toys with sassy booty I used too much!!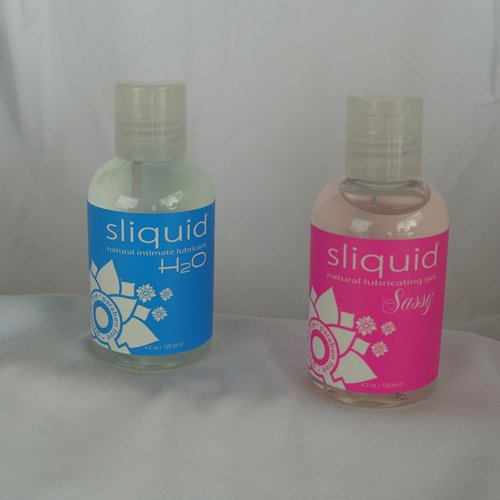 I have to say it because I am the queen of sticky, I hate sticky with a passion. Just can't deal with it and this formula is not sticky at all, it didn't even become tacky when I used it. It doesn't leave a residue when it dries, it just absorbs. Sassy seems to compliment and mix well with your natural lubrication.
Taste/Aroma
This lube is completely free of scent and taste. It just seems to have a gelatin type consistency when you
get it on your tongue.
All Vegan Ingredients
Water
Plant cellulose(from cotton)
Cyamopsis (Guar conditioners)
Potassium Sorbate
Citric Acid
This product doesn't contain any flavor additives and no desensitizing additives.
Sliquids claim to fame is that their lubricants do not contain any Parabens or Glycerin.
According to sliquid's web page, "Instead of using Glycerin they use a plant cellulose and add in Cyamposis, a hypoallergenic additive to help the plant cellulose glide."
Performance
It doesn't get sticky! I didn't have any issue with this lube drying out with my usage. I have heard others state in their reviews that they have to reapply most water based lubricants. According to Sliquids web site, water based lubricants dry out faster than silicone due to the fact that the water molecule is larger than the inert silicone molecule. When you notice your water based lubricants starting to dry rather than reapply. If youl keep a glass of ice water next to the bed you can simply run your hand on the sweat of the glass and touch your drying areas. This amount of water should be sufficient enough to reactivate your lube. I read that on the internet, I cannot take credit for it.
The Sassy also doesn't stain your sheets!!!!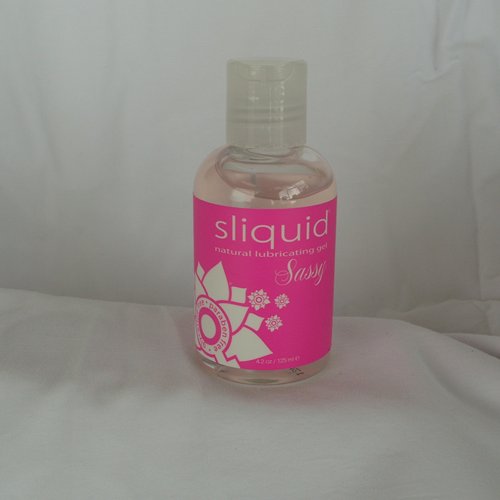 Packaging
Sassy comes in a 4.2 ounce clear bottle so that way you can see how much you have used or how much you have left(you need to know when it's time to reorder). It has a snap type cap allows you to squeeze out the amount you want. It is thick enough that when you release your squeeze the remaining lube on the cap area will suck back into the bottle. The label for sassy is a bright pink with white writing on it. It is harder for older eyes to read.(cough, cough) It does state that this formulated to last longer than most Hollywood marriages!
The bottle is small enough for travel, But not for carry on luggage at the airport. I would place it in a plastic bag so just in case it leaks. The bottle doesn't leak with regular usage.
Sliquid has a wonderful web site to see all of their products and compare them. They even have Lube 101.
I would suggest to take a peek at it. www.Sliquid.com.
Experience
One thing that I just noticed is that the ingredients that are listed on the product page aren't the same as listed on my bottle.
Follow-up commentary
3 months after original review
This is my go to for anal play!! I have to tell you that the bottle lasts forever!! I still have more than half the bottle left and I have been using it several times a week for months. Both myself and my husband use it. NO residue and no stickiness are a huge plus for me and this one never gets sticky!!! I would suggest any of the Sliquid products!!
This content is the opinion of the submitting contributor and is not endorsed by EdenFantasys.com

Thank you for viewing
Sassy
– gel review page!