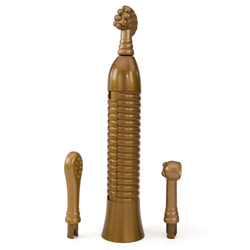 Eroscillator 2 plus
Oscillating massager
by Advanced response corp.
Didn't live up to the hype
While this toy wasn't a good one for me, it still is an extremely powerful and popular product. The eroscillator will never run out of power, has a long cord for extended use, and has multiple attachments for diverse sensation!
Published:
Pros:
Ever-lasting power, Long cord, No batteries! Great instruction manual. Multiple attachments
Cons:
Humming noise, Appearance, didn't work well for me. Price
This review has been hard for me to write. Although I like my eroscillator, I am not as impressed as other users. I hate to write less than stellar reviews, but I feel that this product doesn't work for everyone.

Overview

The eroscillator is a very unique product in that it moves quickly back and forth rather than vibrating like typical vibrators. It is best used for clitoral stimulation. It could also be used on the nipples or on your man's penis. There are attachments that allow vaginal penetration but they do not come with the eroscillator 2. If you would like vaginal penetration, you would need the Eroscillator deluxe, which is more powerful. Under no circumstances should the eroscillator or eroscillator attachments be inserted into the anus.

Appearance

The eroscillator may be the ugliest sex toy that I have ever seen, and maybe in existence. I think it looks like an electric toothbrush and a spartan helmet got together and had an eroscillating baby. Then the color! It's a sort of rusty yellow/orange/vomit color. Not attractive. Poor aesthetics aside, the eroscillator has no smell or taste and is smooth to the touch except for the rings on the handle and any textures on the attachments. The handle itself is firm while the attachments are semi-pliable and have a little 'squish,' to them.

Attachments

The eroscillator comes with 3 attachment heads, each with two sides. Each attachment is about 3 inches long. The handle itself is 11 inches and is sort of heavy.

The Ball and Cup: One side has a little, circular cup to nestle right on top of your clit, the other side is rounded with 3 small bumps/balls.

The Golden Spoon: One side has an elongated cup/spoon to spoon your clit. The other side is flat, but has tiny little nubs for added texture. It's rectangular. These two textures are my favorite.

The Grapes and Cockscomb: One side looks like a cluster or rounded grapes, the other is a sort of half moon shaped curved, rigid texture. This is the texture that reminds me of a spartan helmet.

Performance

The eroscillator has 3 powers of eroscillation: low, medium, high. The level is easily switched with a sliding button on the side. The eroscillator has no vibe patterns and the attachments are inserted into the top of the wand, making sure they are tight and the inside of the wand matches the attachment.

The eroscillator comes with a long cord, plugs into the wall (Don't EVER use near water) and never needs batteries!

Packaging and Maintenance

The eroscillator comes in a sturdy, attractive, albeit old-fashioned cardboard box. The attachments are all wrapped in plastic as is the handle of the wand. The product has an excellent instruction manual that I recommend reading as it is very thorough.

The eroscillator attachments are coated in silicone so I would recommend using a water-based lube to avoid breaking down your product.

When cleaning this product, I used soap and water and/or a toy cleaning wipe on the attachments and a toy cleaning wipe on the handle. I would never submerge the eroscillator or get the handle wet as it is does not look waterproof and could be damaged. I would also allow the attachments to fully dry before storing to avoid germ growth in the internal crevices where the attachments snaps on to the wand.

The eroscillator isn't that noisy, but mine has a hum that is louder than I was expecting. It can't be heard through my bedroom door and is smothered well with a blanket, but still has an annoying sound that leads me to believe there are some plastic components vibrating against one another.
Experience
The eroscillator, while being very powerful, just isn't the right kind of power I needed. I was able to have an orgasm, but NOT while having sex, which is a major disappointment for me. After repeated trial, I STILL have not been able to use it with a partner during sex with any sort of success. This toy is solo only for me. I also found the attachments' eroscillating quickly made my clit sore, while not providing the type of stimulation I needed to achieve orgasm. It was extremely frustrating because while I was on the top speed, it hurt too much to do any good. I had to switch mid-romp to a new vibe to finally come.

I found the handle to be so large and clumsy that I spent more time positioning it to avoid my husband's abdomen than I did enjoying sex! Additionally, the hubs was constantly putting one or both of his knees on the cord and/or getting tangled in the cord.

I rate the eroscillator 3/5 stars simply because of the size and bulkiness of this product and how this gave me trouble while using it with a partner. For me, the eroscillations just didn't work with my body, but I know that other women LOVE this toy.
Follow-up commentary
4 months after original review
For me, this toy wasn't ideal. I don't like the shape, the gigantic cord, or the type of oscillations it provides. I have tried to love it; tried multiple ways of using it- upside down, different attachments, cloth barriers...all to no avail. I think this is a great toy for most women, but my eroscillator continues to sit dormant under my bed while other toys play much more often
This product was provided at a discounted price in exchange for an unbiased review. This review is in compliance with the FTC guidelines.

Thank you for viewing
Eroscillator 2 plus
– sex toy review page!