G-kay, What Was the Hype?
Are you as shocked right now as I originally was that this wonder toy didn't do much of anything for me? I STILL am! It's not that this toy does something 'wrong', it's that it doesn't do the important things 'right'. The amount of lint-cleaning, button-pushing, and re-positioning I have to do just turns me away from using it, no matter how nicely arched it is.
Published:
Pros:
~ Silicone
~ Hits the G-spot Right On
~ Rechargeable
~ Waterproof
Cons:
~ Rubbery Silicone
~ Wobbly Joint
~ Hard to Turn On
~ Numbing to My Hands
This is the
G-Ki
, one of the most celebrated and well-known of the G-spotting toys. It is a one-of-a-kind vibrator that can change it's curve to fit individual bodies! It's rechargeable, waterproof, and made of silicone to boot! So how do I feel about it? Actually, just 'meh'. I know! I'm pretty surprised myself. It has a cult following! So before you tear down my review or leave this page altogether, I need to remind that this is just how it worked for
me
and is not necessarily representative of how it will work for you.
~The Body~
So I'm skipping the obvious about the general shape and size because you can find that on the
product page
. I do want to mention, however, that the bulbous end does make a comfortable G-spotting tool. It's not so small as to be pokey (very scientific) or too large as to be uncomfortable. The important part is the two "joints" that make this vibrator different from all others. They are highly visible on the toy and are press-able only from one side. You push it in to engage the joint motion, select your position, and let it 'pop' back into place. There seem to be three different positions for both of the joints, though differentiating and successfully selecting each of them is not guaranteed.
I found that the bottom one stays in position sturdier and is less likely to be accidentally moved. The one near the tip of the toy wobbles about (making it frustrating for actual G-spotting) and is ridiculously easy for me to accidentally engage. The only positive thing about the joint buttons are that they are pretty much undetectable when inserted.
The material is a mixed bag. Yes, it's silicone, therefore sterilizable and fairly easy to clean, but it's also
far
from top quality design. In fact, out of all of my silicone toys, it is the most uncomfortable and inconvenient silicone I have had my hands (and other parts) on. It collects lint like no other silicone I have, even the sticky, dual-core silicone dildos. I wash it and it immediately covers in lint from god knows where before I leave the bathroom! But even if you manage to get all of the lint off, you're left with rubbery feeling silicone. It is a high drag, matted, slightly smelly silicone which reminds me much-too-much of rubber. It requires quite a bit of lube in order for it to glide the way I like.
So speaking of the material, you'll notice there's a patch of plastic on the control panel of the toy. Because of this one area, I don't recommend soaking it in a 10% bleach solution. You can rinse it in one but I wouldn't recommend leaving it soaking for extended periods of time. But on the positive side, the seam is very well sealed up because I have completely submerged my G-ki in water for cleaning with no ill effects to the internal motor or external charging connection.
Which leads me to the charging. The positive is that you never need batteries, it's designed so as to not have an open port that will threaten it's water-friendly feature, and it matches it's charger so you'll never get it confused with one for your phone. The downside is that there is one correct orientation and connecting it upside down will not charge it. Make sure you can see the blinking light and to know it's working.
~The Inside~
You like that seamless transition to the functions? So now you have your G-ki charged. The two magnetic "buttons" that you used to charged are now your controls. One is
+
and the other a
-
. To turn it on I've found that you have to double or triple click the
+
. I press it down and hold a few times for it to kick start and it's not always trustworthy. And to turn it off you need to hold down the
-
with purpose too. Lightly tapping it will do nothing, which is a good way to prevent it from turning off when you don't want it to. And if it's turned off and you just barely touch them nothing will happen, so that's a nice protection for your battery life as well. And they don't impress down very much so don't be rough.
Here are the patterns and intensities (ranging from 1 being the lowest to 5 being the highest):
1.
Level 1 Steady
2.
Level 2 Steadt
3.
Level 3 Steady
4.
Level 4 Steady
5.
Level 5 Steady
6.
Level 5 Slow Pulsing
7.
Level 5 Fast Pulsing
8.
Increasing Smoothly From Level 1 to 5
9.
Fast Increasing From Level 3 to 5
10.
Really Fast Increasing From 3 to 5
Experience
And after you hit the last one it goes back to the first setting. They are good rumbly vibrations, I'm pleased to report, but they're not very strong. It's better than any bullet vibe I've used but it's not comparable to any of my other luxury vibrators. Honestly, I think a lot of that has to do with the location of the motor. While I'm not privy to the exact internal set-up, I can say that it feels like the motor is housed in the handle portion of the toy rather than the bulbous, G-spotting end. So my hand generally goes numb and the area I actually want to be stimulated is only getting started.
But at least they're relatively quiet vibrations. If you were in the same room with someone and there was no other noise, they could hear it. But if the TV or radio was on or a closed door between you, the likelihood is that they wouldn't.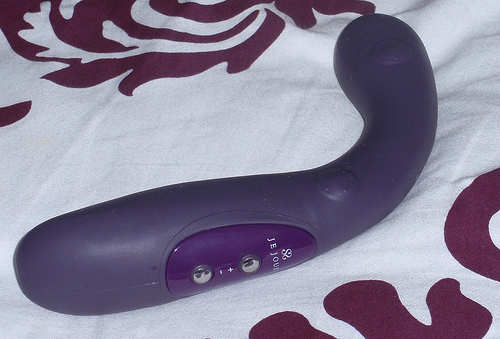 ~My Final Thoughts~
As I am now out of room to go into any more details, I do want to sneak in that the packaging is wonderful (as is usual for
Je Joue
), only use water-based lubricant, don't attempt to boil this for sterilization, and don't set it on top of anything you wouldn't set a magnet on.
But really, I was pretty much heartbroken that the G-ki didn't put stars in my eyes like it did with pretty much everybody else. I think I will literally be the first not to rate it 4 or 5 stars. And it's not because it couldn't get my precious G-spot, mind you. It's because every other factor involved didn't make it up to me. So I'm sorry, G-ki, but we just aren't good together.
This content is the opinion of the submitting contributor and is not endorsed by EdenFantasys.com

Thank you for viewing
G-Ki
– g-spot rabbit vibrator review page!