What is a collar?
So, let us first start off with what is a collar? A collar is a device of any material that is worn on the neck of a submissive. There are some exceptions, though. Sometimes dominants wear them, and sometimes collars are worn on places other than the neck. They are typically made out of leather, metal, rubber, PVC, or rope. A collar buckles around the neck keeping it in place, and normally has an O-ring or a D-ring that allows for a leash, or rope, or something to be tied to the front of it.
So, here is an example of a collar that EF sells.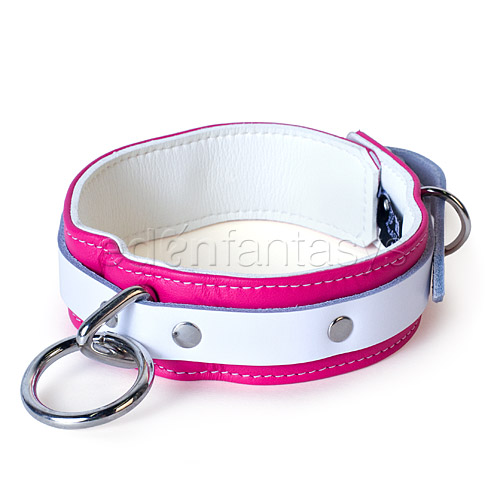 Symbolism of a Collar
Collars have many different types of symbolism and reasons for being worn, but we will try and cover the most common reasons people wear them.
One of the reasons people wear a collar is for it to be known that he or she is a submissive that is owned or taken by a dominant partner; oftentimes this happens after a collaring ceremony has taken place. A collaring ceremony is kind of like a marriage between a dominant and a submissive. It is a serious event where the submissive acknowledges the dominant partner as being right for them, as well as the desire for a serious dominant/submissive relationship with them. Often contracts, vows, or some discussion about rules and limits takes place at this time. The collar is given as a gift to the submissive, and the submissive accepts it. In doing so, both acknowledge the relationship to each other. This can be the start of a 24/7 relationship where the dominant is always in charge, or it can be symbolic of a submissive/dominant relationship when both parties choose it to be.
As I mentioned earlier, sometimes a collar is not always placed around the neck. Sometimes after a collaring ceremony, the submissive wants to wear the collar all of the time. It is a symbol of love and comfort to them, but wearing a collar in public can be seen as odd, especially among males, so other "collars" are used. Examples of these other collars include wrist bands, bracelets, necklaces, and ankle bracelets. Anything that goes around the body and clasps shut is generally regarded collar-esque and is often used by people want to be discreet about their relationship. There are also metal collars that resemble necklaces, which are often made out of stainless steel, or even gold or silver and go around the neck. Typically they are just circle, but they look more like jewelry and less like a collar. Some people use these types of collars for wearing in public.
Other people wear collars just as a very casual item for role playing and for sex. They are often associated with submissiveness, used as a form of humiliation, or for pet play. In this case collars are a lot more casual and just add to the type of erotic play taking place. They are just for fun, and too add to the experience. The collars are not symbolic of a serious relationship in this case.
Some people consider themselves to be a "switch" within the BDSM community. This means they switch from being a dominant to a submissive. Sometimes there will be a relationship where both parties are switches. In these cases, sometimes both will wear collars as a symbol of their devotion to each other. This, again, is kind of analogous to a wedding ring and is a very deep emotional connection. The difference is that neither partner identifies as solely submissive, so the collar is less about dominance/submission and more about emotional closeness.
The final reason people wear collars is just for aesthetic reasons. Sometimes a dominant partner just likes the look of a collar, or a collar is considered to be fashionable that season and people will wear them. These collars really do not have much symbolism and are just used for fun.
Collar Etiquette
Within the BDSM community, a play party is a common thing. Somebody will invite a bunch of people over to their house and people will play with each other. Normally there are rules set out as to what can and cannot happen. At these parties, it is often considered inappropriate to just simply ask someone who is wearing a collar to play with you (but it is very common to ask someone without a collar to play with you). A collar is a symbol of being owned, and it is considered rude to just ask someone who is owned to play with you. It is okay to ask if their collar is a symbol of being owned (because it is not always), and it is also okay to ask them if they could bring you to your dominant so the two of you could talk. Really, talking to a collared person just means you cannot make as many assumptions and assertions as to others walking around the party.
Hopefully you now have an understanding that collars are often deeply symbolic to many individuals in the BDSM community. There are far more types of relationships and reasons that people wear collars, but these are some of the more common ones. So, be aware that this knowledge will not apply to everyone, and do not feel offended if I didn't include the reason you wear a collar. As always, if you have an questions feel free to ask it in the comments.