Christopher Columbus was lost once...
Same venue, same scenes, different cast...and this might be a good flick. Unfortunately, this film falls short in a lot of places. The majority of it id s bust for me and not at all arousing.
Published:
Pros:
Casey Parker, 1-2 good scenes
Cons:
Cast, Camera work, Some parts are offensive, 1 cast remember is now a jail bird
Content/Genre/Audience
Lost in Puerto Rico is part of Shane's World productions. I wasn't dying to watch it because it looked like Girls Gone Wild. It's like XXX MTV's Real World with all the drunkenness, hookups, and insults. I wasn't attracted to the majority of the cast and didn't find the sex that great for the most part. There was one or two that were enjoyable, but a lot was a bust for me. However, I love Casey. I'd never seen her and think she's adorable!
*Scores are subjective, based on sexual performance + appearance (out of 5)*
FEMALE CAST
Victoria Sweet:★★ 1/2
Scene #1
Casey Parker:★★★★
Scene #2, 4
Reena Sky:★★★★
Scene #6
Allison Pierce:★★
Scene #3, 6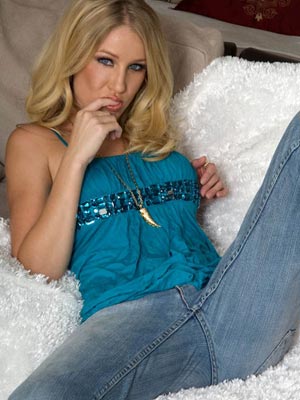 MALE CAST
Jack Venice:★★★
Scene #1, 3, 4
Will Powers:★★★
Scene #2, 5
Justin Magnum:★★★★
Scene #6
DVD Features:
Collector's edition.
The quality is low. There camera goes out of focus and is sideways, which gave me a headache! The audio is sometimes low quality. The setting is okay, though. It's set in Puerto Rico which is actually a really dirty place. Puerto Ricans produce more waste per person than any other place! The film has a fairly normal length of 2 hours. There is a lot of extra features too.
- Lost Footage: There's an hour of footage that was not put into the film, plenty of nudity, but no bonus sex scenes. Most is ridiculous, nonsense dialog.
-Photo gallery: It only includes a few shots, but is worth watching since some are not in the film.
- Chapter Selections
- Trailer: There are about half a dozen trailers for films I'm sure the world could do without.
The DVD has one disc and comes in a standard case. The front shows no graphic nudity and has a cute picture of Casey on it and another picture of naked Jack and Casey on the beach. The back has a few graphic snap shots, but the side has none so it is fairly safe sitting amongst other DVDs.
----------
*Scores are from my point of view alone (out of 5). For this film, my partner was unavailable.*
The movie starts with everyone arriving in Puerto Rico. The cast chats about being single or not. The camera is sideways half of the time and really annoying. Thankfully this doesn't last too long, and the next scene shows Casey walking on the beach talking about life, then going skinny dipping.
On their way to go hang gliding, there is more candid conversation. It has a very reality show type feel to it. As Casey is hang gliding naked, Jack decides to sex up Victoria by asking "Wanna fuck?". Seriously, who asks that?
#1 ★★ Victoria & Jack (~13 min):
They start kissing and there is a little bit of boob play. It's raining outside where they decide to have sex, which was the only cool part about this scene for me. The camera angles are horrible! It's mostly sideways and there is barely any noise in the beginning which is weird. It also gets blurry a lot. Victoria is giving Jack a blow job. I was totally not turned on by this because she gives oral very strangely, without her lips. They have sex standing up, and she doesn't look like she having too much fun. They don't have ANY chemistry. They go have sex on a rock which looks very uncomfortable. It's just a bunch of pounding before her cums on her.
Pros: It's raining, Jack's body/tats
Cons: No chemistry, Camera work
They get some food before exploring and hiking. This is where Casey wants to have sex by a gorgeous waterfall.
#2 ★★★ Casey & Will (11 min):
Casey gives Will head while he leans against a cliff side. He then has sex with her and is on top. They eventually move down the cliff and have sex in the water with Casey perched up on a rock. It's definitely an interesting location. I'll give it that! I was very distracted by the male vocals. Usually it's the girl that bothers me, but not in this case! They have pretty good chemistry and Casey really seems to enjoy Will. He cums on her stomach.
Pros: Chemistry, location
Cons: Male noises, short
Here is a break in the sex action that lasts at least ten minutes. They go pick up Allison from the airport. Allison sees Casey and Jack at the airport and says "Oh, I thought I was looking for someone with big muscles." Jack is so offended that he talks to the camera guy, even pulls them aside in the extra footage to tell them how much he works out. It's funny how bothered by it he is.
Experience
#3 ★ Jack & Allison (~9 min):
Allison and Jack attempt to have sex in the van. He's trying to do her from behind, but it isn't working. She tells him to do her harder. Jack replies "You don't talk shit to Jack's dick". He then stops. "Waste time and dyke out". Eventually they start again. "I'll fuck ya, but you aren't going to tell me how to do it. I'm the boss." Lovely ego right? I was totally turned off by this whole attempt. It gets worse when she decides to find her clothes and he sticks a finger in her ass when she doesn't want him to. She even asks him to remove it. He doesn't let her find her clothes and has her give him head. He then grabs sleeping Victoria and throws her face at his penis. No one finishes because he goes soft. THANK GOD.
Pros: NOTHING
Cons: Allison's drunkenness, Jack's assholeness
----------
#4 ★★★★ Casey & Jack (~36 min):
Casey and Jack have a go at it on the beach. She gives him oral and then he does her from behind. There is a lot of dirty talk which I did like. Casey. Some people come out of their house and yell at them, so they had to move! They decide to take cover and have sex behind an uprooted tree. They do it sideways and then she gives oral again. They decide to try to lay sideways in the sand. He then gets on top and she does reverse cowgirl and cums again. This scene was the first one that turned me on because of their vigor. He FINALLY cums in her mouth and is apparently the only guy who ever has.
Pros: Good chemistry, Hot sex
Cons: Man handling, Too long
----------
#5 ★★ Allison & Will (~16min):
I just find Allison so annoying, that I can't really enjoy the little there is to enjoy during this scene. She is basically horny and begs Will to fuck her in a bedroom. She gives him oral, and it's nice to look at her gorgeous eyes. He has a meat curtain of ball, though, so I had a hard time getting turned on by the oral. I also don't like face fucking which is what he has her do. He does her on top and then from behind before she climbs on for reverse cowgirl. He ends up hurting her because he goes too deep. Even though he is a gentleman about it, I was completely turned off from then on. He eventually cums on her face.
Pros: Randiness
Cons: Not much else
#6 ★★★ 1/2 Reena & Justin (~18min):
A random couple picks Casey up from the airport. After they drop her off they go home. He gives Reena awesome oral worship. They should of had this couple as the stars! She gives him oral and then they do it doggy style. They lay on the couch for reverse cowgirl where there are a lot of fart noises. She cums and gives him oral. He gets on top again and cums on her stomach.
Pros: Chemistry, Attractive people
Cons: Fart noises, no anal
Follow-up commentary
1 month after original review
I didn't like much in this film so I passed it on almost immediately after writing the review. That individual liked it better than me, but still passed it on to a friend of theirs too.
This product was provided free of charge to the reviewer. This review is in compliance with the FTC guidelines.

Thank you for viewing
Casey Parker Lost in Puerto Rico
review page!