Frat House ROCK!
If you like straight porn, you will love this unique, Jersey Shore-esque video. No script, no plot, just beautiful people paid to go on vacation in a tropical setting and have sex. Equal amounts of footage allotted to the trip as well as the sex, this candid porn shows what happens when girls (and guys) go wild in the jungle.
Published:
Pros:
Candid, no script or plot, natural ladies, high quality production
Cons:
Male Chauvinism, A couple offensive terms used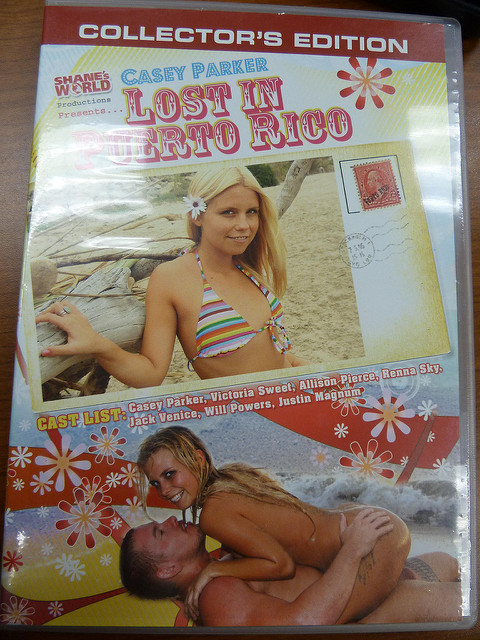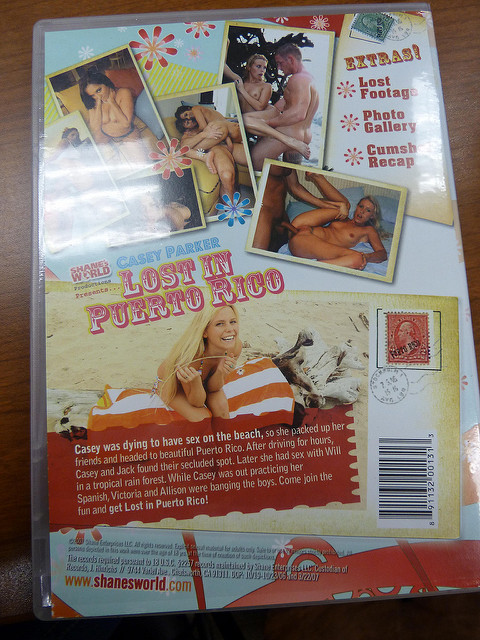 Shane's World bring paradise to a shore near you, once again! This super candid adventure is as much a real-life tv show as it is porn. No script and no plot, but cameras following sexy people around Puerto Rico for some sight-seeing and 'getting to know eachother.' In the biblical sense.
The film starts out showing 3 of the crewmates at the airport. They've landed in Puerto Rico! Jack Venice is badgering Will for having a girlfriend, and reveals that he's never been in love with anything other than banging a different woman every night. This is the polite version of Jack's personality throughout the film.
From here Casey takes a stroll down the beach and skinny dips alone. She converses with the camera on her life's philosophies, and smiles as she dives in. She's so sweet and easy to like.
The crew's fumbling with a map (lost as per usual, in Puerto Rico, of course!) and headed to their paragliding lesson. An exotic-looking gal has joined the crew. The kids banter with one another and make light-hearted jokes.
Casey and Will go paragliding! Casey strips down to her skivvies again (I'm beginning to notice a beautiful pattern!) and carefreely suits up for the ride. The camera situated strategically behind her allows a view of her bare bottom as well as the gorgeous Puerto Rican jungle below. It's amazing to feel like you're flying with the couple.
Jack Venice and new girl (Victoria Sweet, it turns out) are watching the crew, while Jack caresses her arm. Suddenly he says, 'So are we gonna fuck?' and she nervously laughs and says, 'ok.'
The sex is what's to be expected from a porn star, or even a guy like Mr. Venice. He's got control issues and is very domineering. So you know the drill. She gives him head, he fucks her throat. He bangs her like on the Discovery Channel and comes on her face. The only thing different here is the scenery. They're standing outside, in the pouring rain, in the jungle. It's just beautiful. At one point they move to the shelter of a magnolia tree. I mean, what is more romantic than that? Alas, Jack's jackhammering dick kind of ruins the romance for me. The scene lasts about 12 minutes total.
The actors climb a beautiful jungle-covered hill to find a waterfall, where the scene cuts suddenly to Casey performing fellatio on Will. His penis is enormous to be kind. It's the rainbow kind. It's so long it can't stay completely hard, and bends in the middle. It makes me laugh.
The sex here is the expected hetero-vanilla porn sex. At least the scenery is lovely. They're screwing on rocks next to a waterfall. In a jungle. What a fantasy fulfilled! Casey seems very comfortable, relaxed, and even makes jokes during the sex.
This kind of sex makes me wonder how anyone would ever enjoy it. I mean, it's the same damn thing, over and over and over and over and over. Penis into vagina, penis out of vagina. Until he comes.
Now, if you like heterosexual, vanilla porn, you'll absolutely love this. It's just not my thing.
The group goes to the airport to meet another crew member, Allison Pierce. She makes a joke about Jack's lack of muscles. He expresses much disdain at this comment and we see his retaliation later on.
The crew gets pretty drunk at the club. Allison, the new girl, and Victoria makeout pretty heavily. Jack gets offended and tells her not to do any of that 'dyke shit.' I mean, give me a break. The guy is obviously feeling his manhood threatened. So he gets back at Allison. The screen goes black.
We hear fumbling and a girl asking where her clothes are. Lights come back up. We see Jack fucking Allison with most of her clothes on, over the backseat of the moving, van, full of people. The camera man is telling him to pound that pussy. It's pretty grotesque. It almost feels like a rape scene. Allison is obviously pretty drunk, and keeps asking for her clothes. What occurs next I won't even get into, just let me say if you are a woman, you'll likely be offended. He completely degrades her and Victoria. It's tough to watch.
A few more of the standard sex scenes follow, in beautiful locations, but otherwise uninspiring. Casey is picked up from the airport by Reena Sky and Justin Magnum, who the camera follows to their home to watch them have sex. I could've done without this scene. It came unannounced and didn't seem to flow with the Puerto Rican crew's vibe. Just two folks fucking in their house. I mean, who are these people?
Experience
I appreciate the freshness of this kind of porn. No script, no plot, no 'acting' even. Just some kids paid to go on vacation and fuck. This lends a very honest air to the entire film. It's like amateur porn with professionals. Best of both worlds!
The DVD quality is top notch. All the scenes are well-lit and flattering to actors' skin tones. The DVD case is professional, and the opening menu includes cute animation, fun music, and even scene selection with video clips instead of still shots for each scene.
Production quality is great too. No mumbling or whispers half-heard in the heat of the moment. Shane pulls out all the stops. It's a 'Real World-esque' film feel, just completely uncut, and with professional camera crew. One thing that did bother me about the way it was shot was how aware of the camera the actors were. They spoke directly to the camera often. This kind of broke the feeling of voyeurism for me, but some folks might be into it.
The film has a 2 hr running time and includes bonus features such as scene selection, cumshot recap, and slideshow.
Here's a few screenshots. Sorry for the bad quality. It's my camera's fault, not the DVD whatsoever.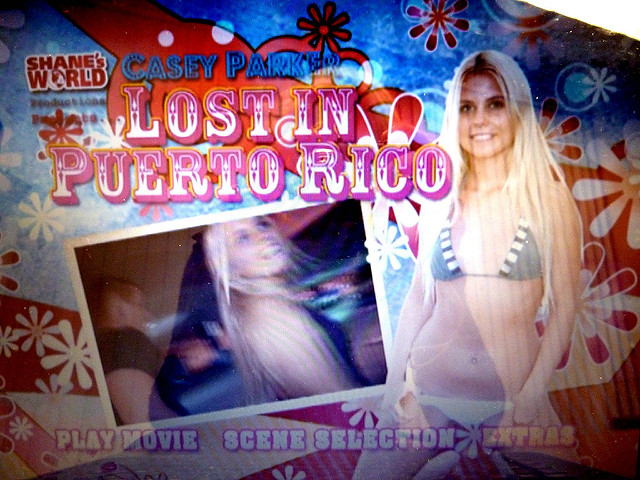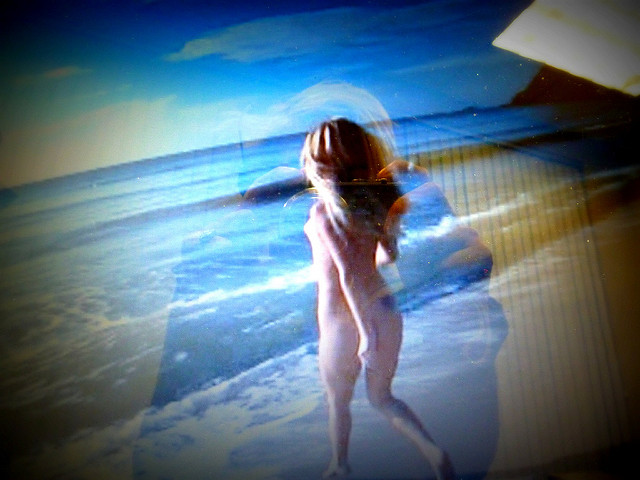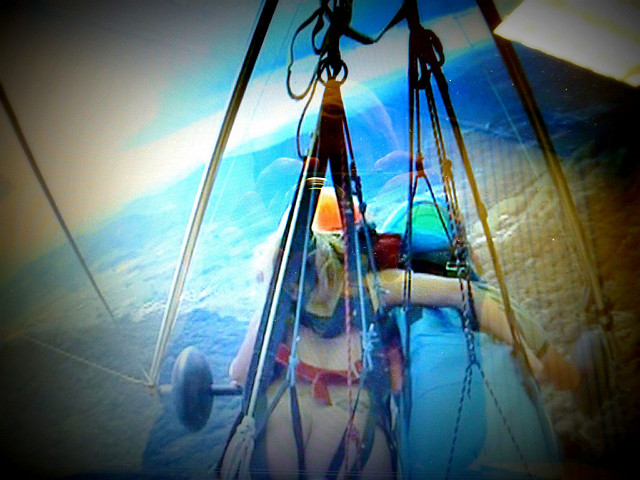 Follow-up commentary
3 months after original review
Casey Parker is so cute, but she wasn't cute enough to make me overlook her co-star's ignorance. I'd much prefer to see Casey in lesbian porn, far from prejudice, testosterone-pulsing misogynist pigs... still, the documentary-style, uber-voyeuristic way that this was shot was much to my liking. All around, this is a pretty unique, sexy film with some amazing visuals to boot. It's just Jack Venice, who as rumor has it, is now in jail for rape (surprise!) who ruined it for me.
This product was provided free of charge to the reviewer. This review is in compliance with the FTC guidelines.

Thank you for viewing
Casey Parker Lost in Puerto Rico
review page!