Chilly reception for No. 24
I applaud Pipedream for their presentation, creativity and quality, but I do not like the actual toy. For use as a massager it is lacking in features. For internal use, it's too hard and too inflexible for my enjoyment.
Published:
Pros:
Beautiful craftsmanship
Unique
Cons:
Center indentation is hard to clean
More flat than cylindrical
Hard and relatively heavy
Yada! Yamero!
If you have ever watched a mere three minutes of hentai (a.k.a. Japanese animated porn), you've heard this phrase uttered by some poor maid or schoolgirl — over 18 of course — who has encountered a tentacle of unearthly origin. A rough translation is "
No way! Stop!
" and it unfortunately epitomizes my attitude towards Pipedream's Icicles No. 24.
That's not the way the tale began though. When
n° 24
arrived, I was deeply impressed by the classy presentation. The graphic designer deserves praise for the sexy black & white box that is as "elegant and upscale" as the toy within. The gorgeous multi-angle photography of the petite pink form offers plenty of detail about the toy, though you can swing the front 'door' open to reveal the contents nestled safely inside. It would make an ideal bridal shower gift if not for the toy's shortcoming, but again, let's focus on the positive for now.
A thousand thank-yous to Pipedream for having the good sense to package No. 24 in Styrofoam. It's not as nice as say, a padded toy bag, but it is definitely the next best thing. Even if you toss the box, you can keep the foam as a 'drawer bed' for the dildo.
The nubby feeler is beautifully crafted. Pipedream says each is "hand-blown" which may account for the slight deviation from the official measurements. My No. 24 is 6" long (4" insertable) and 1¾" across, whereas EF lists it as 6¼" x 1½" with a 4½" insertable length. We also disagree on weight. Officially it is 10 oz. but the one I received is closer to 10½ oz (about 295g). There are much heavier toys for sale, but relative to its size, it is weighty.
Icicles No. 24 is made in China from hypoallergenic glass that is non-porous, latex free, phthalates free and all-around body safe. It is essentially the same stuff your Pyrex kitchenware is made from, though the word 'Pyrex' does not appear anywhere on the box.
Pipedream's entire
Icicles
line places an emphasis on texture, but of the pieces released through July 2011, No. 24 is the crown winner. Along (what I think of as) the topside of the dildo and curling around to the end is a double row of ¼" high nubs separated by an indentation. I counted thirty nubs on this alien tongue. Aesthetic and practical, the curved end makes a great handle. I can hook any of my fingers and my husband can hook most of his (except his thumbs) through it.
On the underside is a pronounced set of veins which decorate the insertable portion. Based on feedback here on EF, the color of No. 24 varies slightly, but mine is a
rose parfait
, perfect pink. Since it's glass it is compatible with any lubricant and easily sterilized by boiling, a 10% bleach solution or a cycle in the top rack of the dishwasher. You can also experiment with hot and cold, just avoid extremes to prevent the toy from cracking or possibly burning yourself. Treat it right and the toy should "last a lifetime" according to the packaging.
Pipedream sells this as "a novelty only" but you can use it just about any way you please: vaginally, anally, as a massager... The only limits are your imagination and the laws of physics.
Experience
Why Icicles No. 24?
Blame Whipspider Rubberworks. I am
so in love with their Tentacle
that adding another to my collection seemed a no-brainer. I had high hopes that No. 24 would be its equal and redeem glass for me.
If all I had to do was look at No. 24, the mission would have been accomplished. It's very pretty. However, I bought it to use vaginally and that is where things took a turn for the worse.
Something to remember about glass is that it feels bigger than it looks. Unlike silicone, jelly and other soft toys, glass is unyielding. In my experience, add another ¼" mentally to a glass toy's diameter. Also, No. 24 is more oblong — like a tongue — than cylindrical and features pronounced texture. Furthermore, mine measures 1¾". Mix this information together and you realize that while it looks deceptively petite, in use it
feels
pretty sizable and I am no size queen.
However, surrender was not an option and with some prep work (i.e. arousal), I was able to insert it. The feeling was
interesting
. There was no question that the texture was noticeable and initially I liked it. Unfortunately, thrusting was hazardous thanks to the toy's width and complete lack of flexibility. I experimented with a few
gentle
strokes, but two problems arose: discomfort and the center indentation's juicer like function. Having my natural lubrication removed from where it's needed does
not
appeal to me.
AT ALL.
(
Please read JR's review of SSA's Blue spiral for more 'juicer' info
.)
I thought rotating the dildo 180° might stop the pillaging of my much needed lubrication, however that was also uncomfortable. The position of the curve does not mesh well with my anatomy when the veins are on top. So, no thrusting and no twisting. The only option was to lay back and enjoy it. Surprisingly, I did. Coupled with manual stimulation, this toy got me off.
But
once my orgasm was over, I felt a distinct ache internally. Despite giving the toy and my insides a kid-glove treatment, I felt bruised. Irritation followed when the center indentation proved a major pain in the ass to clean.
The T-word gets thrown around a lot with No. 24, but it's not remotely close to Whipspider Rubberworks' silicone beauty. One is squishy soft, the other hard. One widens gradually, the other has a uniform diameter. One has a unique twisting curve, the other has an slight S-shape (more like a "J" actually). About the only thing they have in common is that they are both intended to be handheld.
I thought having both toys would be a sort of yin-yang in my toy collection, but I have a hands down favorite and it's not the glass. No. 24 is significantly less expensive, but unless you are a glass aficionado, hold out for the Tentacle. If glass gets you to places that silicone just can't, be advised this toy is best suited to advanced users.
Follow-up commentary
10 months after original review
I feel like the hearts really don't capture my feelings about this toy. For
actual use
I've disliked it from the start, but it was a toy of such high quality and clear creativity, and so beautifully presented that I couldn't bring myself to give it less than three stars.
Now, after a few months I've learned that No. 24 retains its beautiful gleam over time and is also very sturdy, having miraculously survived a few falls in the bathtub with no damage. I would like to say, "
I've started to like it more
," but the issue of discomfort remains. The odd shape and hardness make this toy, literally, a poor fit for me.
I bought this Icicle hoping it would add some spice to sex play, but sadly it doesn't work for me. Instead, I have a fun and funky paperweight.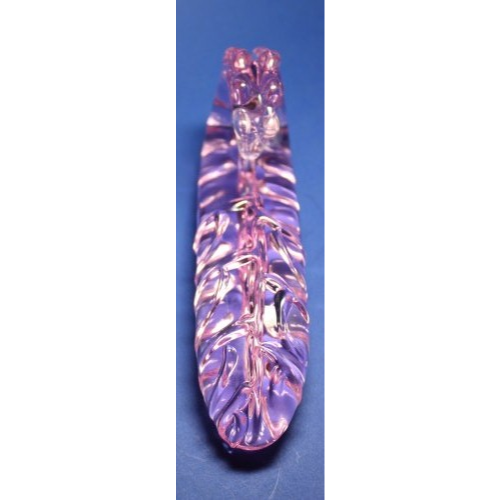 This product was provided at a discounted price in exchange for an unbiased review. This review is in compliance with the FTC guidelines.

Thank you for viewing
Icicles No. 24
– dildo review page!