Mr. Limy Falls Flat
The Mr. Limpy packers used to be good. Then they underwent a material change, and design tweaks, and this packer is so utterly useless, I'm sending it back. It tears way too easy, leaves a bad feeling on your skin, and with the weight distribution, you'd be better off using a sausage in your pants.
Published:
Pros:
None
Cons:
material too soft, easy to tear, poorly weighted, utterly useless
This is my second packer purchase, and my second Mr. Limpy. A year and a half ago I purchased the Mr. Limpy Extra Small, and was exceedingly pleased with it. So when I decided to get another packer, I naturally came back to Mr. Limpy. I decided to get the next size up to eliminate some of the minor design issues I had with the previous one. What I got was a nightmare. The material texture and density has changed dramatically. It's much softer than before, but not in a good way. Before buying my first packer, I was warned the Superskin material may crack and tear after a few months of use, so I bought it with caution. A year and a half later, and my first packer is still in great condition material-wise.

The moment I opened the packaging on Mr. Limpy Small, I noticed that the material has much more give to the touch than my last one, and feels much more apt to tearing. Sure enough, as I inspected the shaft, there was already what looked like a punctured tear on the underside.

The texture of the material is almost somewhat improved, from the extremely sticky texture of the old material used in my Extra Small, but it was still kinda sticky, and it had a really unpleasant after-feel. Almost like a residue left on my fingers.

This packer is extremely shaft-heavy, and it's a major problem for use when packing. I'm a small guy, and the 6" length was going to be pushing it for me since I'm fairly modest about this stuff, but I was willing to give it a shot 'cause I know guys smaller than me who pack with more. Well, the shaft dominates the weight of this packer like there's no tomorrow. The size of the balls is greatly diminished as well, which makes it even worse. I held it next to my Mr. Limpy Extra Small from before, and while the shaft is twice the length, the balls were only half the size.

I attempted to put it in the Mr. Right packing harness I have from the MLxS bundle, and it almost fell right out because the shaft is too heavy, and the balls are too small. It's a counter-weight issue, and one I'm not willing to put up with. I tried to stuff it in a pair of briefs like I do with my MLxS, and again, the size of the balls caused a major problem because it was more like putting a sausage in my pants than a packer. Laying the shaft down with the combination of the material being far too soft, and the scrotum being too small to counter-weight or even just the lack of mass to keep it from bending as far down, it just looked ridiculous and stupid. That is, especially given that the flat side just wants to pull completely away from your body, leaving the balls bent awkwardly.

The only redeeming quality is that I liked the addition of veining to the shaft that wasn't on the older one. All other aesthetic designs are horrible. Especially the goose-bumps on the balls, which left me going "WTF?".

This packer line started out as a great thing a year or so ago, but materials change, and bad design tweaks have left it a limp disaster that just isn't worth my time or money.
Experience
This packer just doesn't work. I took it out, inspected it, found tears and cracks already forming, compared it to an older version, tried some basic packing methods to see how it worked, and put it back int he packaging to send it back. It's terrible, not even worth the EdenPoints I spent to get it.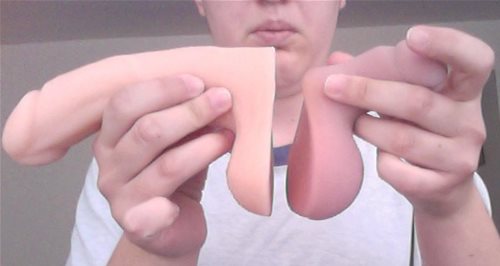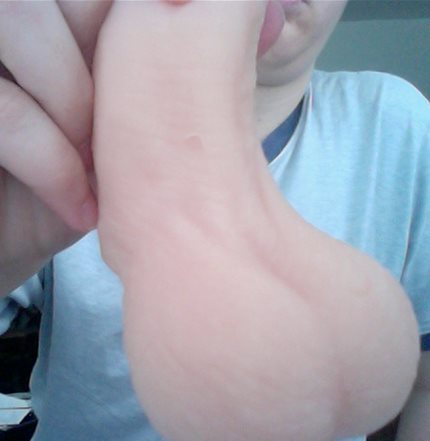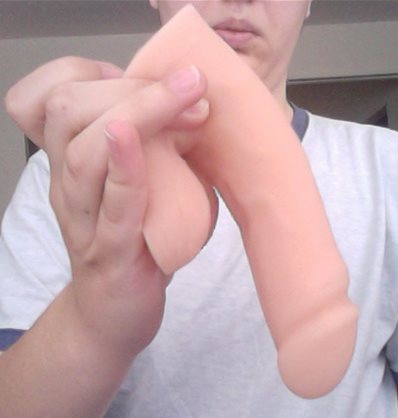 This content is the opinion of the submitting contributor and is not endorsed by EdenFantasys.com

Thank you for viewing
Mr. Limpy small
– packing dildo review page!