I Have Them In Right Now!
My doctor assigned me to do kegel excerises to improve my pelvic muscles. I been doing them myself, but I wanted something that would help me even more. I really like these because since I have problems inserting devices, I can insert all three Ami's. I really recommend anyone who is looking to improve their pelvic muscles get these. I really like them because there smaller than the others and has a smooth texture.
Published:
Pros:
Confortable, smooth, size
Cons:
Ami 2 is too flexible, cannot feel balls inside unless moving around
---Packaging---
The packaging for the Ami is in a nice black box. Inside is instructions for use of Ami 1, 2, and 3 which I will continue to explain about thoughout my review.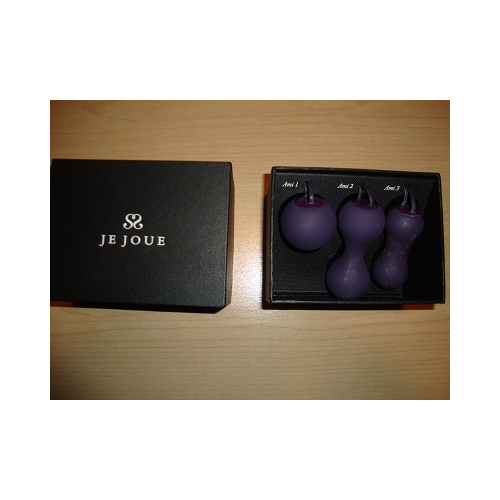 ---Care Information--
You can wash Ami with warm water and soap. You can also boil them if you would perfer that. You will do that for 30 seconds to one minute to conserve the Ami. I just wash it with water and soap. It won't get that messy that you'll have to boil it. The material of the Ami is 100% body safe silicone and polycarbonate plastic. If you want to use lubricant, make sure it's a water based lubricant. When I first used these, I put on JO water based lubricant because I have problems inserting items like these. But once I realized there not that large, I don't have to use a lube with it.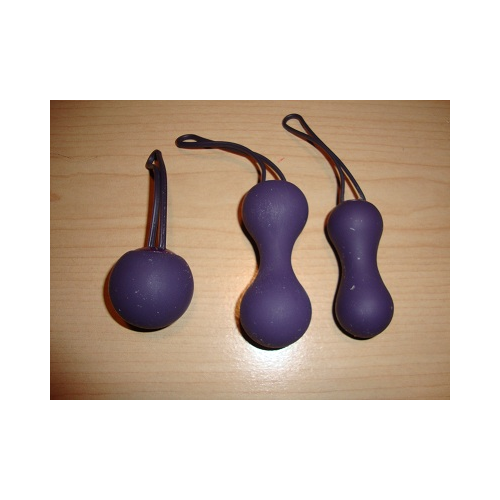 From Left to Right: Ami 1, Ami 2, Ami 3.
--Ami 1--
Ami 1 is the lowest in weight. It is 1.65 oz. The length including the cord is 4.37 inches and without the cord is 1.41 inches. The diameter is 1.41 inches. Even though it's the smallest one, its the most challenging for me since the circumfrence is larger than the other two. There is a ball inside of the Ami 1. When you shake it, you can hear it. The balls are to help do the kegel exercises. But I cannot feel it unless I'm moving around alot. I cannot feel it if I'm laying down, inserting, or removing it. I really like the Ami's because it's a smooth texture, but you cannot squish it like a stress ball. It is hard, but yet it is confortable because of the smooth texture.
--Ami 2--
The weight of Ami 2 is 2.75 oz. The length including the cord is 6.14 inches and the length excluding the cord is 3.14 inches. Then the diameter is 1.25 inches. The weight is a bit heavier than the first Ami, but I can insert this one much better than Ami 1. Ami 2 is the longest one. I can feel the balls inside the most with this one. But like Ami 1, I can only feel them when I'm moving around. One thing I don't like about this product is Ami 2. This could be different for others, because I have a certain medical issue that makes things difficult for me to insert items, but since the middle of Ami 2 can bend, when I'm inserting it, it bends which makes it difficult to put in. But once that part is passed its fine.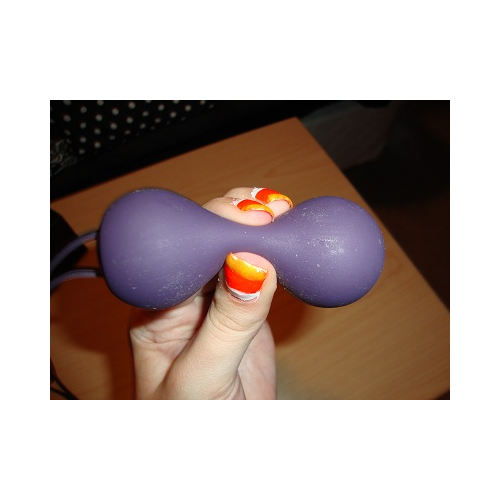 --Ami 3--
The weight of Ami 3 is 3.37 oz. The length including the cord is 5.66 inches and not including the cord is 2.75 inches. Then the diameter is 1.10 inches. Even though this weighs the most, I find this one the easiest to insert because its the smallest out of the three. There is balls inside this one too. But I cannot feel it when I'm walking or laying down compared to Ami 1 and 2.
Overall, I really like the Ami product. I was very happy I can insert all 3 of the Ami's confortably. I should also include I don't have any irritation with the cord. You can also just have the cord hang outside of your underwear if your worried it will rub up against you. This is my first kegel excerciser and I'll continue to purchase more in the future because I really liked this one very much. I should say people may have different experiences with Ami because everyone's bodies are different. Even though I really like Ami 3 the best, others may not cause of the weight. I really just bought this product because my doctor assigned me to do kegel exercises so I can control my kegel muscles better. I'm really hoping that using these will help that.
Follow-up commentary
2 months after original review
I really like these kegel excercisers a lot. I haven't used them recently but I really want to get back to it because they help my muscles soo much! I'm not even going to look for other exercisers because these are wonderful. I really recommend anyone who needs to get more control of their pelvic muscles or the need to strengthen them to buy this product.
This product was provided at a discounted price in exchange for an unbiased review. This review is in compliance with the FTC guidelines.

Thank you for viewing
Ami
– sex toy review page!