The Best Yet
Je Joue does not disappoint. I love the velvety feel of all of their toys and these balls follow suit. In comparing these to my other types of vaginal exercisers, these win hands down!! They are smooth and have the retrieval cord so even those who worry about loosing the balls don't have to worry
Published:
Pros:
Velvety Feel
Retrieval Cords
Beautiful Packaging
Cons:
none
Ami by Je Joue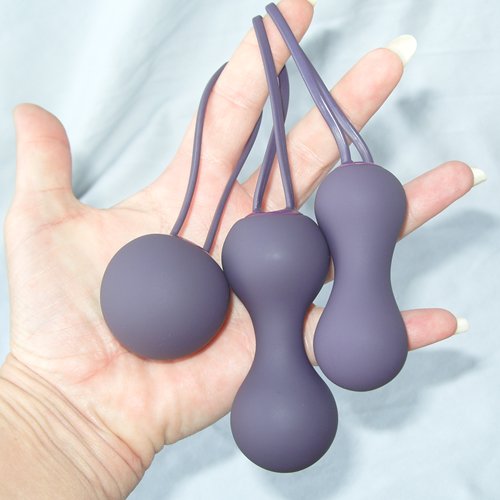 I purchased these because I am so impressed with Je Joue's line of toys. These did not disappoint. They have the softest silicone coating on them, they are even softer and velvety than Uma or Mimi. They have three different sizes so you can build up to the heaviest or start with the heaviest if your vaginal muscles can handle it. Because you have the three sizes and weight you actually have a feedback system to let you know how you are doing and how your muscle tone is increasing.
Use
These balls are vaginal exercisers, you get a set of three with varying sizes and weights. This is the way to achieve a vag of steel!! You use them to increase the strength of the pelvic floor muscles and increase vaginal tone. The increased vaginal tone increases your orgasmic sensations and it makes child bearing easier for those of child bearing age. For the women who are no longer concerned with child bearing increasing the strength of the pelvic floor helps to decrease or stop the leakage of urine with coughing and sneezing. These are appropriate for women of all ages. These are not suggested for anal use. You can wear them vaginally and have your anal play or intercourse. Some women report having orgasms from the wearing of the balls alone. I have an awareness but no orgasms.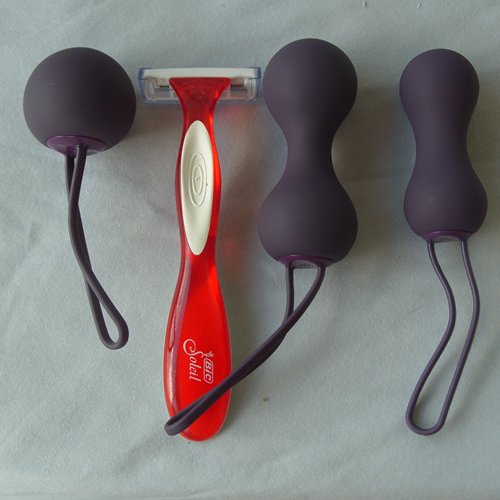 Material/Texture
The Ami balls are made from a rigid plastic that contain weights, covering the plastic is a soft velvety silicone. Silicone rates a 10 on the Eden safety scale. It is food grade, hypoallergenic, non porous. Silicone is latex and Phthalates free. There is no texture to the balls, they are completely smooth and seamless. The pull cords of the balls is made from plastic. These are actually quite elastic and they stretch. Plastic rates an 8 on the Eden scale. They are firmly attached to the bottom of the balls for retrieval.
Size/Shape/Design
Ball #1 - Is a 1 ½ inch round ball with a weight that giggles in it. It weighs approximately 3.5 ounces. The retrieval cord is 3 inches long.
Ball #2 - Is a barbell shaped ball, that is flexible in the middle. It has a diameter of 1 ¼ inches. There are giggly weights in each end. It weighs approximately 3.5 ounces and it has a 3 inch retrieval cord. It is 3 inches long.
Ball # 3 - Is shaped like a less pronounced barbell that is completely flexible in the middle. It has a diameter of 1 1/8 inches. It too has giggly weight in each end and has a weight of approximately 7 ounces. It too has a 3 inch retrieval cord. It is 2 1/2 inches long.
The plastic cords are firmly attached with an indentation for your finger tip to aid in insertion. These are meant to be worn only one at a time I wouldn't suggest trying to insert more than one of them at a time.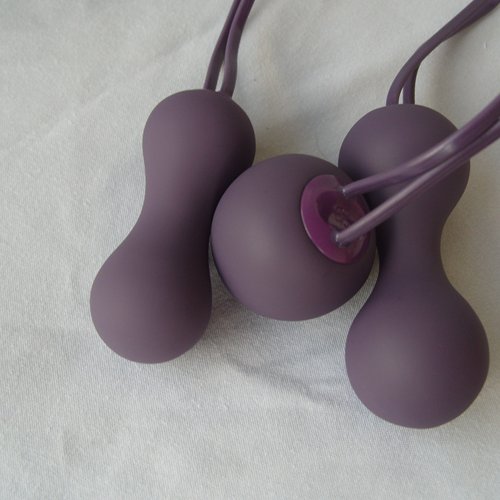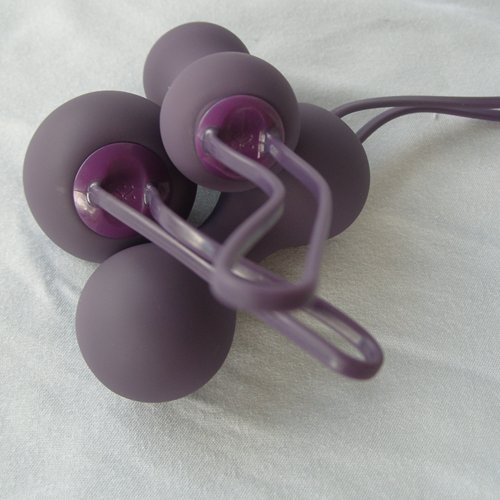 Care/Maintenance
These are easy to care, antibacterial soaps and water, toy sprays or Eden wipes. I wouldn't suggest boiling or placing in the dishwasher because I don't know what would happen with the insides. Only use water based lubes as other lubes can hurt the finish. Store away from other silicone's and each other as that can hurt the finish as well. These are easily stored in a snack sized plastic baggy. When wearing them out of the house I would suggest to carry a baggy with you if you need to remove them before it's time to come home. You can throw the toy in the baggy into your purse or even your pocket.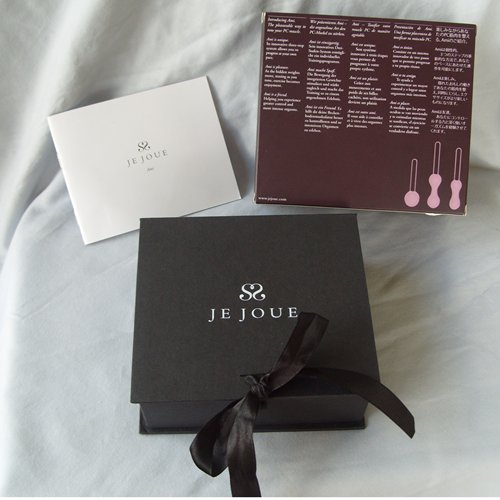 Packaging
I love Je Joue's packaging, it's like you are receiving a gift. It has an out box with information about the Ami on it, the inner box is black and ties closed with a ribbon. The three balls are nestled into a plastic form meant for them and they are labeled. It also comes with an informational booklet.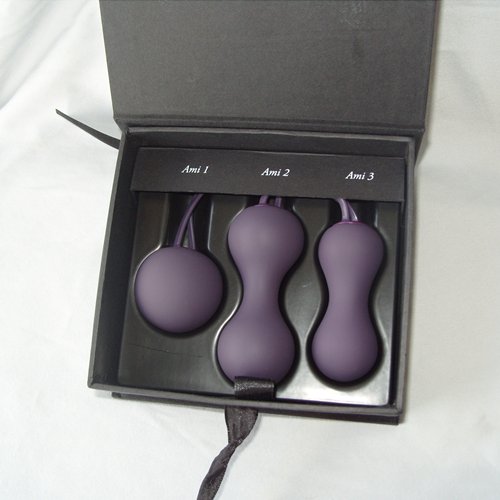 These are great for travel, you can even wear them through security. I doubt that TSA would realize what these are, they look somewhat like a child'd toy. Be sure to keep these from young children as they may think it's a toy too!
Experience
I would suggest these for any women, advanced toy players, beginners, old and young. The benefits are great for all.

In comparing these to other types of Kegal toys, this one wins! The smooth finish is better for insertion and removal than the smart balls are, they are easy to retrieve and have the cords that the ben wa balls don't have. You have three balls with the set and you can judge your progress by the ball that you are using. The only better device that I have used is the Jopen Intensity. This is more affordable.

I can tell you after months of playing with these types of toys I can definitely tell a difference. NO MORE coughing and leaking. This definitely helps with the self esteem and body image.
Follow-up commentary
4 months after original review
These are one of my favorite sets of kegel products. The set allows you to use the one which fits you best and when you get good with one you can move up. They are very comfortable and the retrieval cord is not one of the pokey styles.
This content is the opinion of the submitting contributor and is not endorsed by EdenFantasys.com

Thank you for viewing
Ami
– vaginal exerciser review page!