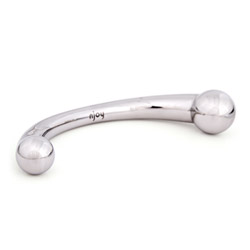 Pure wand
Contoured probe
by Njoy
My Pleasure, My Pain
I love the idea of the Pure Wand. Everything from the top notch quality to the thoughtful design seems right on to me. I am sure that if I wasn't scared to death of the thing it may become my favorite toy. I honestly can't say anything bad about this brute, but because it just doesn't quite work for me I feel I can only give it four stars. A few months from now I will surely come back and let everyone know where I am with this toy, but for now I think I am going to explore softer fare.
Published:
Pros
Excellent Quality
Easy G-Spot Targeting
Extremely Versatile
Cons
Heavy and tiresome to use
Unforgiving and potentially painful
This review was seven months in the making due to an severe car accident I was in. I apologize for being so late getting it out, but under the circumstances I hope the Edenfantasys community can forgive me.


The Pure Wand by Njoy might just be a work of art. From the hefty feel to the polished finish, this is one toy that grabs your attention and holds it. It's packaged in a black box and encased in a pink satin lined Styrofoam mold. The satin had a habit of sliding off the foam and exposing it when I removed the toy, but that was probably because I took the box all apart to examine it.

This toy has some serious heft. And at eight inches of stainless steel, that is to be expected. Still, it felt heavier than I had imagined. Because of fact that it is a metal toy, you can really put it through it's paces. Any type of lube can be used on this toy without damaging it. Cleaning is a snap due to the fact it is non-porous, and it is an awesome temperature play toy. It doesn't hold the heat for a long time, but boy can it change temperatures in a heartbeat!

The shape is similar to some other glass toys you can find on Edenfantasys, and it does offer similar g- and p-spotting functions. The curve is obvious without being ridiculous, and the balled ends vary in size enough so that each offers a totally unique experience. However, this is not the easiest toy to use. It is extremely hard and unforgiving, again due to the fact it is stainless steel. You can't comfortably expect to go to pound town with this behemoth. As such, I would exercise extreme caution if you plan to use this with a partner. Lastly, and perhaps mostly important to some, this toy is heavy enough to make using it a tiring experience. If you want to get the most from it, you better be prepared for a bit of an arm workout.

I think that the toy really is best suited for a sitting or lying down position, as it is just to heavy to maneuver very easily. However, I am certain that even as I type this, somebody is using it during a one armed handstand or some such crazy acrobatic position. Do feel free to experiment.

Because the toy isn't totally obviously a dildo, I would say it's travel friendly. However, be aware that this is really going to stand out in your carry on luggage as it travels though the x-ray scanner. You might considering packing a little lighter.
Experience
I'd had my eye on this toy. I saved my points with anticipation that this would be the one that could make me gush. When the package finally came I tore it open. I snatched it out of its cozy package. This sucker is heavy!

I couldn't wait to try out this toy that was so beloved by nearly all. I set her back in the box with much anticipation of what was coming later. It was just too bad that tragedy befell me before I got the chance to enjoy my new metal monster.

The roads were covered with wintry black ice. I had to drive to work. As I made a pulled through a green light a truck came barreling through the intersection and slammed into my tiny coupe. Everything went black to the horrific sound of twisting metal.

I awoke in the hospital with three broken ribs, a fractured tailbone, and a cracked pubic bone. As one might imagine, my sex life was put on hold for a while. Days turned into weeks, and weeks into months. I hadn't gotten to use my Pure Wand even still. It sat in the my self in its beautiful box collecting dust. The very thought of a heavy metal object anywhere near my crotch was enough to make me cringe.

Finally, about a week ago, my doctor deemed me fit enough for sexual intercourse. I used several of my toys with success, and even had some rough sex.

The Pure Wand's day had come. I had no idea of what I was in for. I laid on my back with my legs spread open. I warmed myself up sufficiently with my fingers and Wahl Massager. To say I was dripping would be a bit of an understatement, but I won't get too detailed. I slid the smaller end of the Pure wand into my vagina, and went into near shock at just how cold this thing was. My muscles cramped up all around it. While not my cup of tea, I understand why some people might like playing with cold. It was a very unique sensation. Luckily for me, the wand warmed up quickly, and I attempted to make a go of the rocking motion that so many women claim is the key to success with this toy. Alas... nothing but a sore wrist. I wasn't going to give up yet, and committed to try again the next day.

The next day I made a second go at the toy. This time I lounged on a comfortable leather lounger. I remembered to warm up the Pure Wand first and got off to a good start. Things were going well and the tension in my g-spot was Building. I must have been getting too excited because when I accidentally rocked it into my pubic bone I felt like my pelvis had turned to glass. Normally I might have just gone on, but this was the site of my freshly healed fractured bone. I honestly let out a bit of a scream. I haven't gone near my Pure Wand again since.
Follow-up commentary
12 months after original review
Still love using this toy. The weight of the toy helps to push on my g spot just right. I have even squirted using this. AMAZING!
This product was provided at a discounted price in exchange for an unbiased review. This review is in compliance with the FTC guidelines.
Thank you for viewing
Pure wand
– sex toy review page!