My vibe for Life!
The Life by leaf surprised me with it's powerful vibrations. It is very easy to use, but only offers a constant steady vibe. The nice thing is that you control the strength, so it can be enjoyed by people with variable strength requirements. I love the storage pouch and the fact that the cord is actually labeled with the Leaf name. This vibe is powerful, rechargeable, body safe, and easy to use...what more could I ask for?
Published:
Pros:
Ergonomic, Silicone, Rechargeable, Charging cord labeled, Strong vibrations, Storage pouch included
Cons:
No Patterns
I never thought I would find a toy to replace my
Je Joue MiMi
... This vibe can and has! This "green" rechargeable clitoral vibe is every bit as strong and so much easier to operate. This vibe is great for all over body teasing. It feels great on nipples, labia, and male perinuem. It is meant for clitoral stimulation, but why stop there? The Life silicone vibe is so cool looking. It is ultra-quiet and very discreet. The Life is made of silicone and is completely waterproof. This vibe also comes with a storage pouch.
The Life is 4.5" in length x 1.5" width. It is designed in the shape of a leaf. The rounded sides combined with the pointy tip make this vibe perfect for pin-point clitoral stimulation. It is ergonomic and fits really well in my hand. The design is also slim enough to fit between lovers for clitoral stimulation during sex. The Leaf vibrates a lot and will cause some hand numbing if you try to hold on too long. The good news is that it is so strong, it never took me more than a few minutes to orgasm. Hand numbing never occurred for me.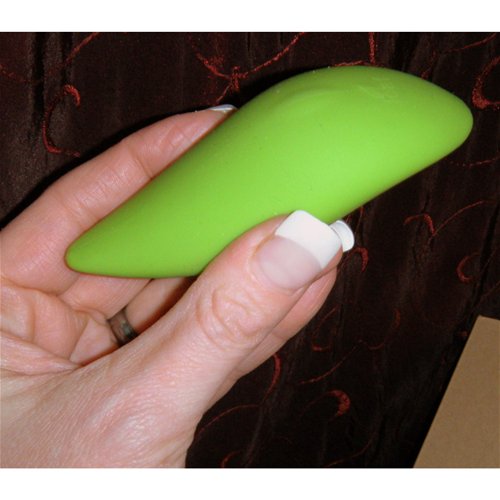 The Life has an easy one-touch control button on the top. The Life does not offer any patterns, just a constant steady vibe. You control the strength by holding down the button, it gets stronger the longer you hold it. The light under the button blinks as you change the strength and get steady once you hit the highest level of vibration. To turn it off just click the button once and it turns off. The Life also has a locking feature for the button, once it is on just click it three times really fast and it locks. To unlock, just click the button again 3 times really fast and it unlocks.
The Life is also rechargeable. It has a small hole on the button for the charger. Around that hole is small writing about the patent and stuff, Leaf does make some apologies for this. The fact is that the toy is not completely seamless due to it. In the next pic you can see the seams more clearly. It is not that big of a deal for me, but I just thought I would mention it here.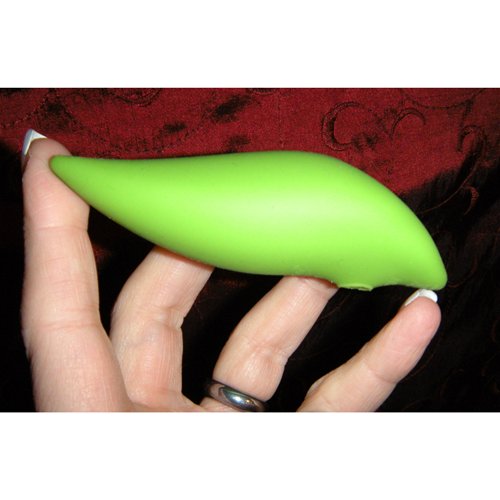 It is made of medical grade silicone. Silicone is only compatible with water-based lubrication. The Life feels squishy with a firm core. It is submersible, so use this in the shower, pool, or tub without fear of ruining it at all. It is very easy to clean this toy with soap and water, a sex toy cleaner or 10% bleach solution. The silicone is a bit tacky, so store this toy away from dust or lint. The Life comes in a nice cardboard box that also includes a cotton storage pouch. The pouch is extra large so it will fit both the toy and the charger. The charger has the leaf name on it a nice touch since they pretty much all look the same. The battery in this vibe is special and it will get ruined if you try to charge it with the wrong charger. The max run time is about 2 hrs 40 minutes on a 2 hour charge.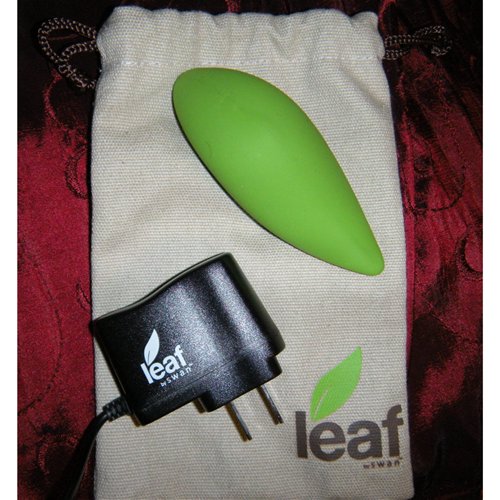 The packaging for the Life was very deluxe with an earthy feeling. it was a recycled cardboard box that uses a small magnet to insure closure. The box contained the booklet about the Life, the pouch the charging cord and the Life itself. The funny part about all the earthy ego-friendliness is that everything was wrapped in plastic.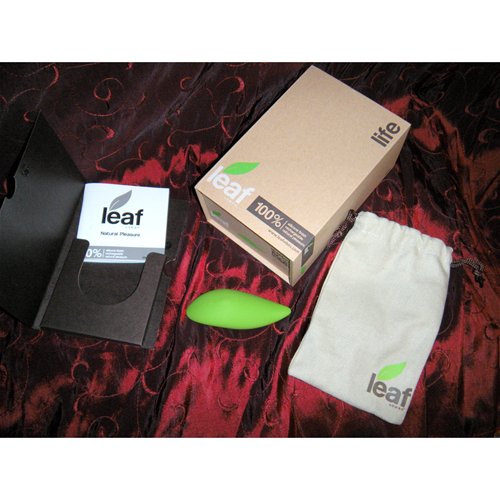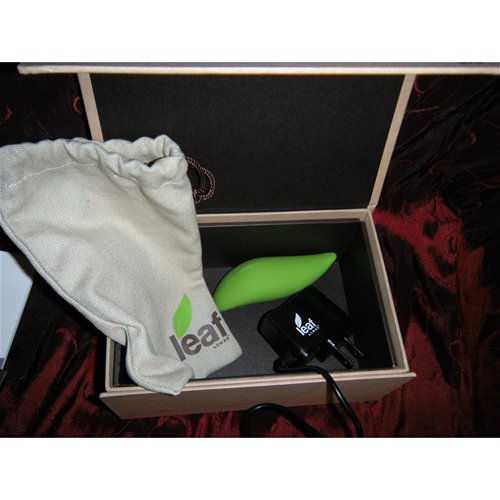 The box was big enough to fit everything inside of it with room to spare. I was just elated that it came with a storage pouch of it's own since I know I will be taking this vibe with me most of the time.
Experience
I love the Life vibe! I struggled with which of the leaf line to get, and I am so glad I picked this one to start with. I highly recommend this vibe for those with a clit-o-steel, it's strong vibes will not disappoint. The nice part if that even if you don't have a desensitized clit this vibe can still work for you because you can stop at any level. I highly recommend this vibe for any one who enjoys clitoral vibrations.
Oh I almost forgot to mention that all Leaf vibes come with a 1 year warranty, just hang on to your receipt. I love when a company stands behind their products enough to offer a warranty, don't you?
This product was provided at a discounted price in exchange for an unbiased review. This review is in compliance with the FTC guidelines.

Thank you for viewing
Life
– sex toy review page!