Stronger Orgasms? Yes, please!
Want to try a Kegal exerciser that gives you a great workout without breaking the bank? Try Smartballs! If you have a tilted uterus or a short vagina, look at the Teneo Uno instead.
Published:
Pros:
Great for Kegals
Holds up well over time
Cute colors
Cons:
May be a little large for some
Looking for a Kegel exerciser that's cute, functional, non-threatening, wallet-friendly, and has a long life? Step right on up and take a look at the original Smartballs!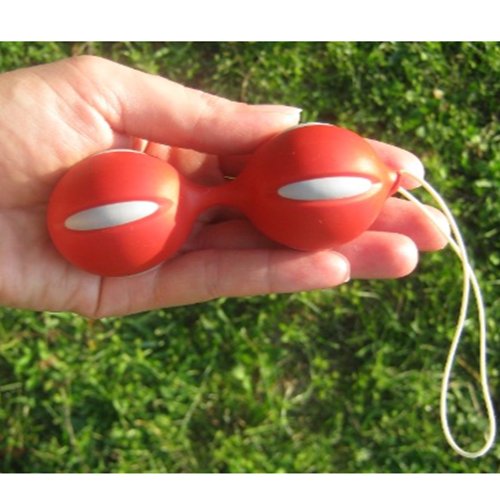 First off, the basics. Fun Factory's Smartballs are Kegel exercisers that consist of two balls connected by a "neck," with smaller free-rolling weights inside them. Each ball is just over 4.5 inches around at the widest point, and the balls together with the neck are just over 4 inches long in total. At one end is the removal loop that is just over 3.5 inches long. Smartballs are made of elsastomed (an 8 on Eden's safety scale,) are waterproof, and are easy to clean with soap and water. I tend to use a clean toothbrush to clean the vertical ridges (the grey part in my photos.) Fun Factory recommends using a water-based lubricant and NOT using Smartballs for any anal play due lack of a flared base. They come packaged in a classy, but non-discrete, grey and red box.
On the side running the entire length, there is a small seam. It is very unobtrusive and can't be felt during use. However, I want to point out that there is a raised nub where the removal string is attached. Now, the string is kind of long and gets in the way for me which is slightly annoying. More than that, though, is that if I'm wearing them and they start to slide out a little bit, that nub pinches me
very
painfully. For these reasons, I personally put the balls in backwards (strings first) which fixes both problems for me. For you, I would only do that if you don't have an issue removing toys without a string, and if you don't have an IUD with long strings. You wouldn't want to get the strings tangled together! Ouch!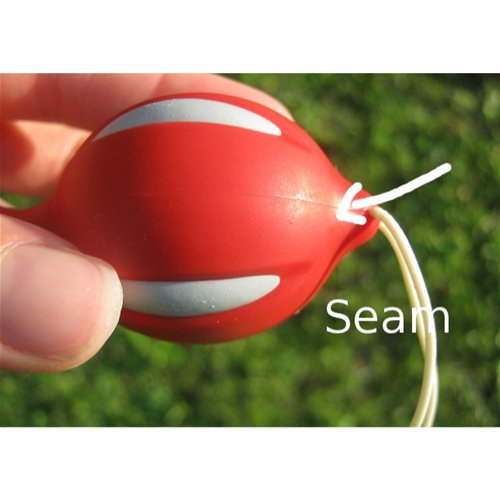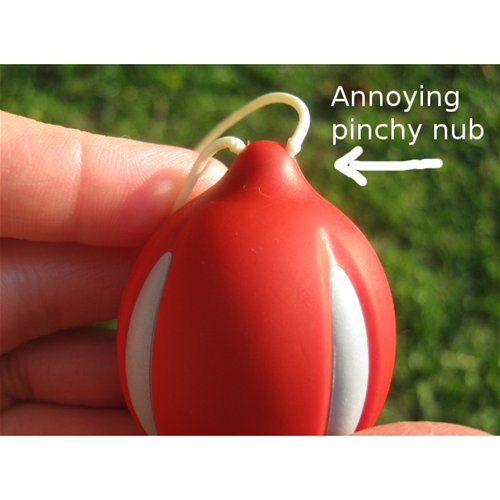 The length and girth of Smartballs may be a problem for some people. I've heard some say that they are too long to fit in their vagina, and I've heard other people say that they are so wide that they don't need to actually use their Kegels to keep them in. For me, though, I find that they fit just right. I wouldn't want them to be any longer or any larger in circumference, but as they are, they fit perfectly for me and make me work my Kegels without making me
struggle
to keep them in place. If you struggle to keep in Kegel balls that are on the larger side, you may want to try Fun Factory's
Teneo Uno
.
When wearing Smartballs, I find them to be comfortable while still being aware that they are there. When walking around and going about my business, I can feel the inner balls rattle and give a very mild vibration, but not enough to give any sexual pleasure. However, because I can feel the vibration so clearly, I was afraid that you'd be able to hear them. My husband assures me that he can hear nothing when I wear them, so I have worn them out in public a few times to give my Kegels an extra work out. OK, it was also a little sexy wearing them out and about, if I'm perfectly honest.
In addition to actively constantly squeezing my muscles to hold the Kegel balls in place, I also find that if I want to do squeeze-and-release exercises, it is easier to have Smartballs in place to have something to squeeze against.
All that's well and good, but how do they really work for Kegels? Honestly, for a while I wasn't sure they were working at all. But then my orgasms started to get stronger and my husband let me know that I was able to squeeze him harder when I've been using the Smartballs than when I didn't. If I stop using them for a while, not only am I not able to squeeze my muscles as hard, but my orgasms get weaker.
Experience
I've owned my Smartballs for at least two years (possibly longer, I can't quite remember when I bought them.) I use them about 1-3 times a week (sometimes more, sometimes less) and they have held up remarkably well. They show no signs of wear except for the colors not being quite as bright and the string being very slightly frayed in spots. That's it!

My husband and I have found an alternate use to Smartballs. We sometimes use them during sex! We've found that with the balls in place, they push his penis forward and cause him to rub my G-spot with more pressure than before. I need to note here that we are able to do this because we know exactly how we fit together and tend to use a rubbing, not thrusting, motion with me on top when we use the balls during sex. If you decide to try to use the Smartballs during intercourse like we did, go slowly and carefully! If they are not positioned just right you could bruise your insides, and that's just not fun. I don't know how Smartballs would react to condoms, so it's best to only attempt this with a trusted, established partner that you are fluid bonded with when you are not at risk of pregnancy, unless, of course, you are trying to get pregnant.
This content is the opinion of the submitting contributor and is not endorsed by EdenFantasys.com

Thank you for viewing
Smartballs
– vaginal balls review page!