It Really Is Sex in a Can!
I think this toy was absolutely worth it. Whether a man is looking for something different while the wife is pregnant, single and trying to be safe, or just looking for another way to blow a fantastic load... the Lady Lager is definitely worth the money.
Published:
Pros:
Super soft
So close to the real thing
Never has a headache
Cons:
Noisy
Takes preparation
More clean-up than most men are used to
I purchased this toy to give masturbators another shot, as I've only ever had bad experiences with them. This lady, however, is a completely different experience. She comes in a clear plastic tube with gold on the ends.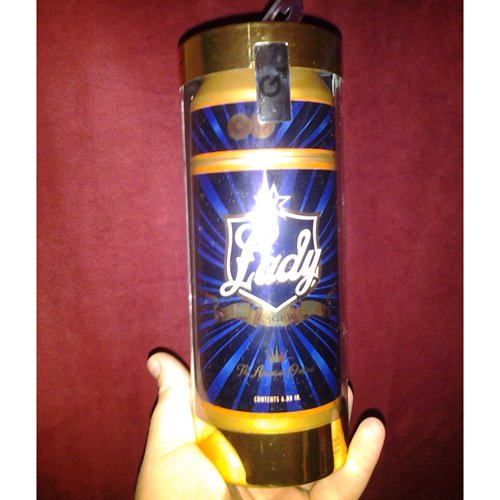 This plastic (along with the paper insert that has care and use instructions) are both recyclable.
On the tube that the Lady Lager comes in, there are two stickers that are "tamper-evident" seals. In the next two pictures you can see how they look before being pulled off, and afterwards.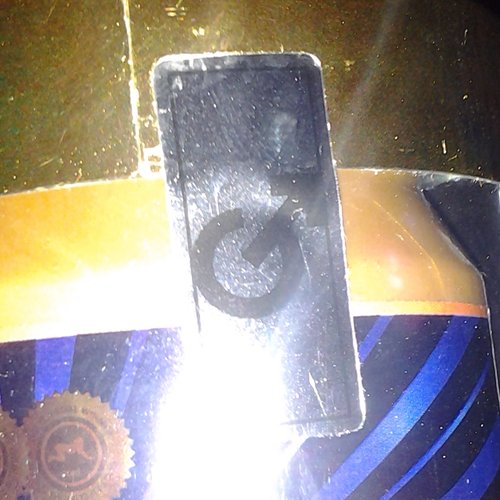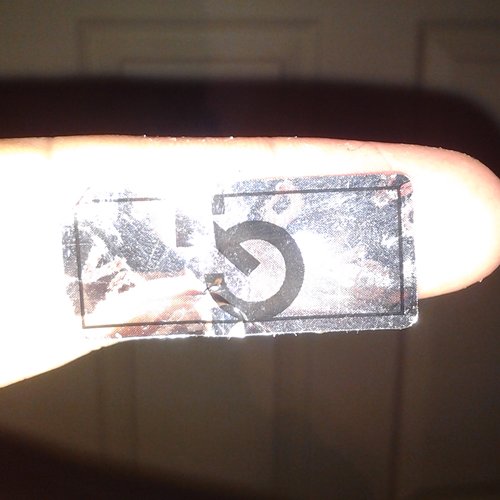 Though the post-removal picture isn't the best, once these stickers are pulled off they say "void" in several places, so you know for sure no one "test-drove" your Lady before you got her.
After removing both of the seals, you can pull the top of the tube off pretty easily, but getting the Lady out of the packaging is horrible. They use a drop of glue in the bottom of the tube to hold her in place.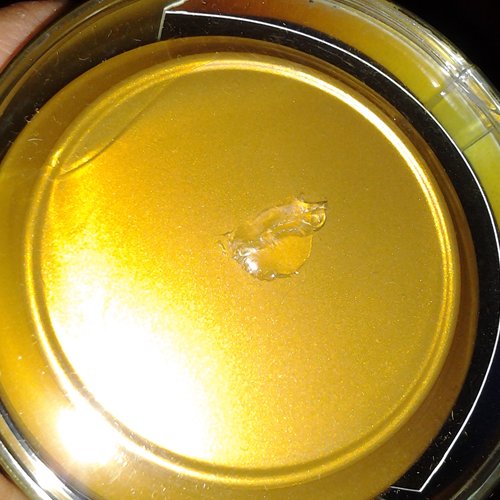 This glue is seriously some of the stickiest stuff I've ever dealt with, and they also use it to hold the instructions to the side of the can (the toy is a can with a fake pussy inside) and gluing in the instructions is a bonehead move. If I hadn't noticed how strong the glue was when pulling her from the packaging, I could have easily ripped my instructions or the stickers that encompass the whole can.
Once the Lady is removed from the packaging, the top of the can screws off to reveal what we are all here for.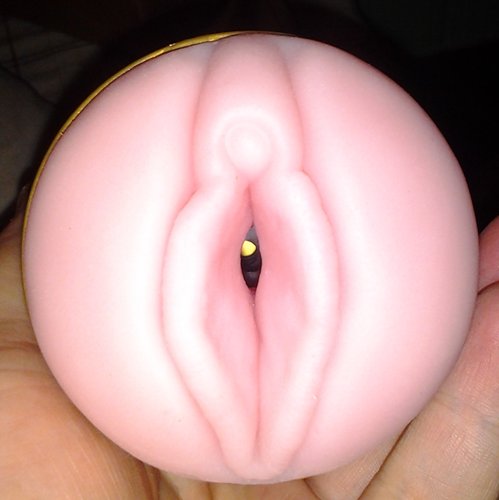 The vagina in the can is made of
SuperSkin
, a super soft material that is non-allergenic, latex-free, and holds heat
INCREDIBLY
well. To care for the vagina insert, you run HOT water through it (NO SOAP) and occasionally clean it with isopropyl alcohol. To keep the material feeling soft (it also helps with the natural "stickiness" of the material), you should occasionally powder the whole insert with corn starch and shake off the excess. Without lube, SuperSkin has a definite drag to it, but once lubed up (you should
ONLY
use water-based lubes; I strongly recommend
Maximus
), the material gets very slick and very realistic. It came with an included sample of lube, which was hidden inside the can between the wall of the can and the vagina insert. Oddly enough, it is called "Fleshlube" in the instructions, but I received a sample pack of ID Glide with my Lady Lager.
Once I had the top screwed off, I took a nice whiff of the material. It had a negligible chemical smell, but I expected that. I'm not one to lick my masturbators, but since men that like to eat their own cum may very well end up licking their loads out of this vagina, I did lick the material. It didn't have a taste of its own, but I could taste the corn starch they put on it at the factory. The bottom end of the can can also be adjusted (to change the "suction" level, or for ease of cleaning). The SuperSkin vagina is VERY SOFT, and I probed deep into it with my finger and it is something of wonder. They have gotten extremely close to the real thing with the
Fleshlight
line of products for men.
The internal texture of the "tunnel" is great, and I turned mine inside out to try to get a better look at it.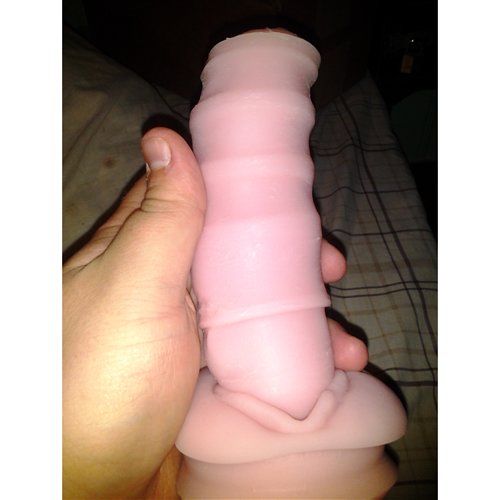 As you can see in the picture, it is really just ridges and valleys, but it works wonderfully.
Experience
Once I had done my basic inspection of the toy, I moved on to the instructions.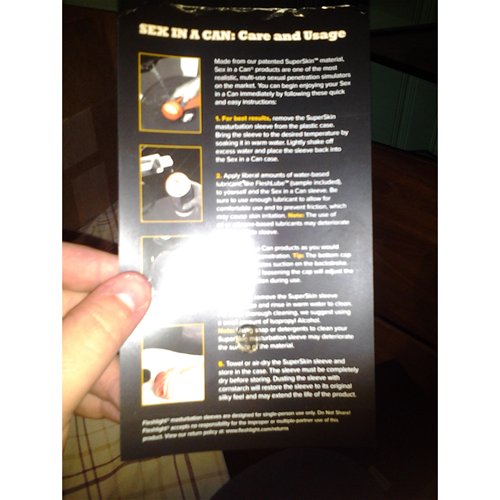 The instructions tell you pretty much how to get it ready and use it, along with care instructions. Since I can't really leave this laying in the sink to warm up as recommended, I wrapped the whole can in my heating pad and turned it all the way up. I left it this way for over an hour (yes, to get the full experience, this toy does require some prep and some privacy), and when I finally got back to it, it was very warm. I was running a fever at the time, and the Lady Lager was easily 10 degrees warmer than me.
I laid back, delved into the spank bank, and proceeded to get hard (if you aren't hard, you aren't getting inside this thing) before lubing both the head of my cock and the opening/tunnel of the toy. I was concerned at first that my head may be a little too girthy for this toy, but with enough lube and just a little pressure, I popped right in.
Now, I don't know if you've ever been really horny and had sex with someone with a fever, but EVERYTHING is warmer, and I felt like I had just slipped balls-deep into a virgin with a high fever. I've honestly felt worse pussies than this before, and when I started stroking I was amazed. It feels VERY realistic, though I should warn everyone that it does make some noise (though this can be controlled some by loosening or tightening the end cap). The suction with the lid tightened all the way is something to behold (again, VERY NOISY), and with the end cap completely off, there isn't as much suction but it still feels great.
I kept stroking, and the warmth was still there 15 minutes in. This Lady really does hold heat well, and I am thankful for that.
When I finally got close to cumming, I tightened the end cap all the way down to get all of that amazing suction back, and thrust into my Lady with wild abandon. As I came, it felt as if she were sucking everything out of me, and when I pulled out I thought this little toy was trying to turn me inside out through my urethra.
Not having a chance to get it to the bathroom and rinse it right then, I poured cold water through the tunnel to rinse my cum out of it and into the end cap, and then wiped the cap out with a Kleenex. Leaving it overnight without thoroughly cleaning it didn't cause a problem at all, though I wouldn't recommend leaving it full often.
Follow-up commentary
5 days after original review
After the first couple of times with this lady, I didn't think things could get any better.

I was wrong. I ventured to stick a very small super bullet in the side of the case between the insert and the case and ladies and gentlemen.... WE HAD LIFTOFF.


If you are considering this or something cheaper... splurge on yourself.
This product was provided at a discounted price in exchange for an unbiased review. This review is in compliance with the FTC guidelines.

Thank you for viewing
Lady lager
– penis stroker review page!