Time to rub me down with this candle!
If you love candles and love a room that smells great this is a wonderful candle for you! Doubling not only as a mood setting item but a sensual massage oil, this is great for more than just additional light and added aroma! Enjoy rubbing your lover down with an oil that won't have you running to the bathroom to clean up right afterwards!
Published:
Pros:
Smells great
Great massage oil
Not sticky, tacky or greasy
Fragrance for larger rooms
Cons:
Scent may be too strong for some
WHAT IS IT USED FOR?
The
Shunga Massage Candle
is a soybean wax candle which, once it melts, is meant to be used for massage oil. It can be used for sensual massage with a partner, or to moisturize your skin if it is dry.
SCENT/TASTE
While some massage candles are edible, this one is not. If you get any of it in your mouth, you will instantly notice that it tastes like soap. I can give you that little detail, because I tasted it so you wouldn't have to. You're welcome!
As for aroma, this candle comes in 4 great scents: fruit, rose, vanilla and lavender. I chose rose for my first candle. The scent is quite powerful, and when I am exposed to the candle for too long (more than 30 minutes at a time), I start to get a tiny headache. This may not be a problem for most people, but I am highly sensitive and prone to migraines due to scents. This candle, before lit, can be smelled while open from about 4-5 feet away. While lit, it can be detected from a tiny bit further.
The scent itself, didn't really smell like roses would if you were to go up to a rose bush and smell them. Instead, it smells more like floral scented laundry soap. Personally, I like this scent, but I am interested to try the others as well!
Used as a massage oil, the scent will stay on your skin for several hours. Although the scent stays for a long while, it is not too strong. If someone were to give you a hug, they would smell it, but if you were at an arm's length from a person, they would not notice it on you.
PACKAGING
Your candle will come in a round tin decorated with beautiful Japanese-style art. While beautiful, unfortunately this tin is not very discreet. Luckily I am able to leave mine out, but if you have any prying eyes, this may not be for you. The lid says "erotic art" and the tin itself shows a picture of a couple entangled in what could be what I consider not so discreet. It also gives instructions on the tin which include listing a sensual massage and "intimate moments". The candle also comes with a white plastic spoon for scooping out the oil.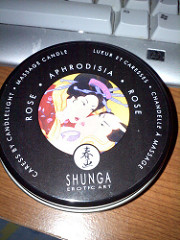 HOW TO USE IT
Simply light the wick, let the candle burn for about 30 minutes to get a decent amount of oil built up, and then blow out the flame. You may then pour the oil onto your partner or scoop some out with the plastic spoon and massage away!
CARE/MAINTENANCE/STORAGE
When I am done with my candle I simply put the lid on the tin and put it in my drawer with my other candles. Simple enough! This candle burns for 45 hours, but you will want to be sure to trim the wick for safety and for your candle to be most effective! You don't want to leave any candle burning for more than 3-4 hours at a time, and of course keep out of reach of children and pets!
CLEANUP
Although this candle does not leave a slick or sticky substance on you, it does leave a scent on you of whatever fragrance you've chosen. If you don't care to have that smell on you, simply wash it off in the shower or with soap and water.
INGREDIENTS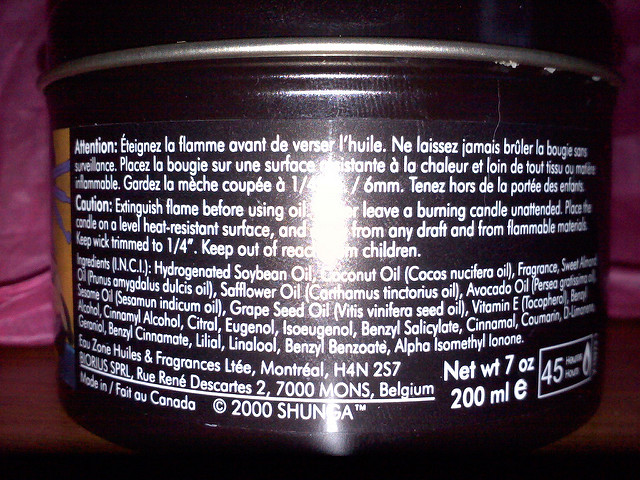 Experience
I rather enjoyed using this candle to create ambiance in our bedroom. It certainly smells fantastic and burns for a long time! For massages, it works great! It is actually one of the better massage candles I've purchased. For a room freshener, it works just as well! I loved the way my skin smelled and felt after using this as a massage oil and I loved how long those two things lasted.

5 out of 5 stars for performance as a candle, and its doubled function as a massage oil!
Follow-up commentary
4 months after original review
At this point, I've of course used up this candle long ago. It lasted me a long time and I enjoyed it up until the last burn. I decided to get the other scents and I love all but the "fruit" scent. I do not tend to like "fruit" candles, so this may not be the fault of the candle itself, just preference. All have lasted a long time and so far, vanilla has been my favorite followed by lavender. .
This product was provided at a discounted price in exchange for an unbiased review. This review is in compliance with the FTC guidelines.

Thank you for viewing
Shunga massage candle
review page!