Vanilla Vanity
Imagine yourself laying on your bed with your partner over you. A candle's light is emitting a soft glow. Next you feel your partner's hands glide across your body, leaving a warm trail of silky oil. The scent of warm vanilla quicky fills you. Your daily worries and stress quickly fade as your partner pampers you in a romantic, sensual way that leaves you feeling relaxed and ready for more.
Published:
Pros:
Smells amazing
Doesn't burn your skin
Smell lingers on skin
45-hour burn time
Cons:
Doesn't fill whole room
Small spoon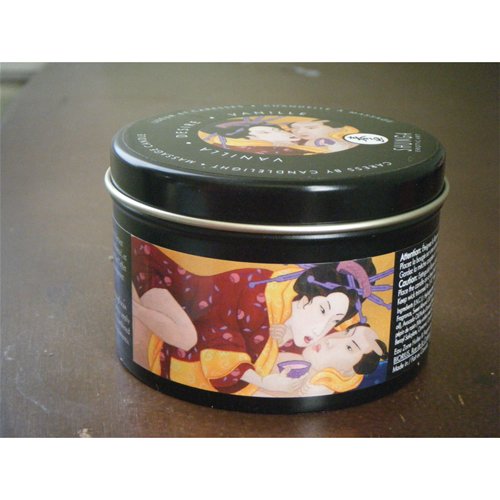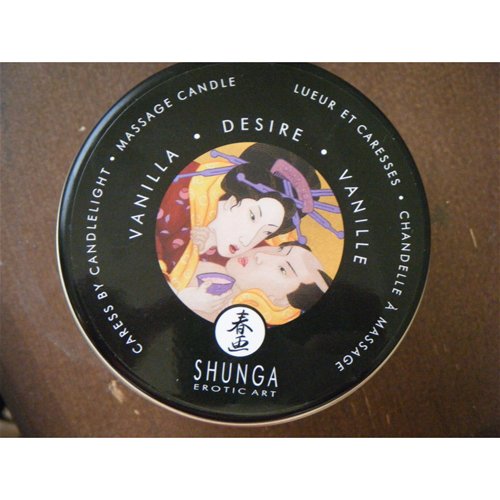 Shunga massage candles by Shunga Erotic Art come in four scents: lavender, rose, fruit, and vanilla, which I have. It's in a 6.75 oz black tin container with a couple doing something freaky on it. It has a plastic rim across the top that you take off and throw away after first use. It has the product name and brand on it along with ingredients which include hydrogenated soybean oil, coco nucifera oil, fragrance, prunus dulcis oil, carthamus tinctorius oil, persa americana oil, sesamum indicum oil, vitis vinifera oil, tocopherol and. The packaging also says the burn time (45 hrs) and directions. It also comes with a small spoon which I found useless.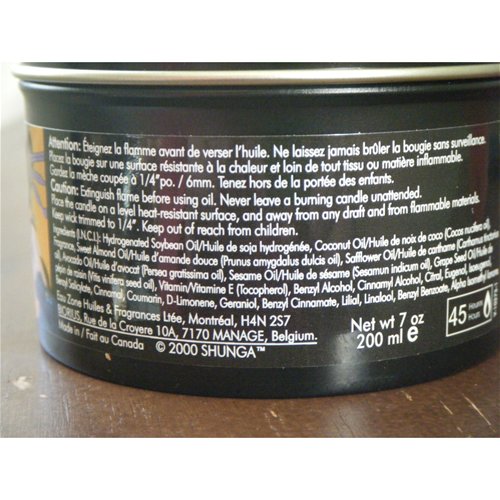 The directions say to burn for 20 minutes, blow out the flame, put oil in your hand, then apply. I burned for only about 10 minutes and did not blow the flame out. The spoon was too small to get a good amount so I just poured it straight from the tin. I think doing that, you not only get a lot more oil at once, but it's also a funner and sexier way to do it. The wax did not get hot enough to burn me or my partner but caution should always be taken when using fire and wax. Make sure to never leave it unattended. Nothing would ruin your romantic night like a house fire. The smell did not fill the entire room. I could barely smell it burning right next to me. When the oil hit my skin, though, the smell exploded, which I liked. I got the sensation of being touched and smelled the amazing smell at once. I love the smell but I do wish it filled the whole room more. It smells like a real cake, good enough to eat. The closest thing I can think of to compare it to is the Yankee vanilla cupcake candle.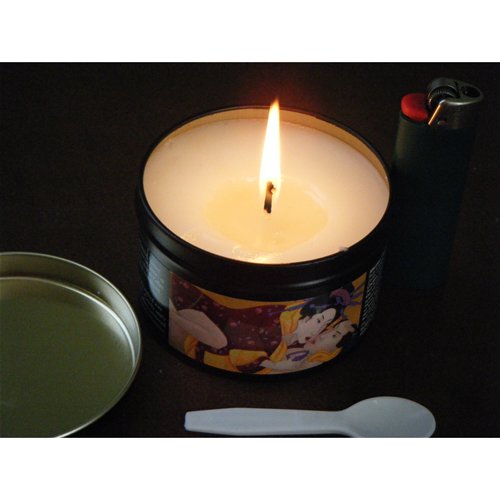 It went onto my skin really nicely. It did not absorb very quickly and for a massage that's what you want. It was the slightest bit greasy and a little runny but not anywhere close to where it'd be a problem. It was really easy to spread across the skin; I could smell it a lot stronger when it got on the skin than when it was in the tin. I could still smell it on me several hours later. It leaves my skin soft, smooth, and smelling delicious. A little bit of this did go a long way. The price I think is a little high since the smell doesn't fill the whole room, which I hate. But other then that and how tiny the spoon is, I can't really find anything wrong with it. This is my first massage candle so I can't really judge it compared to others. Overall though, unless I find something I like better, I will buy this one again. If you're looking for a good quality candle to try out, I'd say get this one. I do plan to try the other and some other brands as well. Do remember though, if you're looking for one that fills the whole room with this scent then try another.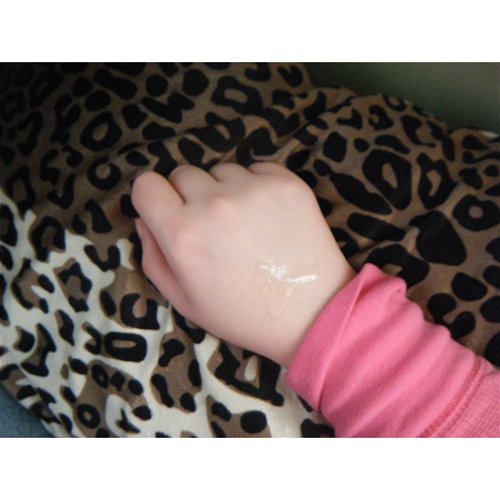 Follow-up commentary
19 days after original review
I've used this candle over and over and I still have more then half of it left. I love the scent it leaves on skin and how it glides over. I've tried another brand that was more expensive and I think this candle is still better. You get a nice scent on skin that lingers for a while and a long burn-time. It doesn't fill the whole room, though, which is the only down-side I've found to it. For now I'm sticking to this candle.
This content is the opinion of the submitting contributor and is not endorsed by EdenFantasys.com

Thank you for viewing
Shunga massage candle
review page!