A condom for your toys!
If you are like me, your glass toys are some of your favourite toys in your Toy Trunk. But the unfortunate part of the sex toy industry is... not many glass toys arrive at your house with a pouch for storage. These would be a pretty good investment to protect your most favourite treasure. Show your toys some love! Treat them well!
Published:
Pros:
Nice and thick protection for your goodies
Cons:
Cost can add up if you want one for each glass toy, space hogs
Good afternoon poppets!
Welcome to another review by me!!!
This time we are going to be talking about Don Wands toy storage pouches. We are not going to be looking at the smallest, but we will be looking at the medium and large.
How many of you have bought a Don Wands toy in the past? Quite a number of "yeses" out there right? Those are the medium sized pouches. See! Right there, below this sentence. That is the original Don Wands pouch.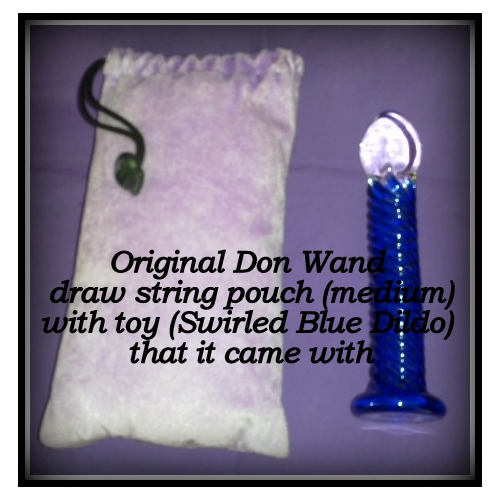 It comes in the "medium" size.
But unfortunately, Don Wands no longer gives you a storage pouch with each glass toy purchase.
Yes, that is sad news indeed, but the good news is... we can order really nice and thick and plush and soft little pillows for our glass toys to sleep in!!! How wonderful is that? And you can buy more than one!
The medium sized pouch in my opinion is basically perfect for pretty much any regular sized glass toy.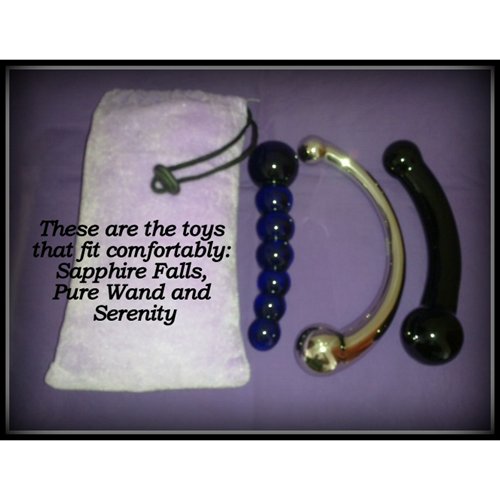 The padded medium sized pouches are five inches wide, nine point five inches tall and three inches thick. The large size is basically the same, only twelve inches in height. As you can see from the picture below, they basically look the same. The only difference is, the large, is longer than the medium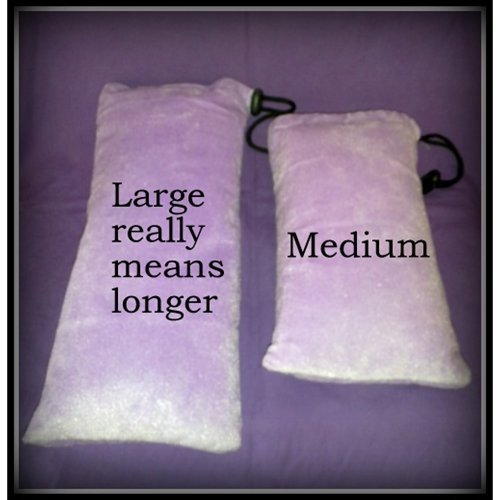 Inside each of the pouches, your glass toy will be fit snugly and would be perfect for travel.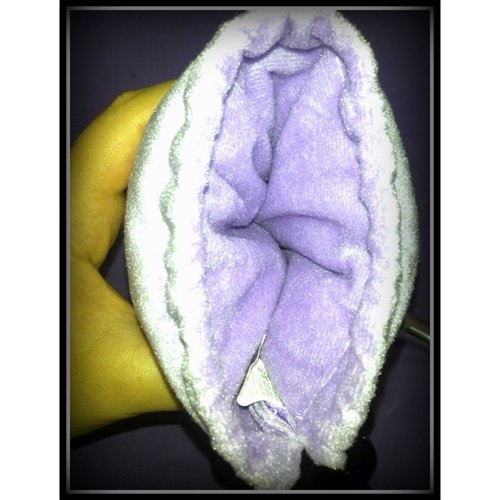 The draw string has a spring clasp that holds the pouch closed or open, and it did take some effect to open it. I have used the Don Wand pouches while travelling back and forth from China to North America a few times and the glass toy encased in the pouch has never been damaged. Because of the plushness of the pouch, you can bang, drop, bump into, squash and my toy is still in perfect condition.
It would be easy to hide a toy in them, but I don't think they would be discreet. Simply because people would want to know what's inside!!!
Made from 100% polyester, each pouch can hold just one toy.
To clean them, the little taggie on the inside says to hand wash and hang dry. Me? I just toss mine in the washer with my t-shirts and wash on the gentle cycle and hang upside down to dry.
Experience
When I originally ordered my large, I had no idea the size. I thought it would be a little bit wider than it actually is. And since I've no toys that are longer than average, I had nothing really that will fit into it. But since I am moving soon and all my things will be taking a very long and bumpy journey, I plan to store my fans in it. That is the nice thing about these, they are multi-purpose. But be warned, they can take up a lot of room.

I am glad I had the original and the new medium sized pouches so that I could compared them. The only difference I could spot between them was the original Don Wand pouches are a little duller in colour. But that could also be from age.

This is indeed a great purchase for anyone who wants o keep their glass toys bump free!!!
This content is the opinion of the submitting contributor and is not endorsed by EdenFantasys.com

Thank you for viewing
Purple padded pouch
– storage container review page!