It takes skill to screw a pouch up...
A Pouch! How do you mess up a pouch! By adding too much of a good thing, I suppose. The Don Wands Pouch is just too padded, but if are in need of storage pouches, this is basically your only option on Eden.
Published:
Pros:
Padding
Drawstring
Storage Option
Cons:
Too much Padding
Can get fuzz on Toys
What are you talking about, Mwar?
I was initially very excited to see a pouch offered on Eden. I've been wanting to find nice pouches for my favorite toys so they stay protected. When I saw the Don Wands Padded Pouch, I thought this was it and ordered a small. What I didn't expect was for Padded to mean insanely stuffed. And the material on the inside could have been better as well.
What do you mean? Tell me about the Don Wands Padded Pouch.
The Don Wands Padded Pouch is meant to store your sex toys. You shouldn't let many of your sex toys touch each other. Silicone coatings on silicone toys can be warped or damaged if they are in contact with other silicones or materials, such as TPR. Also, non porous toys should be separate from porous toys to prevent cross contamination. Finally, toys designed for anal play (even if cleaned thoroughly) are best kept segregated from other toys. Because of these things, I welcomed having some more pouches for my toys.
I got the small Pouch. It is indeed small. It's best suited for bullets, discreet vibes, cock rings, and the like. it probably won't fit any type of rabbit, or glass toy (unless it IS small). While I welcome some padding with a pouch, I think this pouch overdoes it. There's so much padding that it may take a bit of elbow grease to put a toy inside, especially if it is silicone or a material with drag.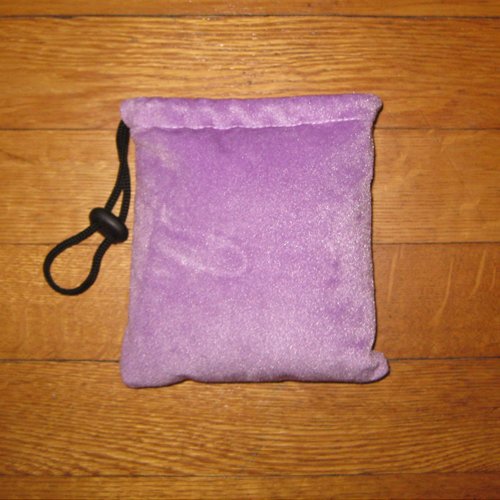 Also, if your idea for getting this pouch was to reduce lint on the toys that tend to attract it, you may want to think twice. The material of the pouch rubs off on some toys, especially silicone ones. When you remove the toy from the pouch, you'll be greeted with a nice coating of pouch fuzz.
There has to be some good things about this Pouch
There are. The padding will work for glass toys. And it will protect your toy. The drawstring will also let you close the bag so your toy can't fall out (if the extreme padding doesn't hold it in place for you). The pouch does come in three sizes: large, medium, and small, so it should be able to cover most of your toy needs.
If you need something to travel with, the Don Wands pouch is a great option. It will both protect and add discretion to your toys. It will definitely have bulk, so it might not fit in most purses.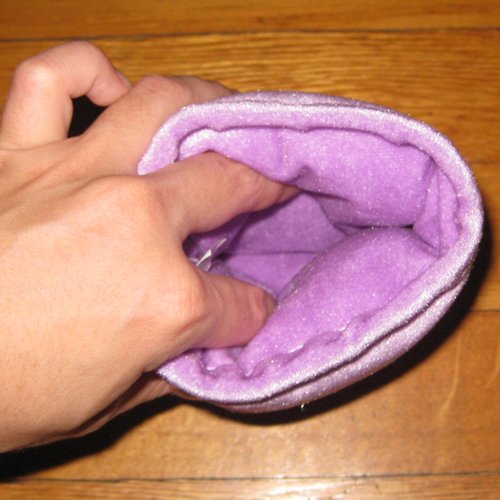 The color of the pouch is pleasing. It is a pastel, purple color. The material also gives off a pretty sheen to it. It is soft to the touch and will not scratch or damage any delicate toys when storing.
Okay. So how do I take care of it?
The Don Wands pouch is made of Polyester. It holds up to wear and tear. You can hand wash it, but I've had no problem throwing it in the wash on a delicate cycle. I wouldn't dry it though. The dryer would probably make the material lose some of its softness. The construction of the pouch is quite sturdy. There did not appear to be any loose threads or weak point on it.
Experience
Any Final Thoughts?

I wish the padding were removable or adjustable. I like it, but I feel like I have to wrestle with my pouch to get my toy out. It can be a nuisance. The Pouch could also have had a different interior, such as satin. If it was a different material, silicone and TPR toys would not pick up any fizz from the pouch.
This product was provided at a discounted price in exchange for an unbiased review. This review is in compliance with the FTC guidelines.

Thank you for viewing
Purple padded pouch
– storage container review page!