Too Much Of A Good Thing?
These pouches are great if you have a smaller collection of breakable toys, but are simply too bulky if you have more than a few toys you'd like to use with these pouches. The bulk is a positive and a negative. It protects your toys well, but also takes up a lot of space. I would recommend this to someone who only has a couple glass toys, but not for someone who had a large collection.
Published:
Pros:
- Protects
- Easy To Use
- Reasonably Priced
Cons:
- Bulky
- Too Much Stuffing
Don Wands Drawstring Padded Pouch is a wonderful storage option for glass and other breakable toys that you feel need a little extra protection. This pouch is extremely padded, providing you with the assurance that your toys are being kept safe and are less likely to chip or break. This pouch comes in three different sizes; small, medium, and large and all come in the same light purple color. I purchased the medium sized pouch.
Though this pouch is made to protect your breakable sex toys, it's not limited to that. If you plan on traveling with breakable things like cosmetic items, perfume bottles, or want to give your camera an extra layer of cushion, it works well for that as well. I can also see someone using this to store a treasured heirloom that could get broken in storage. The size you choose is going to limit what you're able to fit inside, so keep that in mind when choosing the size you'd like to get. There are a few different uses for this pouch, but they all have the same basic idea in mind; to keep your items safe.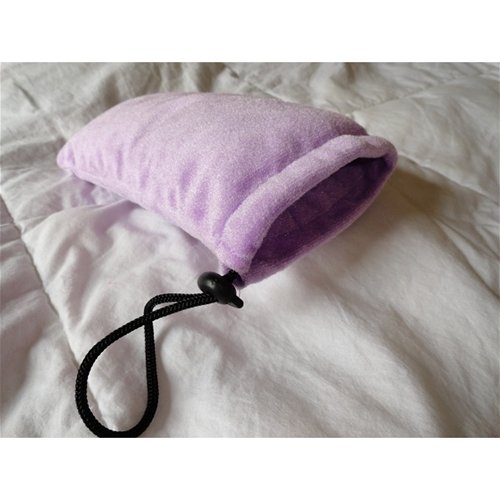 This pouch is made from 100% Polyester and only had a faint new smell when it came to me. The material is soft when you slide your hand down the length of the pouch, but there is a drag when you slide your hand back up. The inside feels exactly the same as the outside because the material is the same throughout the pouch. It does seem like it would give off a slight itchy feeling if left against your skin for a long period of time, but it feels fine in your hands. Because of the material type, there's no worry about the fabric snagging on anything like a lot of the silk pouches that come with toys, so that's a plus.
The top of the pouch uses a very simple closure. It has a black, nylon drawstring with a plastic button. To close the pouch, you simply press in the side of the button, and pull toward the pouch. When you release the side, the button stays in place, ensuring that your toy doesn't come out unexpectedly. When you want to open the pouch again, you simply press the side of the button and slide it away from the bag.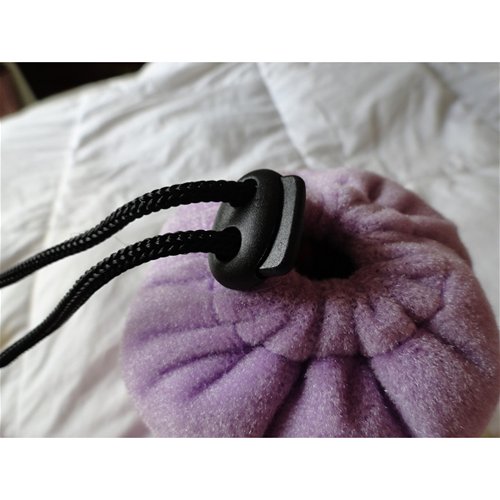 This pouch is very squishy and plush and feels like a small pillow in your hands. It's sewn nicely and feels well made. Every once in a while you'll find a small puff of stuffing and that's a little frustrating, but there's no break in the thread and no place where it's obviously coming from.
Make sure you know the size of the toy you're planning on putting inside your pouch before making your purchase. You don't want to get a pouch that's too small for your toy, but don't want to take up extra space by getting a pouch too large for your toy.
Size Medium Measurements
Length: 9"
Width: 5"
Thickness: 2 1/4"
Drawstring: 9" long - 1/8" wide
Though this pouch measures 9" in length, you'll want to make sure that your toy is 8" or under to fit properly in this size. I purchased this pouch to replace the box for my Icicles No. 2 glass dildo. The length of that toy measures 8 3/4" and was too long to fit in this pouch properly, so make sure you measure first! Because of the width, you might be able to store two toys in this pouch at the same time. Just be sure to have an extra layer between two toys that are both breakable to make sure that they don't clank together, causing your toys to become unusable.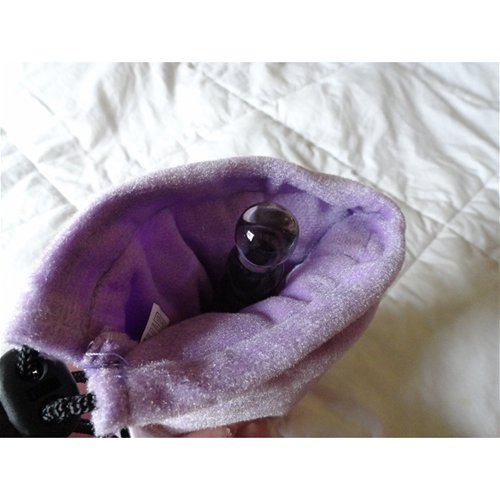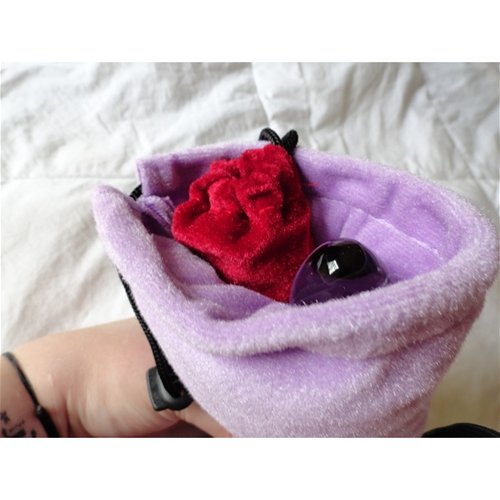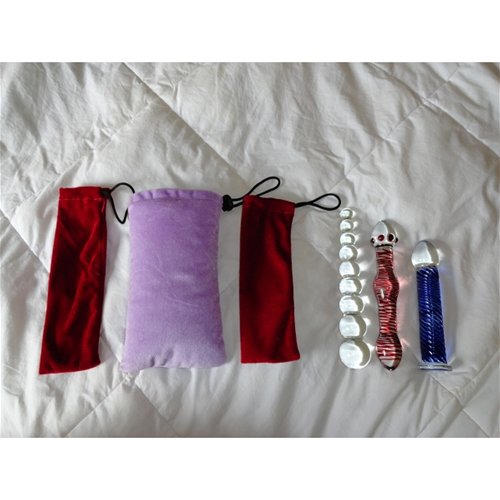 (Seen with - Icicles No. 2, Red Cyclone Wand, and Blue Swirl)
On the inside of the pouch, you'll find a tag that has the company name on one side, and the care instructions on the other. If necessary, this pouch can be hand washed in cold water and hung up to dry. This isn't something that you need to wash on a regular basis, only if something were to accidentally spill on it or leak inside of it.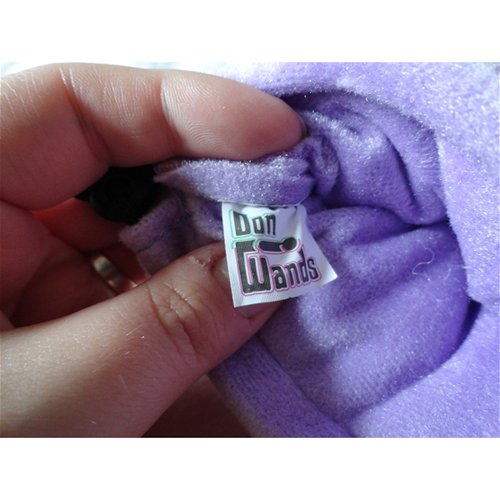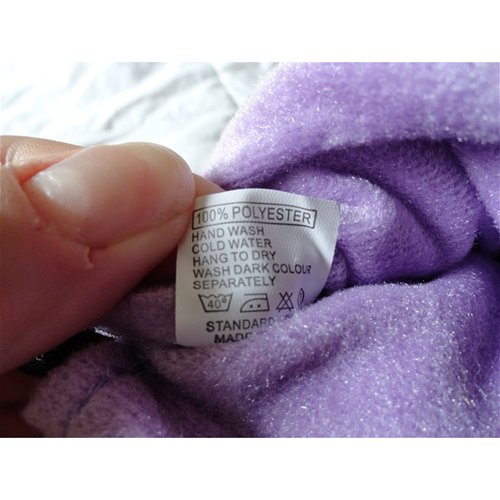 This pouch came to me as it is; no packaging, no information, not even a tag that has the company name on it. It's good because there's nothing to dispose of, but it's frustrating to me that the company couldn't even include something along with it. It almost makes an item feel cheaper to me for that reason.
Experience
continued...
This pouch can be stored in a dresser drawer, nightstand, toy box, or wherever you see fit, but keep in mind that due to it's high amount of padding, it takes up quite a bit of space. This isn't a great option if you're interested in getting storage for each of your glass toys and your collection is larger than a couple pieces. It's very bulky, and makes storing a little more of a pain than necessary.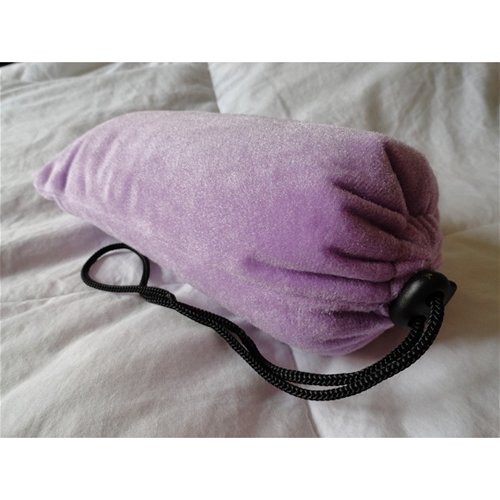 This pouch works okay for me. I'm a little disappointed by how bulky it is, but at the same time, that's the reason I know my toys are protected. I have a large glass collection, and there's no way I would ever have enough space to fit all my toys into these pouches and store them together.
I think they added a bit more padding than necessary and it really only has added bulk to the pouch. Less fill would still keep the toy safe without taking up as much space. It really is almost too much of a good thing when it comes to the stuffing.
Follow-up commentary
2 months after original review
This bag is still nice. It works well for the designed purpose, but I'm still a little annoyed that it takes up valuable space in my toy box. Knowing that my glass is protected really makes up for that fact, and still makes this a great item to have.
This content is the opinion of the submitting contributor and is not endorsed by EdenFantasys.com

Thank you for viewing
Purple padded pouch
– storage container review page!