Purple Pillow Pocket
This pouch is a great way to store glass toys or other fragile items. If you have a delicate toy that you want to protect, this is the pouch for you. Its generous padding provides ample protection from accidental chips and cracks, but also takes up a large amount of space.
Published:
Pros:
Thick padding, good drawstring, large size is big enough for most toys
Cons:
Takes up a lot of space, padding is uneven, one color option
The large Don Wands padded pouch is one of the best pouches out there for storing delicate toys. At 12 inches long and 4.5 inches wide, this bag is more than enough space for most toys. The padding is very thick, roughly 1.25 inches per side, uncompressed. The pouch can also be used for general storage. If you need to store or travel with fragile items, this can protect your things from damage. Just keep in mind that this pouch will not have a lot of available space due to the incredible amount of padding. It can store 2 average-sized dildos pretty well, but adding any more will be a tight fit.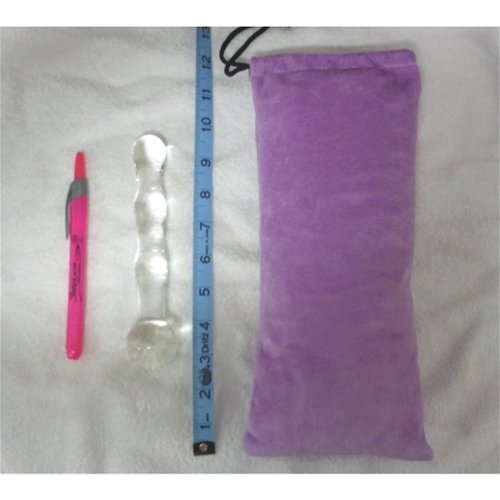 Design
The padded pouch is basically two pillows sewn together. Even when there is nothing inside, there is no empty space because the padding is so thick. My biggest complaint about this pouch is that the edges are not well padded. If this pouch is dropped perfectly on its end, as unlikely as that may be, a toy inside could be damaged. My recommendation to keep this from happening is to avoid pushing toys all the way to the bottom of the bag, or stuffing some tissues or fabric in the bottom. All of this padding means that this bag takes up a lot of space. It's fine if you have a small collection of toys, but a group of these pouches is going to take up some serious room. Even though this isn't an item that people will look at and immediately know that it's for sex toys, people might be curious about what is stuffed in there. Leave it out in the open at your own risk.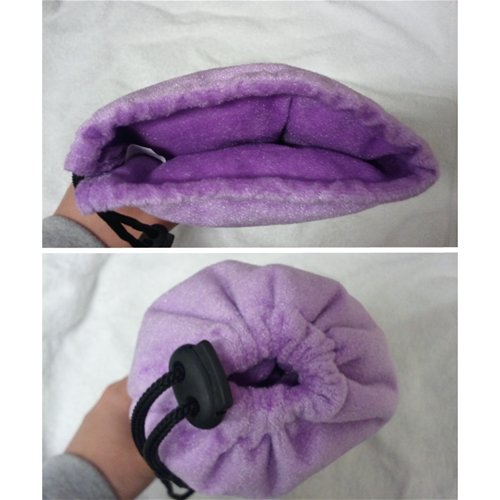 The closure on this pouch is a simple drawstring. To open and close, push down on the plastic button and drag the plastic piece while pulling the drawstring. This pouch is too thick to close completely, but it will close far enough to protect what is inside. Nothing should fall out.
Use
This pouch is large enough to store multiple toys. Be careful when storing glass toys together. To keep glass toys from scratching each other, you can put them in the small bags that often come with glass toys. Silicone toys must also be separated from each other so that the silicone does not degrade.
Materials and Construction
This pouch is made of 100% polyester, inside and out. The material feels kind of fuzzy, with a grain that makes it soft and smooth in one direction and creates a slight drag in the other. The polyester is very sturdy and will probably last longer than the satin and silk pouches that come with most toys. It won't get caught on sharp corners and snag. There is a seam along the bottom and one side. The stitching is strong and shouldn't give out unless you really overstuff the pouch.
Care and Maintenance
To clean this pouch, hand wash it in cold water and mild soap. Let it air dry. I don't recommend putting it in the washing machine or dryer because this could damage the padding. There is a small tag near the opening that contains some care instructions. For spot cleaning, I recommend rubbing the spot with a damp washcloth. This will not remove and bacteria or anything, but may help with stains.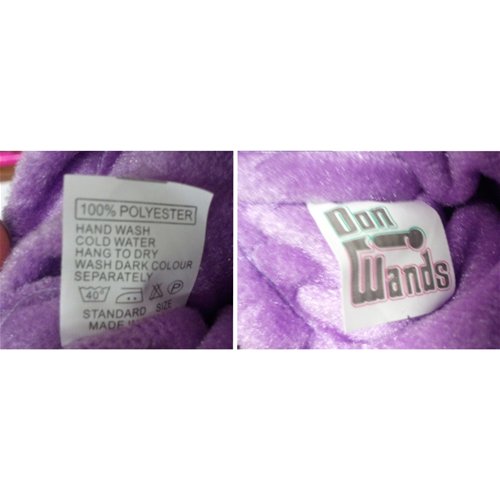 Packaging
Besides the normal Eden packaging, this pouch came with nothing, not even a plastic bag. This is a bit strange when you're used to everything being packaged, but it didn't seem to affect the pouch. Everything was in perfect condition when it arrived.
Experience
This pouch has protected my toys very well. A glass wand survived a 3 foot drop and a vibrator lived through two flights in checked baggage in a soft-sided bag. I highly recommend it to protect glass from everyday accidents, however other toys are probably fine with a non-padded pouch unless you want them to be super protected.
Follow-up commentary
7 months after original review
This pouch is still doing its job! There has been no damage to the pouch nor to the toys inside of it. I still think that the size of this pouch is adequate, and I wouldn't buy a smaller size. This is a great item to have for protecting my toys.
This content is the opinion of the submitting contributor and is not endorsed by EdenFantasys.com

Thank you for viewing
Purple padded pouch
– storage container review page!