Lovely little pouch
I was looking for something to store my PicoBong Ako in. It is a fairly small toy, so you can be sure I was glad to see a small pouch offered on Eden. Thankfully, it fits perfectly!
Published:
Pros:
Padded, available in multiple sizes, great for smaller toys, soft, discreet
Cons:
Only one color
This pouch came exactly as is, not wrapped or stuffed with anything. Also, it did not have any tags on it, so the packaging was as minimal as can get (which I actually like). It does not have any smell at all, and the padding is not crinkly and does not make a sound.
The first thing I noticed about this pouch was how padded it is. Squeezing it, it feels cushioned and pillowy, like a teddybear might. . It is surprisingly padded, much thicker than the Eden Storage pouch, which I would think would make it great for glass toys. This pouch is cheaper than the
Eden toy pouch
. Plus, it's padded and comes in more than one size (all of which are cheaper than the Eden toy pouch). I love that these come in small, medium, and large. The fabric on the inside and outside is exactly the same, there is no lining of a different fabric. It feels and looks almost like velour. It does not shed, which is nice. However, I do wish there was a selection of colors to choose from. This colors is not typical of something I would go for. There is a small tag inside the bag by the drawstring closure. It says "100% Polyester. Hand wash cold water. Hang to dry. Wash dark colors separately. Made in China." Admittedly, I worry about the breathability of this pouch since it is polyester, and I think a cotton pouch would be nice for that. It has a drawstring tie that can be tightened and locked into place with the little plastic pull that is on the drawstring. It seems sturdy and well-made. There are no loose threads or unfinished seams. It does not have any logos or images on it, so it looks like a very basic discreet bag. It does not scream "SEX TOYS".
The pouch is about 6 x 5.5 inches. I am not sure how a toy with a base would fit in this pouch. It seems like there is plenty of room inside it, but I am not certain as I have no small toys with bases to test it out. I'm not sure how wide the base could possibly be on a toy that would otherwise fit in this, so because of that I don't think it could be a problem. I know that when I got my Eden pouch for my Champlette, I
was disappointed
when it didn't fit in it because of the base. Thankfully, this pouch fits my
Ako
quite well, which is the whole reason I got it! I think this pouch is a really good size for smaller toys. If you aren't sure that your toy will fit, it wouldn't hurt to get a bigger size. According to Eden the Small = 3" x 5", Medium = 4" x 7", and Large = 6" x 10". As I said, I have the small and it measures 6" x 5.5" so the measurements they have listed are wrong. A 3" wide pouch would certainly be small!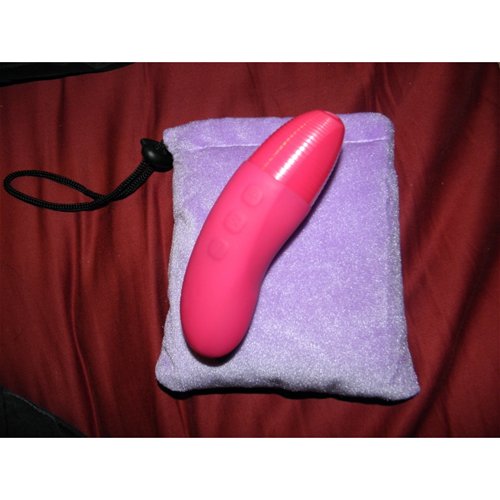 This pouch is certainly great for storing fragile toy, as it is well padded. It can store easily, and is totally travel-friendly. Plus, If you wanted to keep condoms or little packets of lube in here, you totally could. This pouch could be a nice place to store a little on-the-go sex kit!
Follow-up commentary
2 months after original review
I still like this, and it is great for storing my Ako still. However, today as I was browsing for new toys to order, I realized I may have a bit of a problem soon. I ordered a new silicone vibrating ring, and I'm going to want to keep it stored in something, and this is the smallest storage pouch currently available on Eden. Though, if I were to order more of these for other small toys, I would constantly have to be checking what is inside each pouch to figure out which contained what. With no color options, having more than one of these, all of the pouches would look the same and that would get frustrating when I want to use a toy right then. That aside, this pouch is still great for storing toys. The padding makes it thicker, so take up a bit more room than it a non-padded pouch might, but that also makes it great for protecting toys!
This product was provided at a discounted price in exchange for an unbiased review. This review is in compliance with the FTC guidelines.

Thank you for viewing
Purple padded pouch
– storage container review page!