Perfect for glass toys and other small trinkets.
The Don Wand padded storage pouch is a much needed item for those who love glass toys. It will protect your toys and any other glass items you may not want to break. The pouch is soft and nicely padded. I love the padded storage pouch and I hope to order more soon.
Published:
Pros:
Cute, Padded, Comes in different size,
Cons:
None
The Don Wands padded pouch is a must need for anyone who loves glass toys. Lately a lot of glass toy manufactures stick you with these thin pouches that offer limited protection. I'm so glad that EF has decided to carry these and I think they are worth every penny. The Don Wands padded pouch is perfect for anything that you may feel needs a little extra padding. The Don Wands padded pouch is very padded and it will protect your toy unless certain circumstances.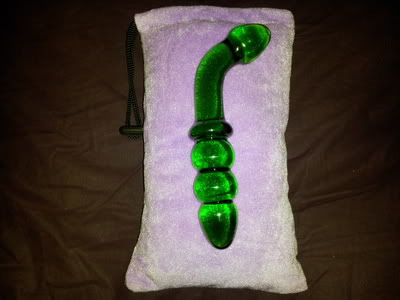 The Dan Wands padded pouch comes in three different sizes. They come in a small, medium, and a large. I decided to go with a medium because I ordered it for my amethyst, I thought because of the curve the small would be way to small. The medium padded pouch is about 7 inches in height and about 4 inches in width. The pouch is also about a little over two inches thick, so you get about two inches in padding.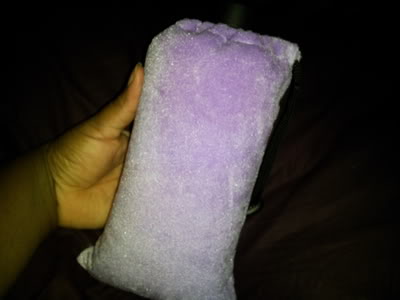 The inside and outside of the storage pouch is lined with what feels like a micro fiber type fabric, but actually it's Polyester. Polyester s a category of polymers, or more specifically condensation polymers, which contain the ester functional group in their main chain. Usually, polyester refers to cloth woven from polyester fiber. Polyester is the material that has low absorbency. It is combustible but due to its thermoplastic nature, it tends to shrink away from the flame source and often self-extinguishes. The fabric isn't the smoothest and does have a lite drag when you run your hands over it.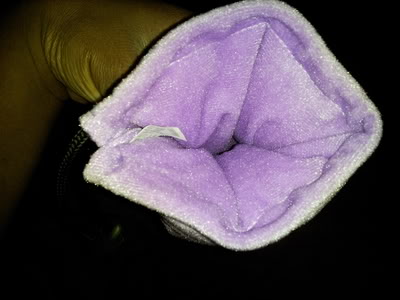 When caring for the Don Wands padded pouch you should only hand wash it. I wouldn't recommend putting into the washer and the dryer because the washing process can ruin your pouch. You should hand was the pouch in cold water with mild soap, and allow it to completely dry by air drying it. The padded pouch does have a draw sting that works perfectly in keeping the bag closed so that your toy won't fall out when moving around.
The medium Don Wands pouch works perfectly in holding medium sized glass dildos and some anal plugs that aren't too long. The pouch can't house anything with a harness sized base, so if you hand plans on ordering this for a harness style dildo, I'd recommend not because it don't fit.
Along with a decent sized glass toy, the medium can also house a small bottle of lube and a couple of condoms. This is perfect for people who travel a lot. You can house all your needed items inside of one storage pouch and keep it all nice and discreet. When you receive the padded pouch it doesn't come inside of any package, it just comes loose inside the box it's shipped to you in.
The Don Wands padded pouch isn't just good for sex toys. The pouch also protects any glass bottles you don't want to mistakenly break during traveling. I have a few perfume bottles or skin care items that are in jars that fit nicely inside the pouch. You can also use the pouch to keep jewelry inside, this will keep small pieces from getting lost in your bag when traveling. There are a lot you can use the padded pouch for. It's bound to come in handy somehow.
In one medium pouch one bottle of my perfume (Tickled Pink by Vicky Tiel 3.4 thick glass bottle) and one bottle of my fiancé's cologne(Michael Jordan Legend 3.4 thick glass bottle) fits tight and safely in this storage pouch.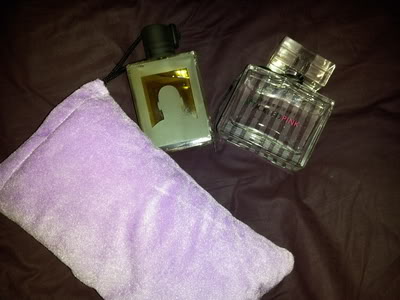 This content is the opinion of the submitting contributor and is not endorsed by EdenFantasys.com

Thank you for viewing
Purple padded pouch
– storage container review page!