A must have accessory for any glass toy aficionado
Don Wands Padded Drawstring Pouch is the perfect storage solution for delicate toys, it offers padded protection for your prized possessions. Eden Fantasys offers the Don Wands pouches in three different sizes, so you are sure to be able to get one you can use.
Published:
Pros:
Padded
Three Sizes
Drawstring stays closed
Cons:
More color choices, not everyone will like purple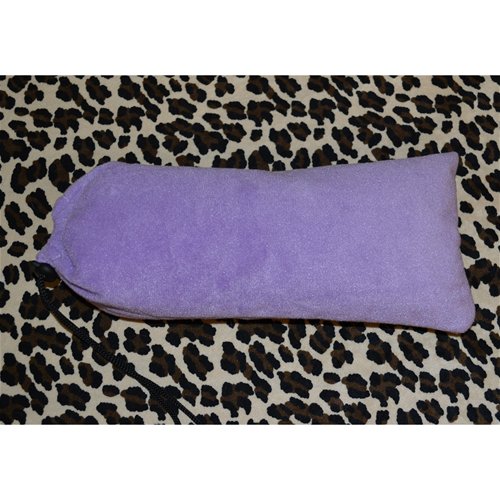 Use
Eden Fantasys has answered users' cries for more toy storage options by carrying the Don Wands Drawstring Padded Pouch. The Don Wands pouch is padded to offer protection to your most delicate glass toys in storage or travel, and even though Don Wands makes these pouches for their glass toys, you can store anything you like in one of these pouches: metal toys, silicone toys, jewelry, electronics; it can hold anything you desire.
Craftsmanship
The Don Wands toy pouch is made from a lavender purple microfiber-feeling fabric. The actual material is 100%
polyester
. Both the outside of the pouch and the inner lining are the same material. In between the inner and outer layers, there is about an inch of padding to protect your toys during storage.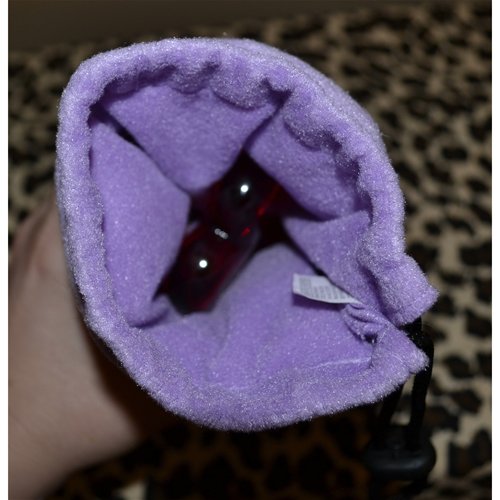 The opening at the top of the pouch has a black drawstring with an adjustable plastic slider that will clamp down and keep the pouch opening cinched closed.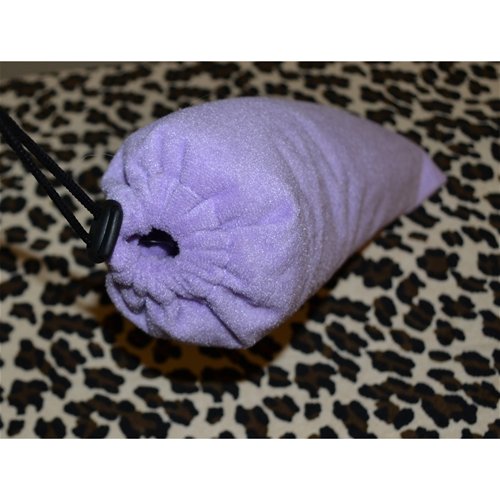 The whole pouch is very well put together: there are no loose threads or questionable areas; Don Wands produces a high-quality, sturdy pouch. While any glass toy can break if dropped hard enough or exposed to enough stress, the Don Wands bag does offer extra protection in its padding than other pouches.
Now I have several glass pieces from Eden Fantasys, and most are made by SSA Glass, which includes a storage pouch along with the purchase of one of their toys. The pouch that they include is a thin, red velvet pouch, but it does not have any padding to protect the toy, nor does it have a plastic slider on the drawn string to keep the pouch securely closed. I have recently acquired a glass toy from Icicles that did not come with a pouch, so I purchased the Don Wands bag to store that toy in. You can see the two toy pouches side by side in the photo below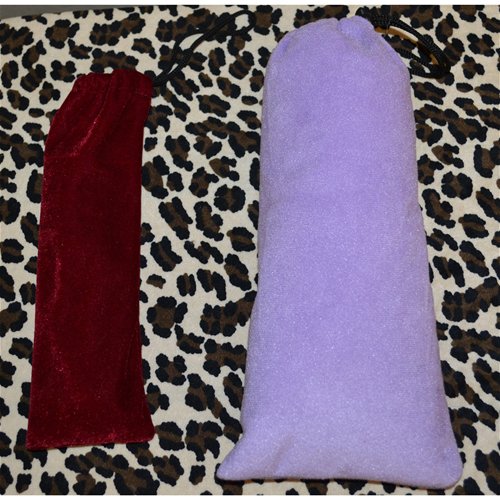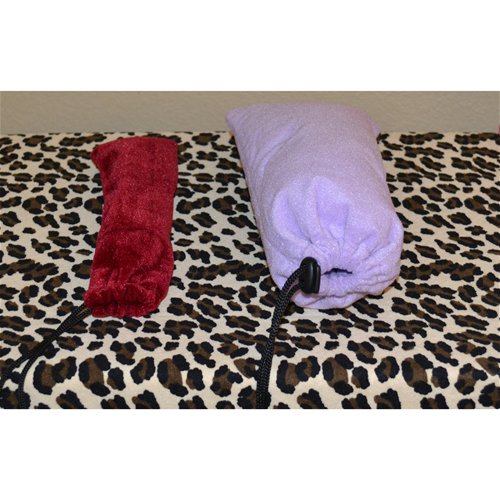 Size
Eden Fantasys offers the Don Wand toy pouch in three different sizes: small, medium, and large. I ordered the large. Overall, is it 12 inches long and 5 inches wide. Each side has about 1 inch of padding in it so the maximum toy size that it will fit will be approximately 10 inches by 3 inches, I imagine. Eden Fantasys has a size chart listed on the product page, and going off my large pouch, I imagine the sizes they have listed go off the maximum size toy that can be fitted into the pouch, not the external dimensions of the pouch itself. Using this, I imagine the medium could fit toys that are 7 inches long by 6 inches wide, and the small could accommodate toys that are 5 inches long by 4 inches wide.
Care
The Don Wands pouch should only be hand washed, if needed, in cold water and hung to dry. You should not run the pouch through the washing machine or dryer. I would fear that the padding in the pouch would ball up if run through the machines and become lumpy.
Experience
I bought the pouch to store my
Icicles No. 32
in. The No. 32 is 8 inches long and 2.5 inches wide: it fits well inside of the large pouch with a little extra wiggle room. I imagine that the large pouch would be able to accommodate larger toys than the No. 32. I am glad that I went with the large vs. the medium for storing my No. 32, as the medium would not have been long enough for it. I plan on purchasing a medium Don Wands pouch here shortly to store Icicles No. 31, which is 7 inches long, and should fit perfectly into the medium size bag. I have been very pleased with the quality of the Don Wands bag: I would not hesitate to purchase more.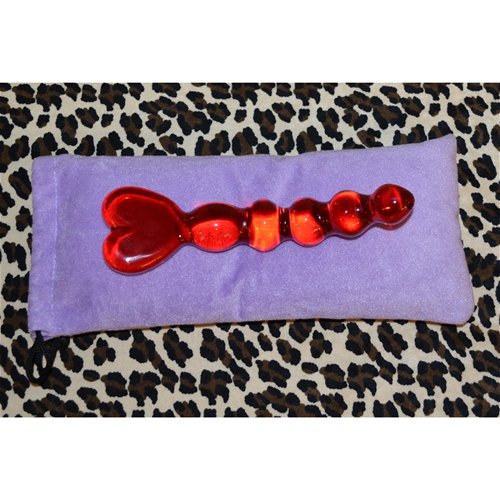 Follow-up commentary
27 days after original review
I still absolutely love being able to purchase these storage pouches for my glass pieces. I have recently acquired a few Icicles glass dildos that do not come with a storage pouch, and I don't like keeping their bulky boxes to protect them in during storage. As all my glass pieces are kept in the same drawer and I do not want them all rolling around clanking up against each other, I need something to protect them. I have the large and medium sizes so far. I will continue to get Don Wands storage pouches for any of my glass toys that do not already come with pouches for storage. I think they are a great investment to protect your toys.
Here is a picture of a large bag and a medium bag side by side.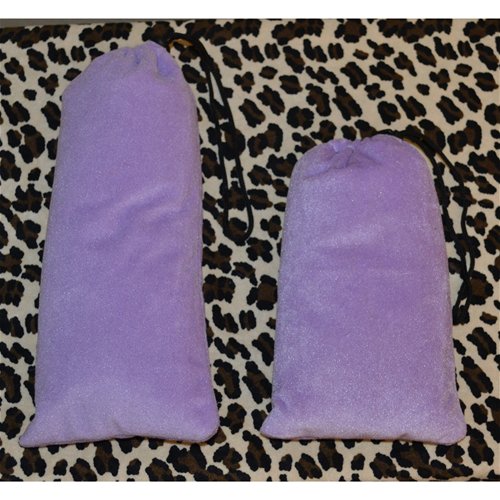 This content is the opinion of the submitting contributor and is not endorsed by EdenFantasys.com

Thank you for viewing
Purple padded pouch
– storage container review page!