Nipple clamps are a toy that clamps onto your nipples. This sensation can range from something being just a small pinch, to something being very intense. They work by applying pressure to the nipple through one of many styles of clamps. Oftentimes people find the look of nipple clamps to be sexy. They are worn or placed on a person as a form of sexy and kinky jewelry. Normally, the clamps are connected by a length of chain. This allows the chain have weights added to it, to make the sensation more intense, or for the chain to be pulled on slightly, or just for aesthetic value.
Alligator:
These are also sometimes called clothes-pin style clamps. They are the least intense clamps in my opinion, because they are highly adjustable. These clamps have a small screw in the middle of them. When the screw is tightened the clamps also tighten. When the screw is loosened the clamps also loosen. This gives a lot of control over the tightness of the clamps. So you can tighten them quite tightly and get a lot of pressure and sensation out of them, but you can also leave them open so they barely put any pressure on the nipple. I believe these are the best beginner clamps. It is hard to tell how sensitive your nipples are, so starting with something where you can adjust a lot allows you a wide spectrum and will accommodate a large variety of users. I have also found from personal experience that although most people like nipple stimulation they have very sensitive nipples and pressure can get painful quite quickly.
Here is a photo of alligator clamps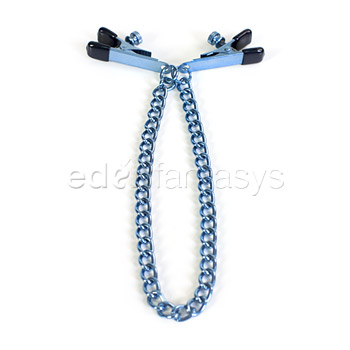 Photo from
EdenFantasys.com
Magnets
These type of clamps rely on magnets to hold the clamp on the nipple. Basically there are two magnets with handles and some sort of ring that holds everything together. The magnets are spread apart, then placed over the nipples, then they magnets are allowed to close back together. The magnetic force keeps these clamps closed. From personal experience I find these to be less intense than tweezer clamps, but more intense than alligator clamps. These clamps look quite a bit different. These ones also require you to have some nipple though. I find you need a nice and perky and relatively big nipple for them to attach. Otherwise the magnets kind of slip and they do not work well. These might not fit all men because of that.
Here is a photo of magnet clamps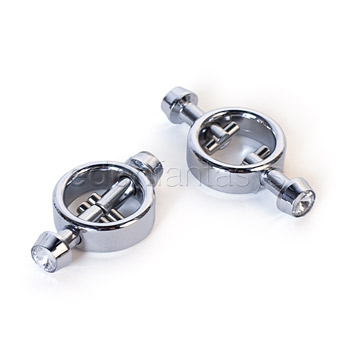 Photo from
Edenfantasys.com
Tweezer
These clamps are more intense than magnet clamps, but less intense than clover clamps. These clamps are closed at one end (the bottom), but open on the other end (the top). At the bottom is a ring. The clamps are placed on the person who wants to wear them, and then the ring is slid up towards the top. The closer the ring is to the top the more intense the scenario is. These too are adjustable clamps. I find it is hard to get the ring to be very light though and most times you end up with a moderate sensation from these clamps.
Here is a photo of tweezer clamps: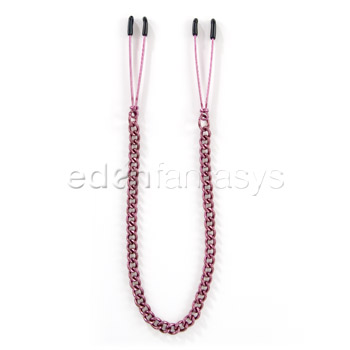 `
Photo from
EdenFantasys.com
Clover
This is the most painful type of clamp. They are sometimes also called Japanese clover clamps, or butterfly clamps. So the first reason they are painful is because they exert a lot of pressure and that pressure is non-adjustable. Just by their very nature they are a painful clamp. Secondly they have a unique design feature: when the clamps are pulled on they tighten down and exert more pressure on the nipples. So if a person were to pull on the chain connecting them more pressure would be exerted on the nipples and the person wearing them would have an increase in pain. So if weights are added to this toy the nipple stimulation can get very intense. These are really an advanced user toy where the person knows they like very intense nipple stimulation or for a masochist where they know they enjoy painful stimulation.
Here is a photo of clover clamps: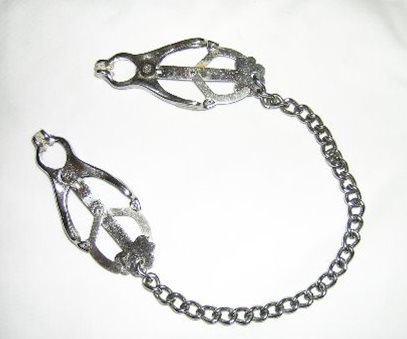 Photo from
wikipedia.org
Once you have decided on the style of clamps there are some miscellaneous details to consider
Vibrating or Non-Vibrating
There are certain clamps that have some vibrators attached to the clamps. The vibrations run into the clamps and cause a different sensation. A wide variety of people like vibrations on their nipples and adding them to a clamp can increase the pleasure. It is also easy however to just grab a vibrator or wand and apply it to the clamps. This can save you some money as vibrating clamps are more expensive.
Photo of vibrating clamps: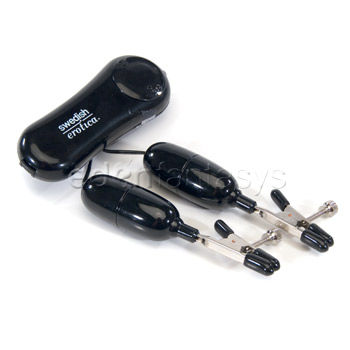 Photo from
EdenFantasys.com
Heated or Non-Heated
There is one style of clamp on EF that is heated. Basically on the ends are small heaters that heat up the clamp when it is in use. This just adds warmth and can make the experience more enjoyable for some people.
Photo of heated clamps: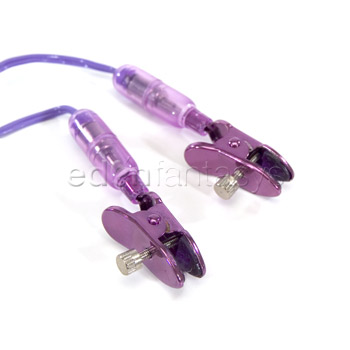 Photo from
EdenFantasys.com
Aesthetics
Some clamps have bells, feathers, come in different colors, and may even have beads or crystals on them. This just adds to the look of them. With bells you can get some slight noise which can alert other people you are entering the room and wearing nipple clamps. This is going to be a highly personal area where your own taste will be paramount.
Y-style
This is a specific style of clamps. Basically it just has an additional clamp that travels away from the other two clamps. This third clamps is for the clitoris. It is placed on top of the clitoris and then clamps down providing stimulation there as well. This style of clamps typically comes in most of the above mentioned styles (alligator, tweezer, and clover clamps)
Photo of Y-style clamps: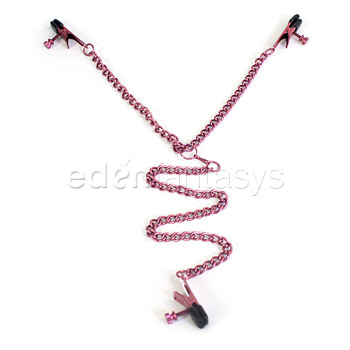 Photo from
EdenFantasys.com
If you have any questions about nipple play and toys, feel free to ask in the comments.