Good parody. Blah porn.
This is a decent porn parody that stays true to the original. It's amusing, and the cinematography and some of the acting make it worth watching. The sex isn't great, so it's better for entertainment than for straight up porn-y goodness.
Published:
Pros:
Great cinematography, good acting, true to original
Cons:
Spitting, vanilla sex, creepy sex scene, Hillary Scott
The Flintstones: A XXX Parody is a live action porn parody of the cartoon The Flintstones. It's from New Sensations and is directed by Will Ryder. Anyone could enjoy this film, but it is mostly geared towards heterosexual couples, as the sex scenes involve male/female or female/female pairings. This movie would be especially fun for any fans of the original The Flintstones TV show. It is done really well, as far as porn parodies go, and it even has a laugh track to give it that authentic Flintstones feel. The cinematography was excellent; the lighting, camera angles, costumes, and music were all spot on, as was some of the acting. Brooke Lee Adams is adorable as Betty, and is great during sex. I didn't enjoy every sex scene in the movie -- and Fred Flintstone doesn't even get to participate in one -- but there were some good ones, and some of the actors actually stayed in character during these scenes! You don't see that often in porn. Mostly, though, I enjoy this movie for the acting and plot between the sex scenes. It's just cute, entertaining, and fun to watch.
Plot
Fred Flintstone is going through a mid-life crisis. His daughter, Pebbles, is eighteen and not a little girl anymore. She's dating Bam Bam and is moving out of the house soon, and Fred's starting to feel his age. His wife Wilma gets a surprise visit from an old friend, Tyler. He is younger and more in shape than Fred, and appears to be attracted to Wilma, so naturally Fred feels threatened. Fred's boss, Mr. Slate, informs him that he's not doing well at work. To top it all off, it's Fred's birthday and nobody has said a word to him about it. He gets advice from his friend Barney, who tries to comfort him by telling how his own wife Betty has become a sex fiend since Bam Bam moved out, so hopefully Wilma will be the same way. Much of the sex in the movie takes place in Fred's imagination, though Fred doesn't actually participate in the action of any of his daydreams. I won't tell how the movie ends because I hate spoilers, so you'll just have to watch it yourself to find out.
Female Cast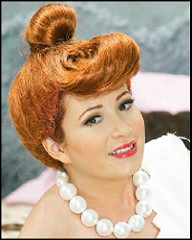 Hillary Scott (Wilma)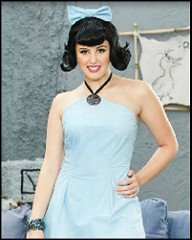 Brooke Lee Adams (Betty)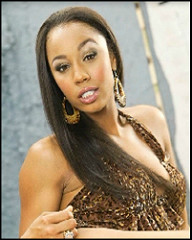 Misty Stone (Miss Stone)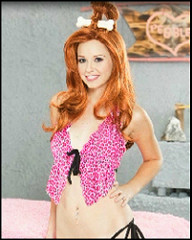 Hayden Winters (Pebbles)
Male Cast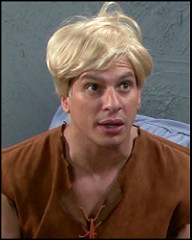 Anthony Rosano (Barney)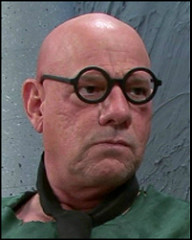 Rod Fontana (Mr. Slate)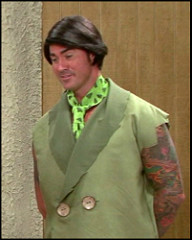 Dale Dabone (Tyler)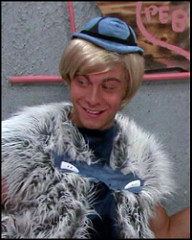 Seth Gamble (Bam Bam)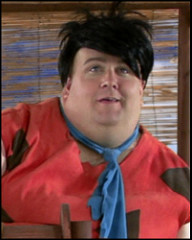 Peter O'Tool (Fred)
Sex Scenes
Scene 1:
Hillary Scott and Brooke Lee Adams -- Fred is at work and has a daydream about Wilma and Betty. Betty tells Wilma how she's been fantasizing for years about having sex with her while Fred watches, so they decide to go ahead and act out the fantasy (though Fred isn't around to watch).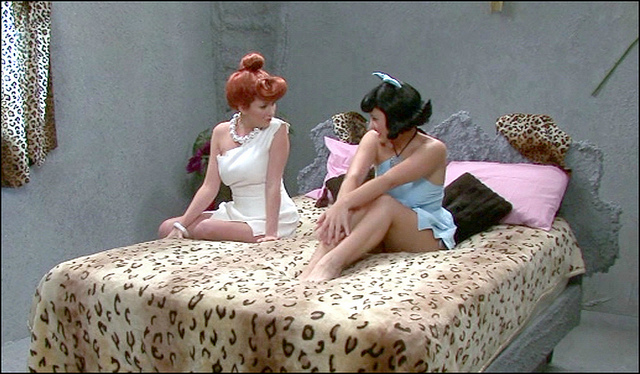 This scene was really boring for me, and it took some effort for me not to fast forward through it. There is a lot of spitting on pussies, some fingering, oral, 69, scissoring, and a little bit of rimming. I loved Brooke Lee Adams because she stays in character and seems to enjoy whatever she's doing. Hillary Scott, on the other hand, doesn't do it for me at all. She moans loudly and sounds fake and spits a lot. The whole time, she looks like she is just counting the minutes until the scene is over, which is exactly what she made me do.
Scene 2:
Brooke Lee Adams and Anthony Rosano -- Barney gives Fred a detailed account of an encounter he recently had with Betty, so Fred imagines what went down. Betty walks into the living room wearing a leopard print outfit and holding a riding crop, and she and Barney have sex on the couch.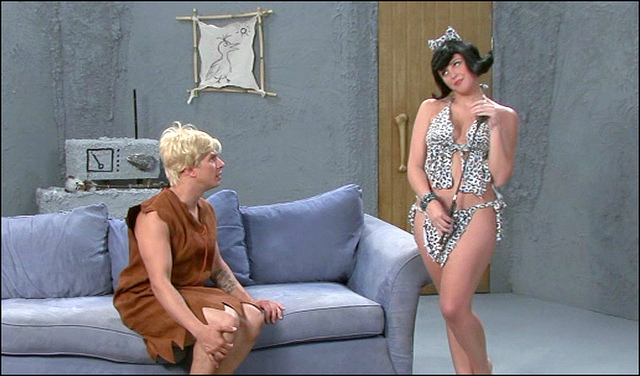 This scene was my favorite. Brooke Lee Adams, once again, does an awesome job staying in character and having good sex. Her moaning is believable, and I love the faces she makes. Anthony Rosano also stays in character and says some kind of silly things in Barney's voice, which is a little distracting, but funny. This scene involves oral for both, spooning, missionary, and doggy, ending in a comeshot on her pussy.
Scene 3:
Hayden Winters and Seth Gamble -- Pebbles and Bam Bam come home from their date, and Bam Bam sneaks in Pebbles's window so they can have sex.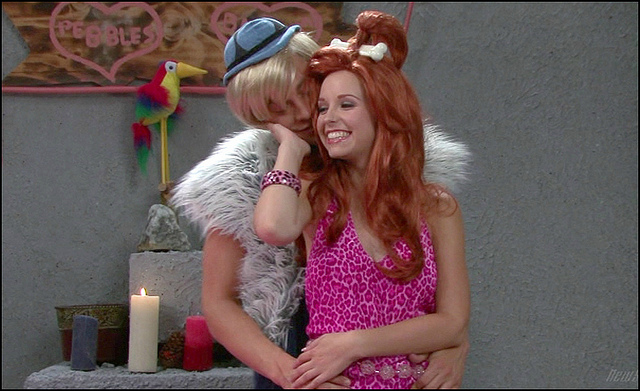 This scene was just okay. Hayden Winters is the most attractive performer in the movie to me, but the sex isn't that memorable. This was, however, the only scene that DIDN'T have gross spitting on genitalia! There is some fingering, a blowjob, doggy, cowgirl, reverse cowgirl, spooning, and missionary, ending in a comeshot on her face.
Experience
Scene 4:
Misty Stone and Rod Fontana -- Mr. Slate takes some "Rock Hard" pills, and he and his secretary, Miss Stone, have sex in his office.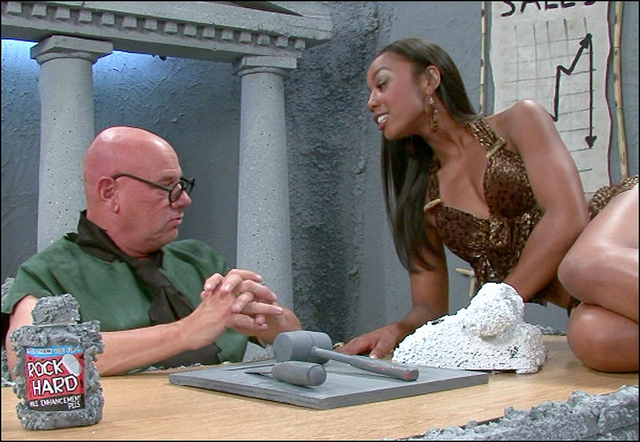 This scene...freaked me out. There was just something about it. Rod Fontana is older than I would like to see a performer. On top of that, he's very unattractive. On top of THAT, he has...a really weird looking cock. It just looked very disturbing to me. His voice creeped me out. His face creeped me out. His cock creeped me out. Therefore, this whole scene creeped me out. Misty Stone was believable enough, but I couldn't get past the creep factor. This scene involves some spitty, gaggy blowjobs, oral on Misty, missionary, cowgirl, reverse cowgirl, and doggy, and ends in a comeshot on Misty Stone's ass.
Scene 5
: Hillary Scott and Dale Dabone -- Feeling threatened by Wilma and Tyler's friendship, Fred imagines them having sex in his kitchen.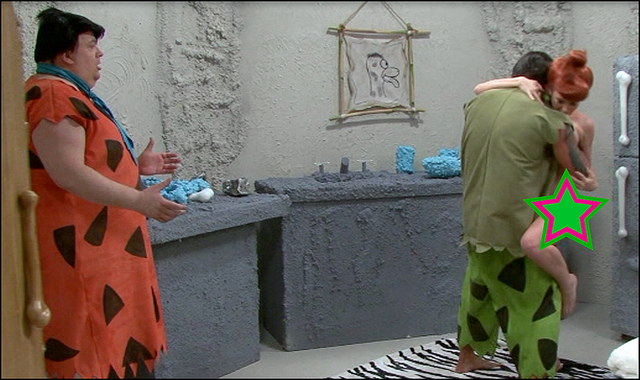 This scene was pretty blah. I just really don't like Hillary Scott. She's not very attractive to me, looks under enthused all the time, and her moans sound loud and fake. Dale Dabone is fine, but not memorable. This scene has oral with lots of spitting, some missionary, doggy, spooning, reverse cowgirl, and doggy, and ends in a comeshot on her face.
DVD Features:
This movie comes in a two disc set, one for the movie and one for special features. It's packaged in a plastic DVD case inside a paper sleeve, which has a weird texture, kind of like matte silicone. The front of the case shows the cast in The Flintstones' car, and the back shows some non-explicit shots from the movie. It's fairly discreet, though "XXX Parody" kind of gives it away.
The special features on disc 2 include:
-52 minute long Behind the Scenes featurette
-party version with the sex taken out
-bonus scene with Brooke Lee Adams and Mark Wood
-outtakes
-photo gallery
-popshot recap
-trailers for other XXX parodies
-web trailer
-company info
-special format with iPod
Verdict:
I like this movie, but mainly for the actual movie, not the sex. It's a good parody, with great cinematography and mostly good acting, and it stays pretty true to the original series' feel. I just wish there was a little more quality to the porn, to go along with the quality of the parody.
This product was provided free of charge to the reviewer. This review is in compliance with the FTC guidelines.

Thank you for viewing
The Flintstones XXX parody
review page!