Rocks Off in the Stone Age
I haven't thought about the Flintstones and Rubbles since my childhood viewings of Saturday morning cartoons. It was nice to walk down memory lane to revisit these characters, peeking with adult eyes behind the privacy of prehistoric doors!

Happily, not much has changed in Bedrock. The film managed to capture the heart and soul of this classic cartoon. We relished the great acting, fun (though vanilla) sex scenes, and obvious attention to detail in creating an amazing set and costumes.
Published:
Pros:
- Awesome character impersonations
- Funny scripting
- Great camera work
- Amazing set/costumes
Cons:
- Some annoying female vocals
- Lots of spitting (particularly in the last scene)
OVERVIEW: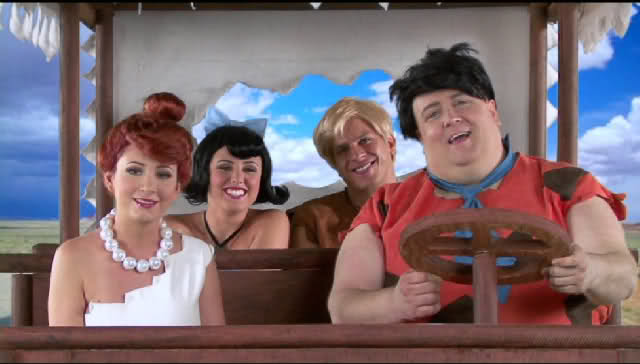 In this "episode," Pebbles and Bamm-Bamm are 18. Bamm-Bamm has moved out on his own; Pebbles is soon to follow. This means more privacy for everyone! Hormones rage and sexual hijinks ensue.
But Fred is threatened by the changing family dynamic. He worries that Wilma will grow bored with him when Pebbles is no longer a distraction. His fears are amplified by a handsome stranger who shows up as Fred leaves for work. He becomes more conscious than ever of his weight, advancing age, and lack of social power. What if Wilma is already bored with him and is getting sexual fulfillment elsewhere?
PERFORMERS:
FRED FLINTSTONE
: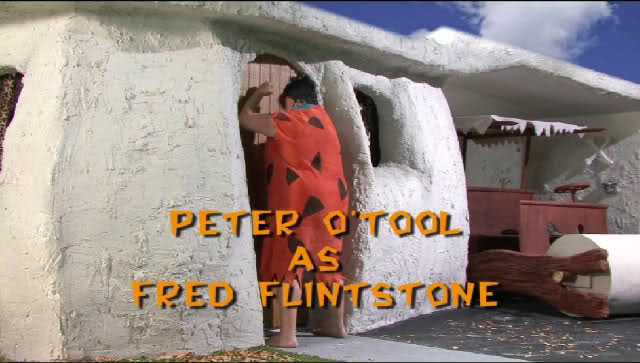 The Flintstones
would not be
The Flintstones
without Fred, who is played by Peter O'Tool. O'Tool plays non-sex roles, so Fred did not get his rocks off in this film.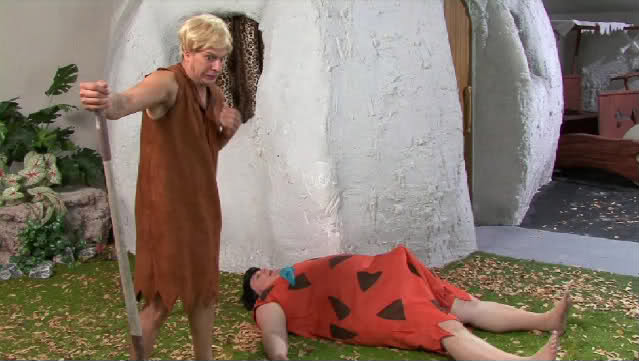 I never liked Fred's character much as he is hot-tempered and prone to frequent and annoying temper tantrums.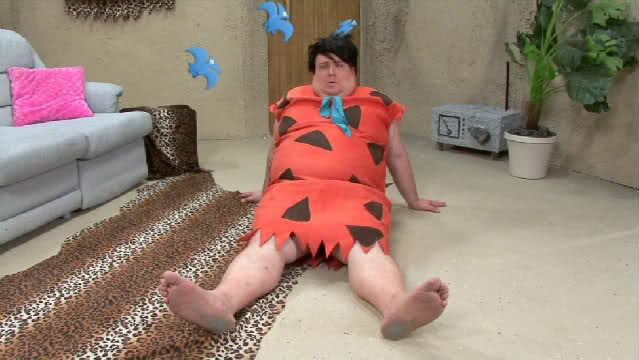 O'Tool is less explosive and much more likable, but he still captured Fred's mannerisms—his little "anger dance," laugh, serial finger tapping on his upper abdomen, and irritable chastisement of his best pal.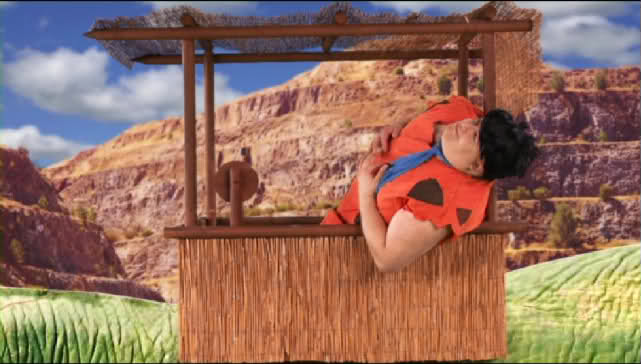 WILMA FLINTSTONE
: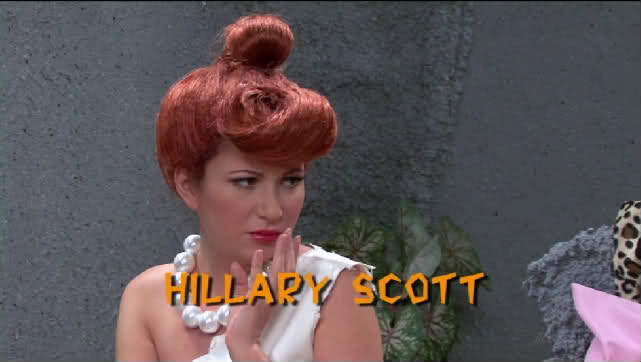 Fred's better half is played by 28-year-old Hillary Scott.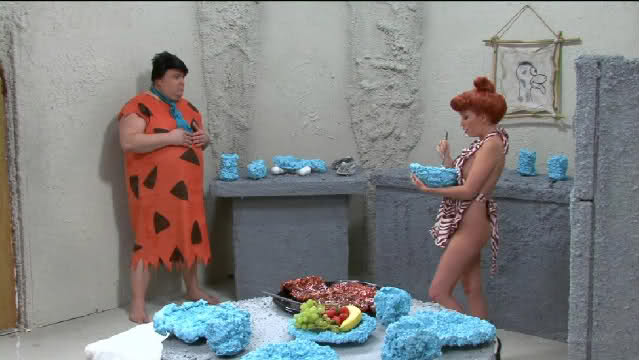 The diminutive 5'3", 95-pound actress does a decent job playing Wilma.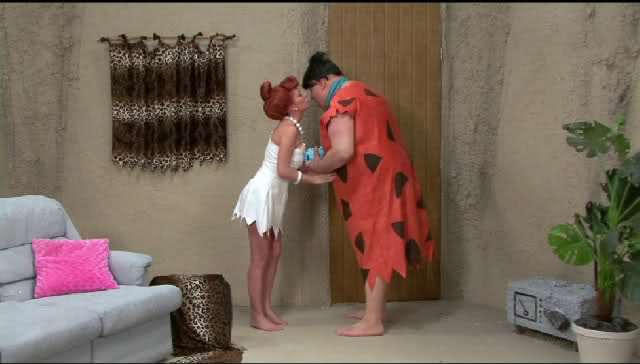 Wilma's character is a bit bland, even in the cartoon. But in comparison to her co-stars' performances, Scott could have better captured Wilma's essence.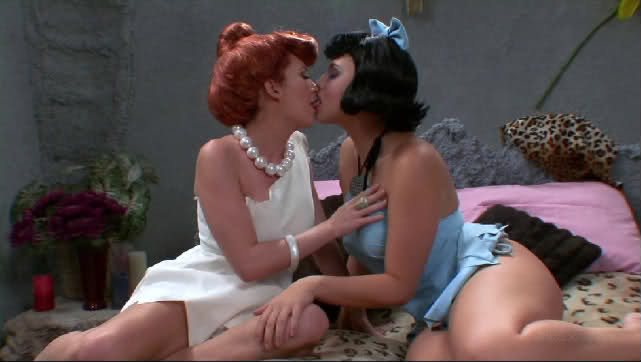 BARNEY RUBBLE

Anthony Rosano shines playing Fred's best buddy, Barney.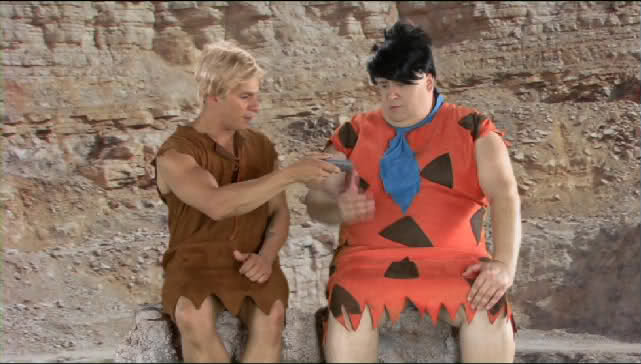 The 5'9", 160-pound, 34-year-old actor nails the laugh and voice down to the cadence, tone, and pitch; plus, his mannerisms are spot on. He does a fantastic job worthy of mainstream acting.

BETTY RUBBLE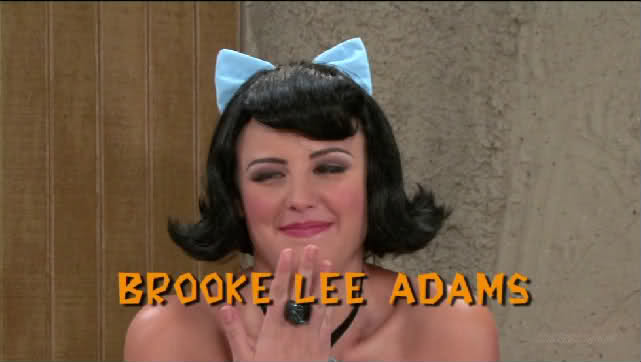 Brooke Lee Adams presents an adorable interpretation of Betty.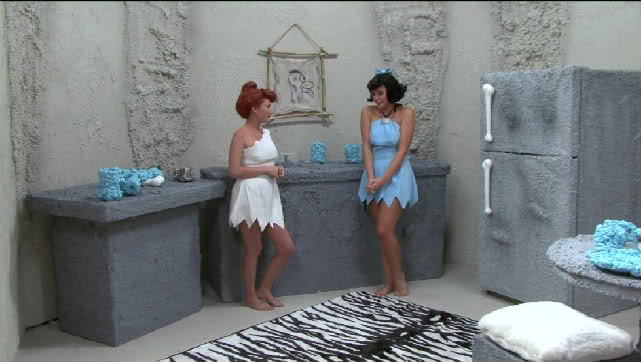 The 5'6", full-figured, 24-year-old beauty maintains a soft, sweet voice and trilling laugh, and she has Betty's mannerisms down pat.

PEBBLES FLINTSTONE
:

The Flintstones' charming daughter is played by 20-year-old Hayden Winters, a lovely newbie to the porn scene who performed this role at the age of 19.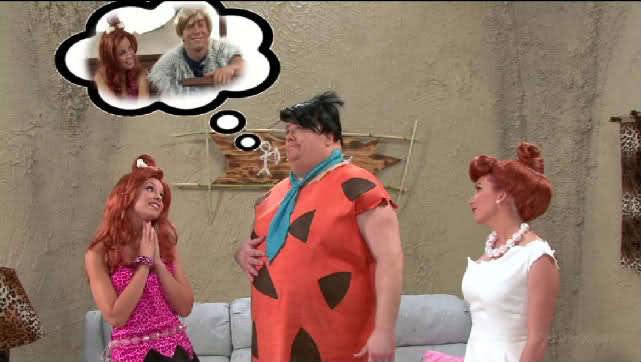 Adorable and sweetly manipulative, the dainty 5'3", 106-pound actress is a perfect choice for this role.

BAMM-BAMM RUBBLE
: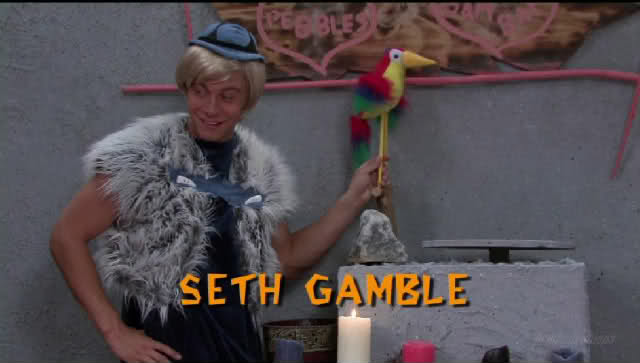 Bamm-Bamm, the Rubble's adopted son, is played by 23-year-old Seth Gamble.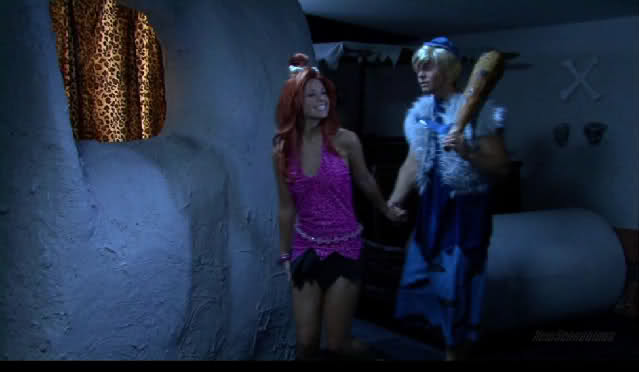 The 5'11", 160-pound Gamble is believable as a teenager, even speaking with a juvenile crack in his voice.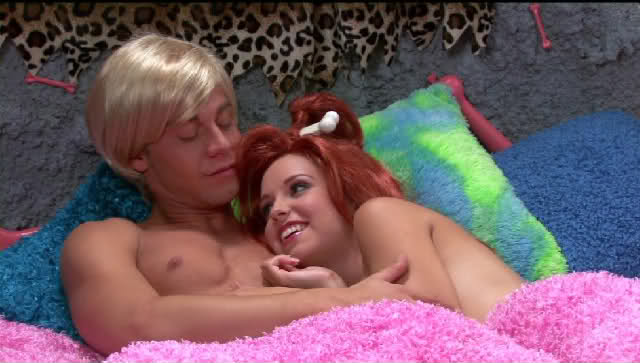 MR. SLATE
:

Fred's domineering, gruff boss is played by 58-year-old veteran performer Rod Fontana.
We did not find the 6'3" actor attractive, but he did an excellent job imitating Mr. Slate and portraying a leering older man.
MISS STONE
: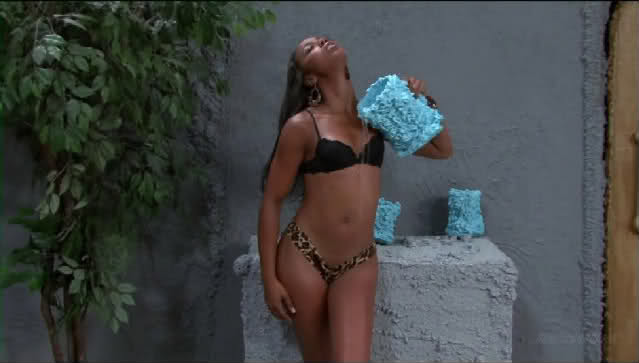 Mr. Slate's sexy secretary is played by the curvaceous 5'5", 121-pound, 25-year-old Misty Stone. She did a great job portraying the sultry young vixen.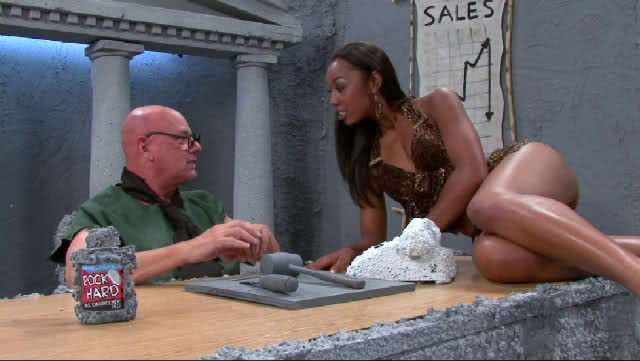 TYLER ROCKMAN
:

The mysterious stranger is played by the muscular 6'0", 200-pound, 39-year-old Dale DaBone. He does a great job delivering funny lines and making comic expressions.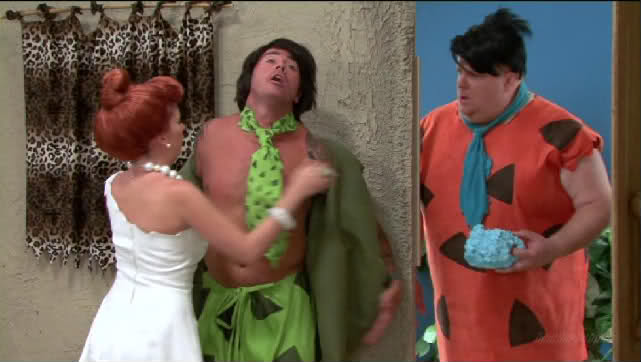 SEX SCENES:
1: WILMA AND BETTY

While working at the rock quarry, Fred takes a break to daydream about a sapphic encounter between his wife and next-door neighbor Betty.
This scene features soft kissing, some spitting, fingering, cunnilingus, analingus, and tribbing. Disappointingly, no toys were used. Stone, wood, or even ceramic toys shaped like a bone would have been interesting.
Adams has natural breasts and nice, full buttocks. Scott's breasts appear natural and have a lovely, full tear-drop shape. Both women are cleanly shaven.
I think this scene drags a bit, but I am bored by girl/girl scenes about 99.999% of the time. My husband finds this scene arousing though.
2: BARNEY AND BETTY

While Fred and Barney shovel a huge pile of Dino excrement, Barney relates a recent sexcapade he and Betty had after Bamm-Bamm moved out. This scene is our favorite.
Barney is watching TV when Betty sashays into the room with a crop in hand, modeling blue leopard-print lingerie. She tells him exactly what will transpire, sternly yet sweetly asking if he understands. Anxious to oblige, he buries his face between her buttocks.
The scene includes cunnilingus, fellatio, and vaginal intercourse in various positions (spoon, doggie, cowgirl, reverse cowgirl, and edge of couch). Sadly, the crop was ditched after the initial teasing.
In this vigorous sex scene, Adams breaks a sweat and Rosano perspires heavily. Both seem spent at the end, but they remain
remarkably
in character. The scene ends with a cum shot on her cleanly shaven pussy. He reinserts himself, and she informs him that she is bisexual and attracted to Wilma.
After recounting this, Barney asks if he and Betty can come over later. He gets no response as Fred has fainted with an erection. His earlier daydream might come true!
Experience
3: BAMM-BAMM AND PEBBLES

Later, Pebbles coaxes Bamm-Bamm into sneaking through her bedroom window. She innocently checks in with her parents, who are watching
30 Rock
with the Rubbles, and then heads to her room.
Both performers are very attractive and have beautiful, shaven genitals. This scene features cunnilingus, fingering, fellatio, light butt slapping, and vaginal penetration in various positions (doggie, edge of bed, reverse cowgirl, cowgirl, and spooning). The penetration looks somewhat dry though. The scene ends with a facial, and some semen shoots into her eye. She handles this well, managing to appear blissfully content.
While cuddling in the afterglow, Fred knocks and comes in to wish Pebbles goodnight. Bamm-Bamm hides under the covers. To the teens' horror, Fred also bids Bamm-Bamm goodnight. Bamm-Bamm scrambles out the window naked, falling into Fred's trap as he lies in wait.
4: MR. SLATE AND MISS STONE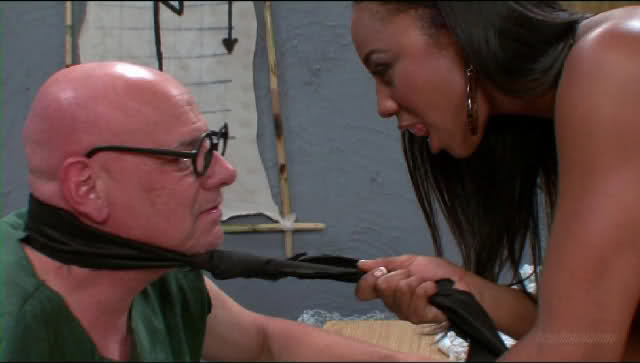 Fred glumly sits inside Mr. Slate's office being chastised. Mr. Slate shoos Fred away and calls for his secretary.
Miss Stone saunters in. Mr. Slate fantasizes that she pours water over her body while wearing the antithesis of Stone Age-style undergarments: a Victoria Secret-esque bra and panties set.
Snapping back to attention, he gulps a handful of Rock Hard pills and dictates an office memo while she chisels. She slips her hand seductively over the desk to grope him, assuring him that the memo is clear: they all need to work
harder
.
This scene includes some spitting, fellatio, cunnilingus, and vaginal penetration (edge of desk, cowgirl, reverse cowgirl, and doggie).
Fontana has a unique penis: it reminds me of a rhinoceros horn. It is extremely thick at the base and tapers toward the head. He is also uncut (which is neither a pro nor a con to me). The penetration looks odd at times, as though his thick shaft cannot fully penetrate her.
Stone is cleanly shaven. She is not overly loud in her vocalizations, but they seem fake.
The scene ends in a cum shot on her shapely derrière. She languorously plays with the semen while Mr. Slate tells her to get back to work.
5: TYLER AND WILMA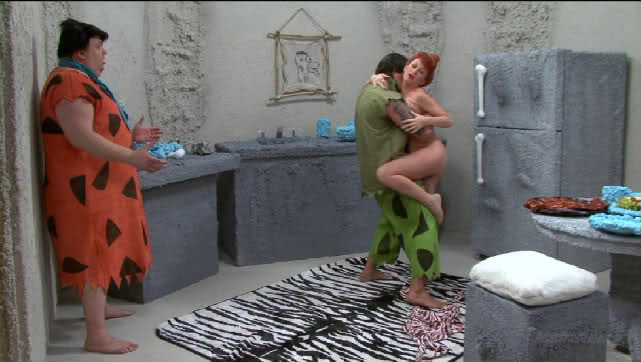 After having lunch with Barney, Fred drifts into another daydream while at work.
Since it's his birthday, he imagines Wilma in the kitchen wearing nothing but an apron while preparing his favorite foods. She strips off her apron and entreats him to take her, but he is interrupted by the strapping Tyler who bursts through the door to claim her.
This scene includes fellatio with copious amounts of spitting, cunnilingus, more spitting, modified missionary, doggie, and reverse cowgirl—all while Scott loudly and repetitively chants, "Yeah! Yeah! Ooh, oh! Oh, yeah . . . uh, uh, ah, yeah!" I looked forward to the scene's end, which was topped off with a facial.
Fred's nightmare is simultaneously topped off with a face full of pterodactyl droppings. He jerks back to reality in time to go home and face his fears. Is Wilma still into him or are his misgivings about Tyler justified?
Of course, there are explanations for everything, and the episode has a happy ending—Flintstone style.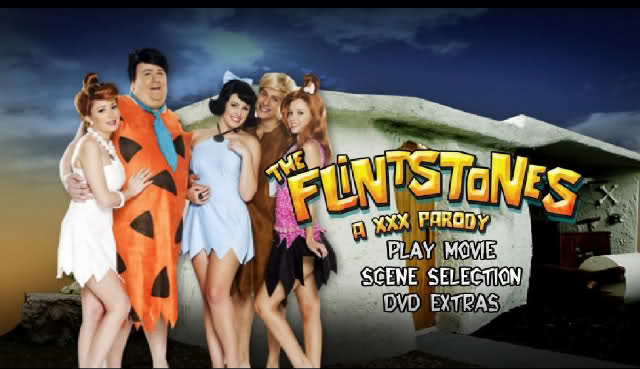 This product was provided free of charge to the reviewer. This review is in compliance with the FTC guidelines.

Thank you for viewing
The Flintstones XXX parody
review page!