Banana pudding for your naughty bits!
This is a great product for adding a little something to your oral bag of tricks. It might not work so well if you're using it as a traditional lube though. Water-based for easy clean-up, Happy Penis has no unpleasant aftertaste or odor, but it does dry out quickly. The reasonable price means it's worth having on your bedside table even just for occasional use.
Published:
Pros:
Bottle lasts a long time, easy to dispense, smells nice
Cons:
Dries quickly, might not work as regular lube, numbs the lips
I bought Classic Erotica's Happy Penis lube some months ago thinking it was just a gimmicky throw-away product. It's not too expensive and comes in a nice variety of flavors (Banana, Cherry, Pina Colada and Mint). Hubby wanted Mint, so I ordered Banana (the label actually calls it Big Banana). I thought it was fair for me to make the choice, considering I'd be the one tasting it the most!
The lube comes in a 4oz bottle and it's not very discreet. The bottle has a slightly phallic shape, and if that wasn't enough, then the picture on the front of three penises with happy faces would probably give away what this is.
You unscrew the top cap to remove the safety cover, which is just like the kind of tabs you get on other lube bottles or milk bottles. Screw the cap back on and it then clicks up and down to open and close.
This actually smells very nice. People tend to describe this as banana pudding, banana milkshake, just banana, etc. It's very nice and slightly artificial-smelling, but definitely not unpleasant. The same goes for the taste - this tastes a little like the kind of packet banana pudding mix you might buy from the store. The bad thing about that is that you almost want to eat it rather than just taste it!
Even though this is sold as a lube, we've never used it as anything other than for male masturbation. I don't know whether that's a psychological thing, but the thought of having anything banana-flavored inside me makes me instantly think of yeast infections, so I can't honestly give any thoughts about using it that way. What we have done mostly is use it for oral sex on hubby's penis. I have to say it's wonderful for that. I imagine if you're one of those people who doesn't like to give oral to your man (apparently there are some out there!), then this would be a great way to get around that. If you already like what you're getting when you take someone in your mouth, then consider this as a tasty little treat. Bear in mind though that a little goes a long way and it's very easy to overdo this. So start with small amounts first. The first time we used it, hubby applied too much and it put me off for weeks.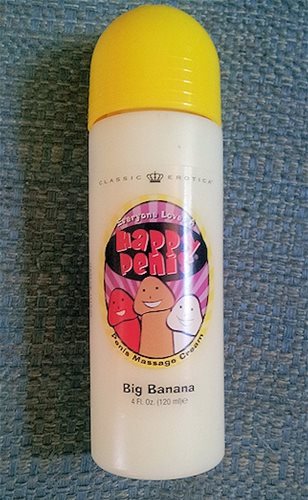 Speaking of using this for oral, there is one downside and it's something else that puts me off using it as a lube. The lube smells wonderful and tastes great in small doses, but it numbs the lips! I've tried it both on hubby and by tasting a little off of my fingertips and it did the same each time. It's actually a sort of numbing/tingling sensation, almost like the feeling you get when you've been to the dentist and the injection is wearing off. For me, it's the only real downside to this (if you discount the fact that not everyone will use this as a regular lube).
The texture is fairly thick, to the point of getting tacky pretty quickly. It's completely smooth, which surprised me. Again, that's probably because of the banana pudding thing, but I expected this to be slightly gritty, but it feels like regular lube. As I said, it does get tacky and it does so pretty quickly, so be prepared to reapply this fairly often.
Since this is a water-based lube, it's very easy to clean up once you're done. If you're the type who has a post-sex shower, then it's going to rinse right off. Otherwise a quick once-over with a washcloth will do the trick. Of course, that's assuming you left any on your man when you got through with "taking care of him!"
This content is the opinion of the submitting contributor and is not endorsed by EdenFantasys.com

Thank you for viewing
Happy penis
– lubricant review page!