Happy Penis, Unhappy Lips
Happy Penis is an unusual lube that's great at what it does, just don't expect it to replace any of your other lubes. This is good for one thing only - tasty (or tastier) blow jobs and won't work well for anything else you'd normally use a lube for. The pros still outweigh the cons though and even if you only use this once or twice, it's worth trying for the price.
Published:
Pros:
Tastes good, thick, long lasting
Cons:
Leaves lips tingling, only good for one thing, contains parabens.
I'm going to do something a little different for this one. While this review is primarily for the Banana flavoured lube, we've also just bought the Mint. Since it wouldn't be right doing the same review twice, I'll post my thoughts here and touch on both flavours briefly.
So, first things first. We bought the Banana version of this last year just for kicks. Having already tried the
Oral Sex Candy Spray
and had good results, we thought we'd try something a little different. Besides, you can't really go wrong with Banana, can you?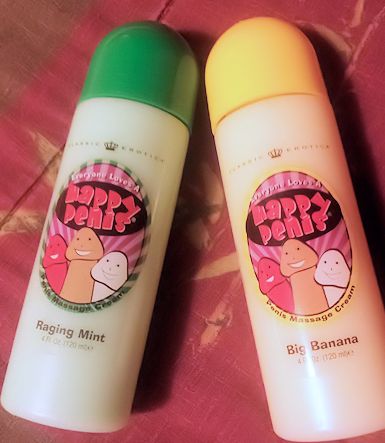 Made by Classic Erotica, Happy Penis is sold as a flavoured lube. There's a problem right there in our opinion. Yes, this is a lube in the broadest sense of the word but it's probably not the kind of lube you're going to want to get inside of any orifice other than your mouth. There are just too many less-than-perfect ingredients, and if you're prone to yeast infections or irritate easily then this is almost certainly going to cause you problems.
The ingredients are all based around the following:
Water, Glycerin, Cetyl Alcohol, Stearyl Alcohol, Xanthan Gum, Mineral Oil, Steareth-21, Carbomer, Flavor, Triethanolamine, Methylparaben, Propylparaben, Sorbic Acid, Disodium EDTA, Sodium Saccharin
In addition to the above, there are other additives colour depending on which lube you choose.
The lube comes in a cute little bottle that's not a bit discreet, looking something like a cross between a roll-on deodorant and a penis. The label shows... well, Happy Penises. Have fun explaining that one to your parents/children/roommate! The bottle has a quirky way of opening too. You pull up on the dome-shaped lid and squeeze - that's it. No mess, no fuss, no annoying drips. I'm not sure whether I'd like to see more lubes in bottles like this, but it certainly works here.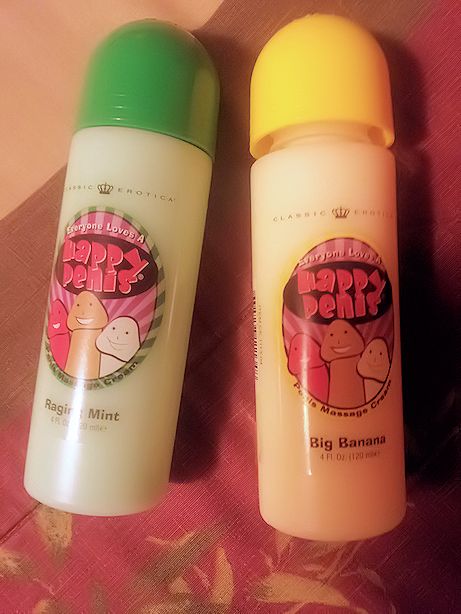 Grasp the top firmly and tug. Don't worry, you won't hurt it
When the lube comes out you'll notice two things. First is the smell, and second is the consistency. This might be the strangest feeling lube we've ever tried. It's often described in reviews as being something like pudding and that description definitely works for us. Actually, it might be more like body lotion or even wood glue - I can't quite decide which now that I think about it. Fortunately it doesn't taste like wood glue though. The banana really does taste like banana pudding - albeit banana pudding with a ton of sugar in there. We've found ourselves wondering whether that's deliberate to stop people from just eating a ton of this lube. That's not the case for the mint though. While it doesn't taste too artificial either, it's more toothpaste-like than the kind of mint sweets you might like to suck on.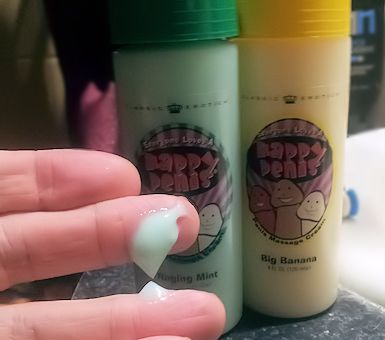 The 4fl oz bottle of Happy Penis really does go a long way. That could be because we don't use it too often (see next paragraph), but it's also because you don't need much of this during a session. We tend to use about a dime-sized blob for oral and don't need to re-apply again.
The above might make it seem like we don't like this - we do, it's just not what we'd consider a lube, more an oral-sex enhancer. However, something we really aren't too fussy on is the tingling lips that you get with this. Since we own both the banana and the mint, we now know that the tingling is something that's part of the lube itself rather than the flavouring. Both flavours do it and if we're honest, it's a little off-putting and the one thing we'd change about this.
It's still worth trying at the price if you want something a bit different, but isn't likely to be something you're going to want to use every time you give a blow job.
This content is the opinion of the submitting contributor and is not endorsed by EdenFantasys.com

Thank you for viewing
Happy penis
– lubricant review page!