Made by a genius to torture you! Ella... half a dud?
Ella has some amazing things going for her... and has some serious faults too. It is like a genius invented one end... and a torturer the other.
Published:
Pros:
Lovely texture, great shape, one fantastic end!
Cons:
Black marks appear like magic, BENDY NECK!!!!! you can put your eye out
Welcome! Welcome to another review by me. Your host. Or just call me Woman.
I'm ok with it.
Today, we are going to be looking at the Ella by Lelo. (insert ohhs and ahhs here... go on. I know you want too)
Why yes! The Ella you are looking at today is white. But like magic, you do get some black streaks that appear throughout the toy and no amount of washing can get them out. Heaven to Bettsies know how they appear. But I have heard other people who have bought the white Ella have experienced the same phenomena.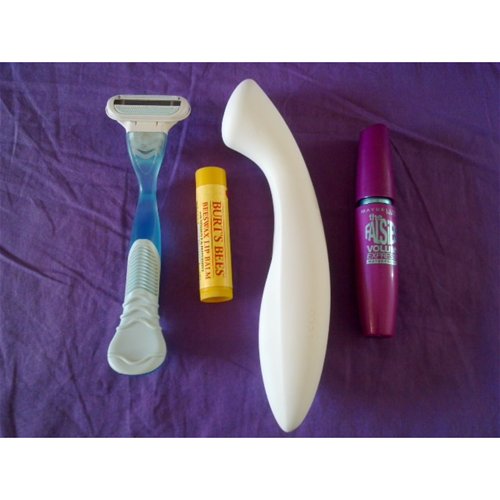 Let me take you on a verbal description of the toy if I may... which of course I copied right off the product page here at EF. Total length, 7", with 5" insertable. With a diametre of 1.25". Ella is made out of body safe silicone, so that means... ah! You guessed it!!! Water based lube is best! But I have been using 100% organic coconut oil with no problems. And as always... I'd not suggest silicone lube with silicone toys.
What's that? How do you clean Ella? Well! That is a fantastic question! With soap and water of course! Or if you have toy wipes or a toy cleaner those work just as well. And because it is silicone? You can share it with a partner or even your bum! Or bathe it in a 10% bleach solution! Sharing is indeed caring, but your bum might not like you if you poke it. So those of you with p-spots and g-spots... you might want to go extra careful if you decide to share your Ella with your bum.
Ella, with his silicone body, had a texture that reminds me of a wet seal. Only Ella is dry. I love the velvety smoothness, and feeling him up is actually quite addicting. You can taste him, you can snort him (but he won't fit up your nose. I already tried)... but alas. You'll find he is scentless and tasteless.
Of course the Ella comes to you packaged. What does this fabulous package look like you may wonder? Why use words when you can use a picture!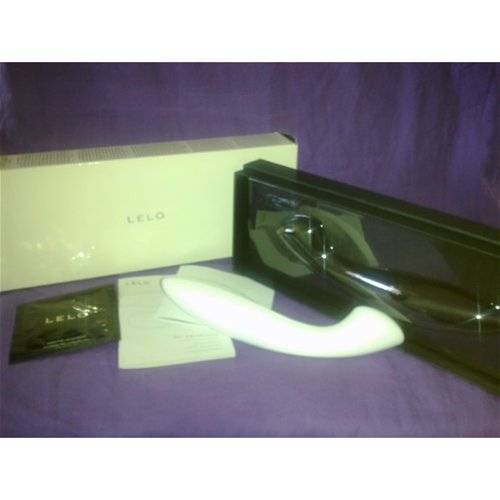 Inside the packaging you get the information booklet, the warranty booklet, a storage pouch and a little sachet of
Lelo's Personal Moisturizer
.
And no, you do not get my purple pillow case.
But you can gift him as the packaging is that pretty. But be warned, if you choose to keep him and leave him out, people who don't know sex toys will want to know what he is. You could always say that he is a reflex hammer. Imagine a doctor using an Ella to test your reflexes!!! To store him, he comes with a toy pouch to protect him from other toys.
Let me verbally walk you through the dual ended dildo that is the Ella. One side has a head that remind me of a hammer. The other end is painfully pointy. The hammer head is to apply pressure and possibly aid you in discovering your g-spot. The pointyish end... well, I do not know what the point is for, but if you end the feeling of fullness in your vagina, this end can provide that.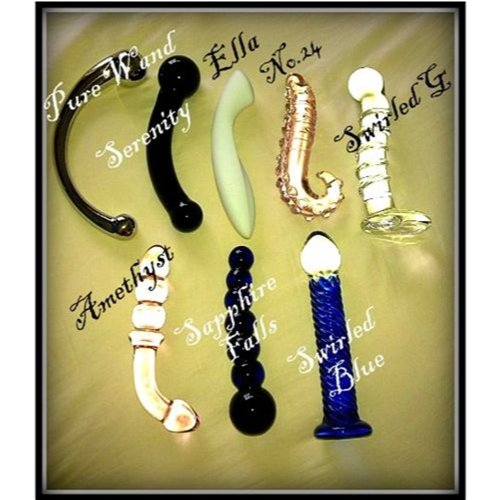 Now that the nitty gritty is done... let me be Frank you can be Hot Lips.
Originally I bought Ella simply because of the similar shape to the Gigi. So I wanted to check out the cheaper "version" and see how it worked with my body. It was a perfect fit!!! Granted, it was a little awkward to insert at first as I found I had to insert it on an almost angle to get it in. I know where my g-spot is, and let me just say. Ella had the ability to zero in on my g-spot better than most dildos (excluding large bulbous head dildos).
I found the length and the shape (of the hammer end) worked perfectly with my body. And I do think he could work for anyone's body beginner and advance user alike.
Experience
Now, I like both thrusting over my g-spot and pressure... so... if you like very very light pressure, and a thrusting motion over your g-spot, you will indeed like Ella.
However; when its me and my g-spot, we like lots of pressure while making small little thrusts over my g-spot.
And this is something you cannot do with Ella. Take a gander: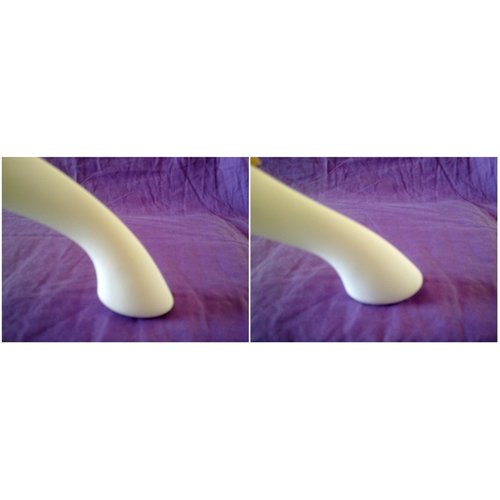 The first picture is the Ella just being held up so the hammer head is flat on the table. The second is just a little bit of pressure (and I mean only a little, I use more pressure to brush my teeth than I used here) and you can see what happens. When I attempt to apply pressure while using Ella, it gets all bent out of shape and actually hurts my vagina as I end up stretching my entrance way too much.
If I use the pointy end, I do enjoy the sensation of the thick part of the handle over my g-spot. But, the pointy end seems to hit my insides and I ache for a few days afterwards. And it feels like I am being tortured from the inside out.
So to sum up Hot Lips, the hammer end side seems like it was designed by a genius. The pointy end? Seems like it was designed by a medieval torturer with all the internal poking going on.
As I could not give 2.5/5 for a grade as half the toy is fantastic, and half is torture, I decided to round down to two stars, as that damnable neck bendy portion is just... grrr!!!
If you are looking for a better alternative to the Ella, I would suggest the
Serenity
.
This content is the opinion of the submitting contributor and is not endorsed by EdenFantasys.com

Thank you for viewing
Ella
– sex toy review page!