Weird Pervert American Girl Wants Train Groping
When faced with the task of investigating the Japanese sex clubs, I never for a moment thought it would be easy. The fact that a subculture of surprising sexual services is available in pink zones throughout the country is widely known. However, the particulars about what happens behind closed doors are a very closely guarded secret. Foreigners are banned from most clubs, and for most
gaijin
, as we're called, a visit to the pink zone will afford little more than a glance at a racy poster.
I went out with the specific task of learning about sex clubs that cater to
chikan
, or train gropers. These are specialized venues that take a pervasive social problem and package it into a highly profitable business.
• Over 4,000 men a year are arrested for groping women on trains.
• 70 percent of high school students, and 17 percent of the general population report having been groped.
• When groped, women have been encouraged by the police to grab the gropers hand, hold it in the air, and shout, "
Chikan
!" Most Japanese women don't.
• Faced with hard times, a small group of gropers have turned to the Internet for support. Thus, the "Chikan Tomo-No-Kai" (The Groper's Brotherhood) was born. This coalition of aggressors has monthly meetings to compare notes and discuss strategies. In order to qualify for membership, men must log 100 gropes per month.
Women-only train cars are now used during rush hour, which has negatively impacted the typical
chikan
's opportunities. Thus, the invention of Groping Clubs, which are sex parlors offering free-for-all groping sessions in a faux train car. Inside these safe zones, prostitutes are dressed in traditional high school uniforms; short plaid skirt, leg warmers, and button-up shirts with ties. Others are dressed in snug, conservative "office lady" uniforms. The girls pretend to be mortified and suffering immensely as men enter and feel or smell whatever part of the female passengers' anatomy they see fit. It surely doesn't take much acting ability to look upset about being fondled by any stranger willing to cough up a couple hundred bucks. (Rates run from approximately $140 for a 20-minute session to $300 for a full hour.)
Perhaps the most interesting element of all of this is, in Japan, sex with a prostitute often occurs in a public area—sometimes right next to someone else who is doing the same thing. The train groping clubs don't have a private room to which you retire to have sex. Whatever is going on can be seen by everyone else on the train.
So, in a land of contradiction and secrecy, I grabbed my camera and my husband, and set forth to see how much of this inner sanctum of fondling I could discover. Working against me, I had the fact that I'm a blonde, blue-eyed American woman who possesses only a Tarzan-esque smattering of Japanese. In my favor, I had nothing but a complete willingness to be ridiculous.
Finding anything specific in Kabuki-cho, Tokyo's biggest pink zone, is not easy. No one is standing in front of the clubs shouting about boobs. There's no blatant advertising of what services are available inside the buildings. Mostly, there are head shots or photo collages of girls displayed by the entrances.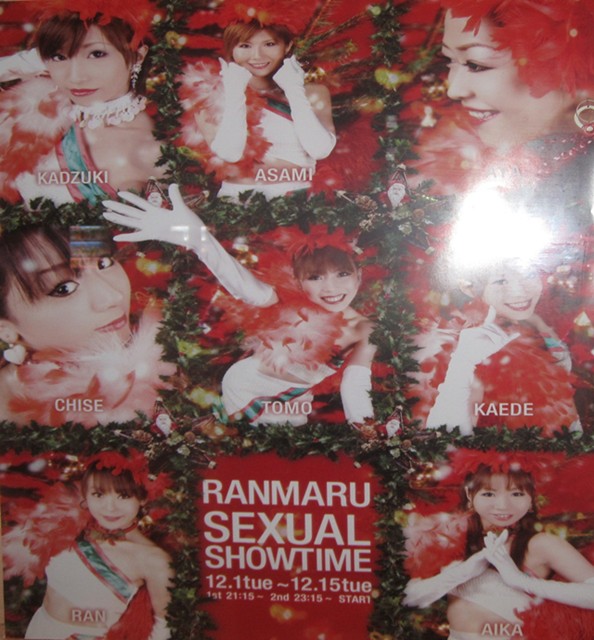 Imagine my excitement as I approached the Club After Information Center.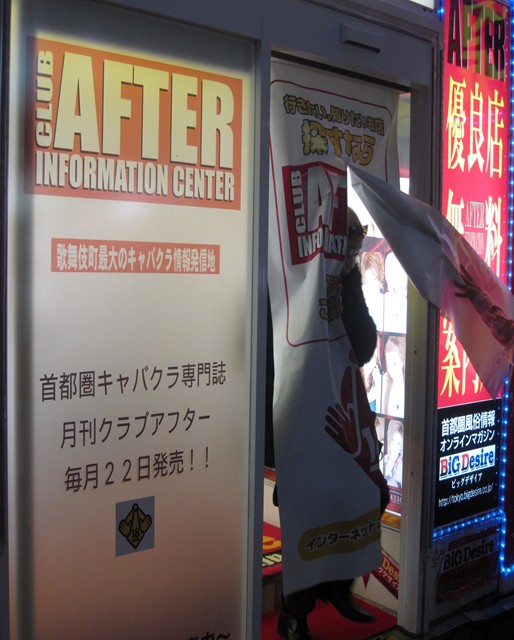 I bet the guy that was coming out as I snapped the picture was totally jazzed. He was probably thinking,
I hope that girl's not just a tourist. I hope she's a writer and plans to post this picture on the Internet
. I could see it in his averted eyes.
I'm pretty sure I'm the first woman to ever go into the Information Center looking for information on where I could find a train full of prostitutes freely available for groping.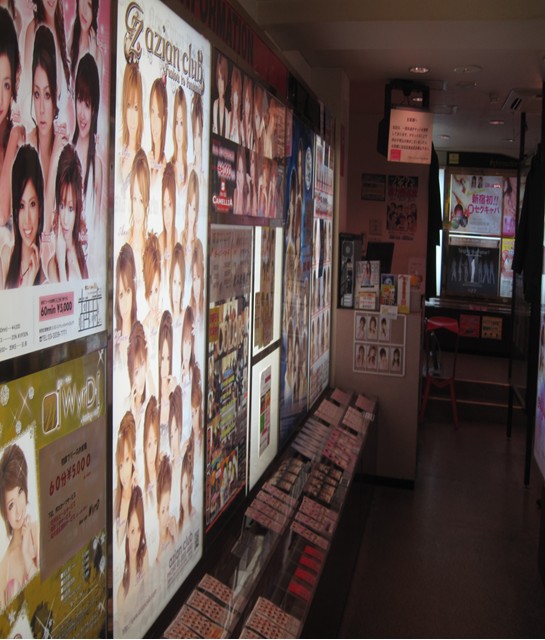 A buzzer sounded, and man in a suit and tie appeared from the back. I was stunned to find that even though I clearly didn't belong there, he was polite and greeted us with a bow. He was blushing and trembling like one of those nervous little dogs, so I knew he was completely embarrassed. I started asking questions, hoping he would want me gone so badly that he would help just to get me the hell out of there.
I said something like, "Sex club pervert I want groping train." Oddly, this statement didn't seem to diminish his embarrassment, and he called for another guy in a suit, who walked me to a map. He slowly and carefully talked us through the directions, pointing out landmarks along the way. He even got a piece of paper and wrote down the name of the club. On the way out, I asked permission to take a picture, and the suit guys looked at me like:
You've just violated every norm of Japanese society, and NOW you're asking for permission?
We followed the directions, but we can't read
kanji
, so we wandered up and down the street looking at every sign for every floor of every building. That's a LOT of signs.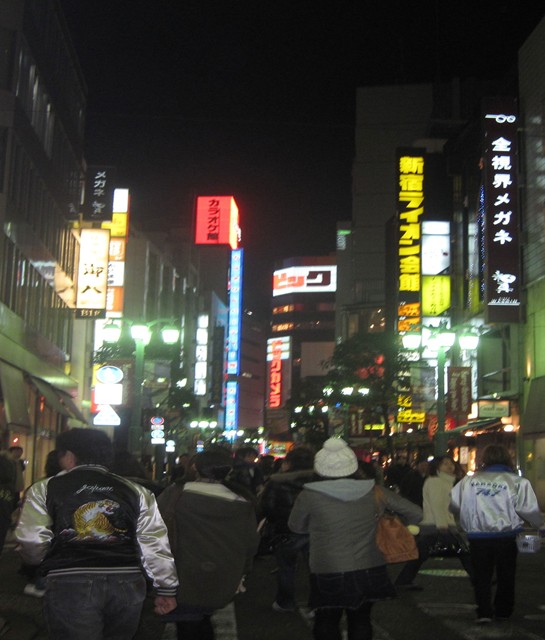 If you've ever stood on a Tokyo street full of
yakuza
and drunken, sex-hungry men, while looking for a specific house of prostitution, you know how frustrating that can be.
Determined, we found another Club After Information Center, but this time, as I pulled back the plastic-sheet-door-thing, voices behind me yelled out, "No, no, no, no!" I backed up and out of the curtain. A man ran up to us making a weird headlight flashing gesture over his chest, which seems to be the international hand signal for: "Beware, there's boobies in that there place!"
I told him that I was writing about
imekura
and did the whole "weird pervert American girl wants train groping" spiel again. He was so excited he had to go back to the other side of the street and get his friend. I thought he needed help translating, but it turns out he just wanted his friend to enjoy this moment with him. After I repeated the "pervert girl" speech again for his friend's benefit, we were off.
Of course, the place was 30 feet from where we'd been standing, hidden behind a staircase, and marked only with a sign that translates to simply "Open for Business," which didn't at all match the name the information guy wrote down. In my book, that doesn't make him very informative. If the sign said "Open for Train Groping" that might actually be helpful.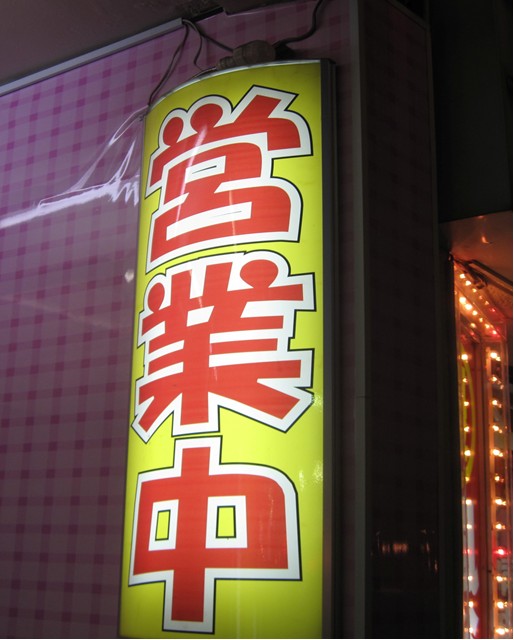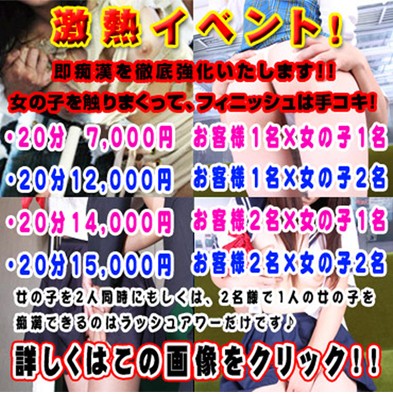 20 Minutes — 7,000 yen — 1 man and 1 woman
20 Minutes — 12,000 yen — 1 man and 2 women
20 Minutes — 14,000 yen — 2 men and 1 woman
20 Minutes — 15,000 yen — 2 men and 2 women
Only later did a friend translate the real name that the suit guy wrote for us. It was "Peach Colored Sisters." That's more fun, but still surprisingly vague.
As soon as we got close, it was clear that the place was totally skuzzy. It was not up to the flashy, pristine standards of the other joints. It all had kind of a skid row feel to it. The proprietor ran out from the back when he heard the doorbell, expecting customers, but seeing us instead. Before he could completely flip out, our new friend explained that I was writing an article and just wanted to see the place. There was zero hesitation before he shook his head so hard and fast his cheeks flapped like a Saint Bernard's. "NO!"
So, being me, I held up my camera and said, "Can I just take a picture?"
I don't know if you know about what we call "the big X," but in Japan, holding up your arms and crossing them can mean lots of things. It can mean "Our restaurant is full," "We are out of that," or it can mean "Go away, insane Western Devil." I got the biggest X in history, complete with head-shaking, bowing and backing away from me. He straightened up long enough to look directly at me and say, "Japanese only." And he was gone. That was when my husband said, "I think we should get out of this part of town right now."
When we came out, I think the whole street was watching us. I probably got as much attention for waltzing into these places as I did for the fact that I came out laughing.
So there you have it. Obnoxious blonde American women can't pay to grope girls in Tokyo. Truth be told, these activities are off limits to
all
foreigners. It all goes back to that public/private persona that exists in Japanese. The lines are drawn in places we can never understand, and when it comes to deviance, the Japanese would prefer that we don't try.
I must say, that I was more than happy to provide the locals with a good laugh. I was dealing with men whose daily lives revolve around some pretty deviant behavior. However, they were as nice and helpful as they could possibly be when asked for help. Everyone except for the big X guy. I don't think he liked me very much.