Ahhhhhhhhh
To prevent razor burn, rashes from nickle based razors, ingrown hairs, and friction burns on newly shaved skin use a spritz of Coochy After Shave Mist. It works to prevent as well as clear up these types of rashes and irritations. Non-irritating even on my irritable skin this is going to be in my bathroom for many happy years to come.
Published:
Pros:
Botanical based formula, amazing scent, works great
Cons:
none
I don't know about you but I hate that rashy, bumpy, irritated feeling my skin gets in winter after shaving. I don't seem to have trouble like this during the rest of the year but when my skin is dry from the winter wind and indoor heating I am so afraid to shave anything!
I was discussing the problem with some friends when they recommended using after shave lotion or splash, the same products guys use on their faces. I didn't like the scents of the products I could find readily and it burned like the dickens, though it did work to sooth the irritated skin on my legs and underarms. I did not try the stuff on my lady bits.
Looking through the products here at EF I noticed that Coochy After Shave Protection Mist by Classic Erotica was very highly rated and liked. Formulated for shaving that special area and able to be turned upside down and sprayed, I figured I had nothing to lose!
My Coochy Protection Mist arrived in a clear plastic, 4 oz bottle with a white plastic pump style top and clear plastic cap. The bottle is recyclable and the label is light and medium pink with a stylized line drawing of a woman. The word Coochy is in fairly large letters making it a tiny bit indiscreet given what 'coochy' is slang for. Still it looks perfectly fine sitting in the bathroom amoungst the shaving products!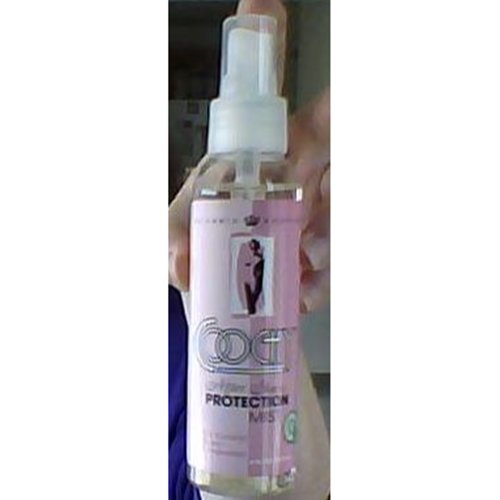 The packaging has been changed so your bottle may not look like mine but the ingredients seem to have remained the same. Quite a few of the ingredients are aimed at soothing irritated skin and closing pores such as the lavender, cucumber extract, chamomile, licorice, echinacea, wheat germ extract, and oat. The botanicals impart such a lovely fragrance that any person regardless of gender will love it. The scent is light, fresh and just a hint of citrus, and spice. I expected it to be flowery but it smells like old fashioned 'hungary water' which is an old recipe for an after shave used by men at the turn of the century.
It should be noted that this product contains glycerine but it is plant based glycerine which is less likely to promote yeast overgrowth. This is not a lube and should be used externally only.
The formula is as thin as water and it sprays in a mist that covers quite a large are with one spray. It goes on very light and dries easily without leaving a residue or stickiness. You can feel a slight tingling which is the pores closing up but there is no burn. I have used the spray on my legs, underarms, bikini area and lady bits without any bad effects. It soothes the area, protects against clothing rubbing the newly shaved skin and seems to slow down regrowth just a slight bit, though that could be wishful thinking on my part. Sigel has used it on his face when he ran out of his favorite splash and he liked it but his splash has ingredients to prevent acne and ingrown hairs so he decided to go back to it. He did admit that the Coochy spray is soothing and prevented razor burn.
Spraying the product with the bottle completely upside down works just as easily as holding it upright! Very nice for the bikini area. I notice that you don't need a whole lot of the product just a single spray is good for my lady bits and just a few sprays for the lower leg or thigh. You can also spray a bit on finger tips and massage it in to smaller area. I have used this pretty extensively and have yet to use half a bottle so it's great value for money.
To get the most benefit from Coochy Mist pair it with
coochy
Shave Creme. There is also
Coochy
Aftershave Powder available for those who prefer a dryer after shave product.
Experience
My daughter noticed that her bikini line was getting too unruly for her to wear a bathing suit so she took matter into her own hands. She shaved the area with a dull razor, OUCH! I noticed that she was limping and had a pained look on her face a few days later and she confessed her predicament. I hugged her, told her to use proper shaving creme and a new razor and then suggested she use my Coochy spray. She was a bit unsure about using it but afterwards the smile of relief on her face was confirmation that Coochy had done the trick.
Follow-up commentary
10 months after original review
This is still one of my favorite after shaving products for legs, underarms, bikini area and other lady grooming areas. My skin doesn't like being shaved but a spritz of Coochy and the irritation is gone. New name and new bottle and this is still my go to product!
This content is the opinion of the submitting contributor and is not endorsed by EdenFantasys.com

Thank you for viewing
Coochy protection
– aftershave review page!