Free? Can I get my money back?
They say you should never look a gift horse in the mouth. I saw there are better gift horses out there. This is nothing special: loud, buzzy and just all-around annoying. I can only recommend this bullet if you haven't already got one or if you've ever wondered what Carpal Tunnel feels like. While it's powerful enough to get you off if you like vibrations that feel like mild electric shocks, people who like even the tiniest amount of rumble to their toys will want to look elsewhere.
Published:
Pros:
Easy to take care of, will probably last a long time
Cons:
VERY buzzy, not waterproof, hard plastic with seams on the bullet.
Currently offered as a free gift bundle if you spend over $79, the Cal Exotics Impulse Hyper Bullet is a great example of why free isn't always good. If I'm honest, I only added the free gift because I wanted the Leaf Towel - it's a sad state of affairs when a washcloth is more of a 'want' than a bullet!
When it's not a freebie, the Hyper Bullet retails at $35.99. Which is about $36.00 more than it should be. We're not big on bullets here - we've got one or two and some are better than others, but this one shot straight down the pecking order to the bottom of the EF Tote bag that we use for storage.
Made out of genuine plastic, which ranks as an 8 on Eden's
Safety Scale
, this is non-porous and phthalate-free. It's also easy to clean with soap and water or with the ever trusty (and far more useful) Eden Wipes. Being plastic, it also means that you can use your lube of choice too.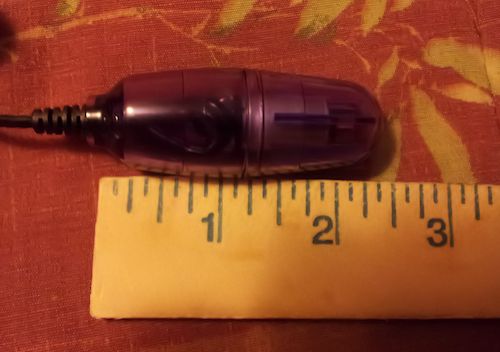 The bullet itself measures 2 1/2" in length, while the controller - which is attached to the bullet by a sealed & connected cord - is 4" long. Nothing out of the ordinary there, really other than the fact that both the bullet and controller are made of semi-opaque purple plastic. Granted, it's a very nice shade of purple, that has the edenfantasys logo across the bottom of it. Obviously Cal Exotics are making this for EF. Since I won't be buying this bullet again, I've got no idea whether there are any differences between the regular and promo versions, but I'd guess that they're going to be more or less identical.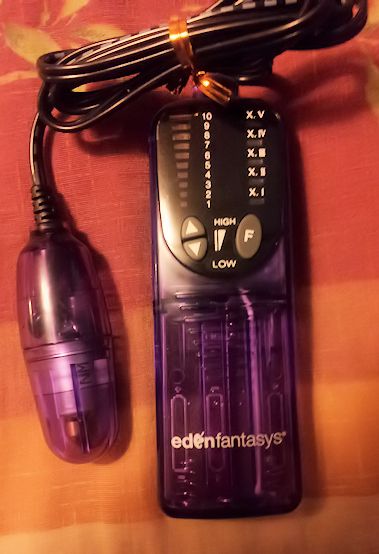 The bullet is powered by 3 AAA size batteries that are inserted into the main controller via a sliding cover (thankfully there are no Phillips screws holding this shut). You'd think that having three batteries would be a good thing, but I'm really not convinced that's the case. The motor generates an awful lot of buzz - much more than you'd expect, especially given the power. You know that story how Cleopatra is supposed to have had one of the earliest vibrators that consisted of a tube filled with bees? (Honestly, look it up). Well I can only think that Cal Exotics thought that was cutting edge and decided to try the same. This sounds like a dozen wasps that have been trapped in a 2" tube and have all been told that their wives are all cheating on them. This makes an awful racket. In fact I did a test right before writing this. I turned the bullet up to 10 (perhaps that should be 11) then took out our trusty
Mood Fantastic
wand and switched that onto full power. The wand lost and the bullet was almost twice as loud! Sadly, it's less than half as powerful.
When it comes down to power, this is kind of deceiving. It's powerful in an annoying way, rather like being constantly prodded by a 3 year old child who has just discovered poking. Imagine taking the most powerful electric toothbrush you can find then shoving it between your legs. Some of you are going to like that, but to others it's a few steps away from Chinese Water Torture. Sure, there are different levels and patterns - 10 intensity levels and 5 vibration patterns - but even they can't save this. And rumble? This bullet couldn't rumble even if you put it in the back of a three wheeled truck on the way to an Ali v Foreman fight (see what I did there?)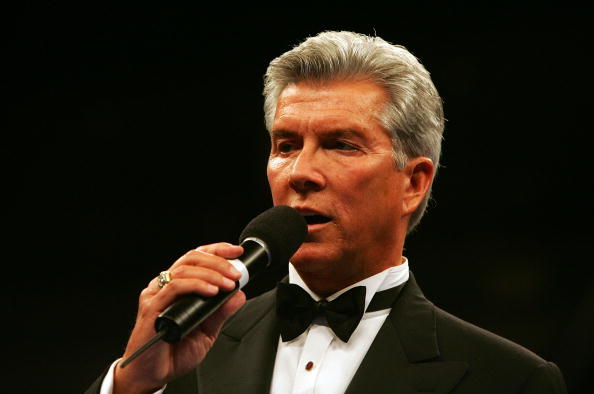 Let's get ready to... Buzzzzzzzzzzzzzzzzzzzz!
There are three buttons on this, an up and down arrow that are almost joined together and an F button (I'll let you use your imagination as to what I've named that one). The bullet is first turned on using the up button, and from there it's simple enough to figure out that F will give you one of the five patterns while the up arrow continues to increase the intensity. I'm glad it's so simple to figure out, since there wasn't a scrap of info included with this.
Finally, when it comes to info, I'm seeing a lot of reviews these days that suggest using bullets like this for anal if that's your thing. My advice is not to do that. No matter how well the cord seems to be attached, the last thing you want is for it to come away from the bullet if you've shoved this up where the sun doesn't shine. If you really MUST use a bullet like this anally, put it in a condom first and don't insert the condom all the way in. It's safer.
Experience
I know this review sounds harsh, but... well, tough. If something's listed as costing nigh on $36 then it should look and act like it costs that much. If this bullet sold for $9.99 then I might be more forgiving and think it was probably worth that. The other problem is that last year we bought the
Xtreme Pack G Spot Bullet
, which is superior in almost every single way (except for having the ability to make Stevie Wonder ask you to turn the lights down]. That bullet - despite occasionally being offered for free, too - cost us about $30 and is twice the bullet and controller that this one is.
Blinded by the light or deafened by the buzz?
This content is the opinion of the submitting contributor and is not endorsed by EdenFantasys.com

Thank you for viewing
Impulse multifunction hyper bullet
– sex toy review page!