On March 3rd, about 35 sex workers, academics, activists, and allies crowded into the
Echo Park Film Center
to watch models from various backgrounds strut their stuff, showcasing strap-ons, dildos, and other adult toys. Though it was all in good fun—and quite entertaining—the attendees were there for more than the beautiful bodies and seductive fashions.
Almost a decade ago, 25,000 sex workers in India banded together to protest the violence and condemnation they experienced on a daily basis and as a result, March 3rd has come to be known as International Sex Workers Rights Day. Events were held the world over and in the U.S., many were coordinated by various chapters of the
Sex Workers Outreach Project (SWOP)
, a national social justice network dedicated to the fundamental human rights of sex workers and their communities.
SWOP Los Angeles (SWOP-LA) honored the day with a sex toy fashion show and film screening, featuring 13 short films that shed light on the intricacies, misconceptions, and obstacles that shroud this still taboo industry. The films ran the gamut, though all aimed to convey one basic message: Sex workers rights are human rights. In
How to Treat a Sex Worker
, attendees learned just that. F.Y.I.: Do not haggle on prices, ask personal questions, or—under any circumstances—request that they profess their love for you. More serious shorts like
Multnomah County
shed light on the ways in which those involved in anti-trafficking work use the human-rights violations associated with sex trafficking to fuel anti-sex work legislation.
As the new director of SWOP-LA, Jessie Nicole is doing her best to raise awareness and inspire honest discussion among seemingly oversexed, yet completely un-sex positive Angelenos.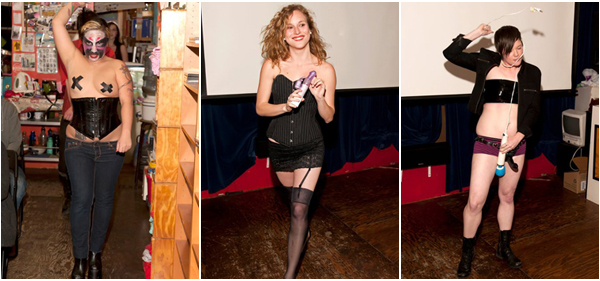 Left: Mariko Passion, Middle: SWOP-LA Director Jessie Nicole, Right: SWOP-LA Volunteer
"I think one of the biggest challenges in fighting for sex workers rights is that no one likes to talk about sex work or their relationship to it. Getting people talking about sex work and forcing them to think about sex workers as people in their communities goes a long way to changing their views about sex-workers' rights," Nicole said.
"Accepting sex work as legitimate work is a challenging hurdle for most people to overcome, but is essential in changing the way the conversation surrounding sex workers rights is carried out. When we join the conversation about sex-workers' rights, which sex workers have historically been excluded from, we can undo some of the stigma that is so deeply ingrained in our culture."
All of the sex toys featured in SWOP-LA's fashion show were donated by Cucci, a sex-positive, educational toy company founded by Sam Sunshine and Judy Hong in 2008. Though one could argue there is no better place to start an adult-toy company than super-sexy Los Angeles, it takes living here to understand how segmented its queer population is, relegated to small pockets of the sprawling city while more accepted (i.e. heterosexual) adult entertainment can be found anywhere and everywhere, though it is anything but sex-positive and often excludes the LGBTQ community, people of color, and those who do not fit in with the city's stereotypical/conventional standards of beauty.
"We do a lot of work to shatter the stigma of sex and the ways we're taught to disconnect from our bodies and our sexuality," Sunshine said. "Being sex-positive is being mindful and inclusive of all body types, genders, sexualities, cultures, abilities, and experiences, sharing stories, using inclusive language, and not 'yucking someone else's yum.' Essentially, we're challenging the sex education we grew up with- the sex education people are
still
growing up with- and being conscious and willing to listen, share, and learn."