All-girl porn meets chick-lit... and it works.
The Interns plays like a cross between a TV pilot and an all-girl porn parody of The Devil Wears Prada, with an actual script holding the lengthy sex scenes together. If you're a fan of porn with a plot and girl-on-girl action, you'll like this one.
Published:
Pros:
+ Long scenes
+ Toy-free
+ Decent writing and acting (for porn)
Cons:
- Weird audio
- Julia Ann's acting (even for porn)
Written by Chloe Sampson and directed by Sampson and Eddie Powell,
The Interns
is an unusual adult feature which gives much of it's focus
to the actual story!
The disc begins with an unskippable, 1:40 PSA from the Free Speech Coalition in which a who's who of adult industry talent earnestly ask the viewer not to patronize illegal tube and torrent sites.
The movie runs
166 minutes
total, and the
bonus content
includes a scene from Digital Sin's
Ashlynn Brooke's Lesbian Fantasies
, a photo gallery, two trailers and a promo for New Sensation's website. The most interesting of the disc's bonuses is the roughly 25 non-sex minutes of the film edited together into a single "episode" which shows off the movie's story aspect. There is only one
audio
track,
English
, and there are
no subtitles
.
The movie itself begins with a stunningly well-done opening sequence. Animated credits, featuring close-ups of shoes and clothes perfectly in keeping with the fashion magazine premise, are accompanied by a very catchy rock song with female vocals; the whole effect is surprisingly slick and wouldn't seem a bit out of place on a prime-time TV show. Sadly, neither the very catchy tune used over the opening and ending credits nor the two that appear later in the movie are credited anywhere, so I have no idea of the song titles or artist!
The
story
immediately takes center stage, with the lead-up to the first scene consisting of a conversation between
Avy Scott
and
Samantha Ryan
that doubles as slick setup. Ryan plays an intern at the struggling fashion magazine
Haute Couture
that's run by the (supposedly) bitchy, manipulative
Julia Ann
. Ryan and another intern, Ruth (played by the unusually zaftig
Zoe Britton
) are vying for a promotion, and the competition for that spot will involve a ridiculous amount of scheming, lying, and backstabbing.
And, of course, plenty of sex.
~*Scene 1*~
Samantha tries to convince fashion designer Avy to feature her new collection in
Haute Couture
rather than its trendier competitor
Glitter
by offering her a huge spread and the cover, and then with a good old-fashioned seduction. It's a bit lame — Samantha
accidentally
spills wine on herself, giving her an excuse to disrobe — but it works. This first scene is very much indicative of all the movie's sex scenes: roughly 30 minutes long, featuring a lot of kissing and a variety of positions (breast play, trib, cunnilingus, sixty-nine, with just a dash of anal attention for spice), leading to multiple orgasms for both participants.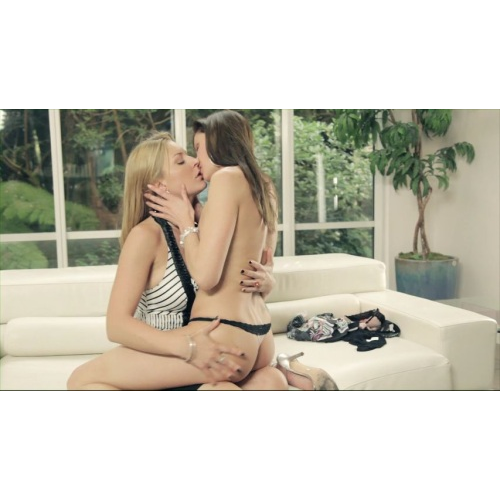 ~*Scene 2*~
After a connecting scene in which we meet Julia Ann and watch interns Zoe and Violet scheme against Ruth, we watch a photo shoot in which high-maintenance photographer Betty (
Michelle Lay
) plays the prima donna (
Charlie Laine
) and the yummily voluptuous
Sara Stone
off each other until Charlie sees which way the wind is blowing and just basically jumps on Sara, with Betty quickly joining in. What ensues is a half-hour-long threesome that's unusually talky thanks to Michelle Lay's very domineering directing of her two playmates. This scene seems like a bit of a side-story diversion in an otherwise very plot-focused work, but it was fun for what it was.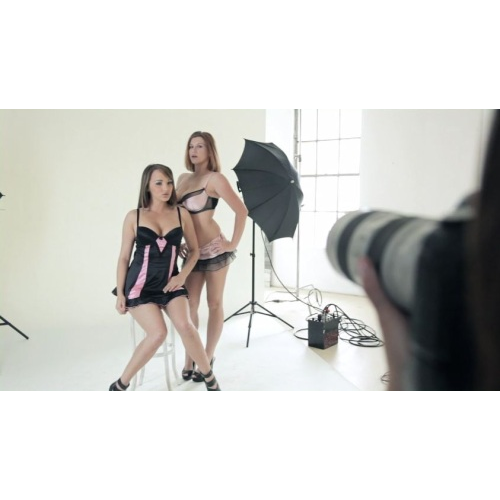 ~*Scene 3*~
Julia Ann thinks her husband is cheating on her with his secretary, and so she wants Samantha to teach her to be sexy so she can seduce her husband. I'm not sure if this is weirdly out-of-character for our supposedly domineering editor-in-chief or if she's supposed to be manipulating Samantha, but either way it's a premise for a striptease and seduction that starts out slow and romantic. Throughout this movie, Julia Ann's acting is the weakest link (more on that later), and that's very apparent here, but she does make some amazingly weird and fascinating noises while being pleasured thoroughly by a dominant Samantha.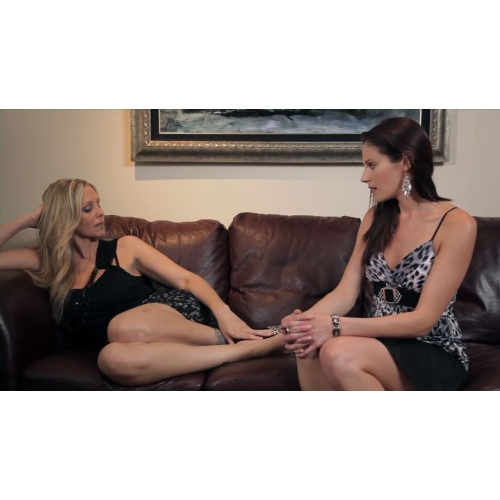 ~*Scene 4*~
Ruth and fellow intern
Allie Haze
gossip in the bathroom about Samantha's promotion, and how Samantha slept her way to the top of her last job, then sued them for a quick payoff. Julia Ann overhears all of it from a stall, and looks most upset! Later that night, at Allie's apartment, Ruth shows up with champagne crowing about her Oscar-worthy
performance
. A smug Ruth pops the champagne, seducing a nauseous Allie into ignoring her guilt. The first five minutes of this scene features the only ambient music heard during any of the film's sex scenes. Zoe Britton is pleasingly curvy, and Allie Haze is just gorgeous, so this is mad hot. There's a little bit of D/s foot/stocking worship here, which was made even weirder by the ever-present audio issues.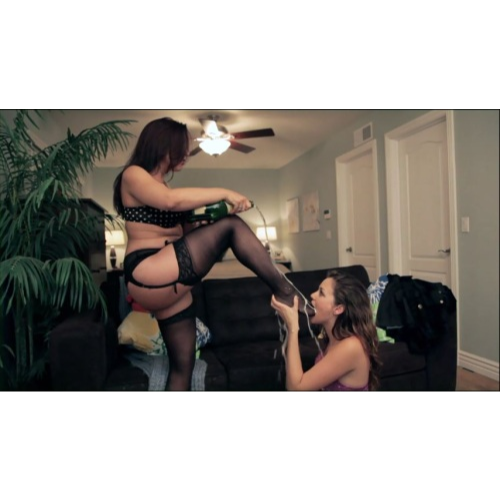 (
continued below
)
Experience
~*Scene 5*~
Julia Ann shows up at Ruth's place, offering Ruth Samantha's promotion in return for her support should "certain legal matters" arise. Ruth demands even more than that, and this leads into another sex scene in which the boss lady plays an oddly submissive role. Julia Ann's crappy implants almost ruin this otherwise very hot scene, but Zoe Britton nicely delivers a couple of the script's best zingers both during and after the deed.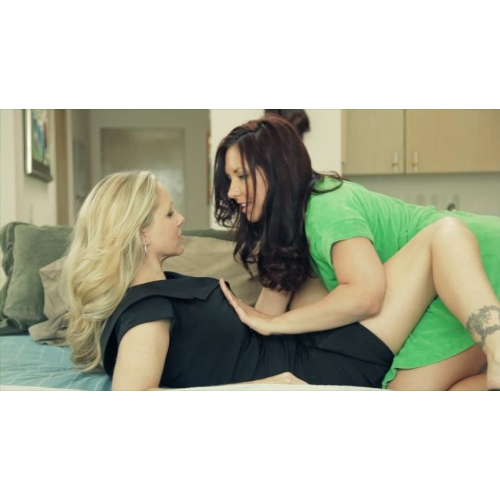 The film ends on a cliff-hanger that introduces a new character and a different part of Samantha's life, while she remains blissfully unaware of Julia Ann and Ruth's plans. That, combined with the slick title sequence, makes this all feel a bit like a (really explicit) television series pilot…
Personal thoughts:
The Interns
is not a typical porn movie. It has decent writing and acting that's noticeably above typical adult film standards. Avy Scott (a favorite of my husband's) and Zoe Britton display something approaching comic timing, and in all the connecting scenes directors Sampson and Powell do as much to advance the plot with their starlets' facial expressions as they do with the dialogue.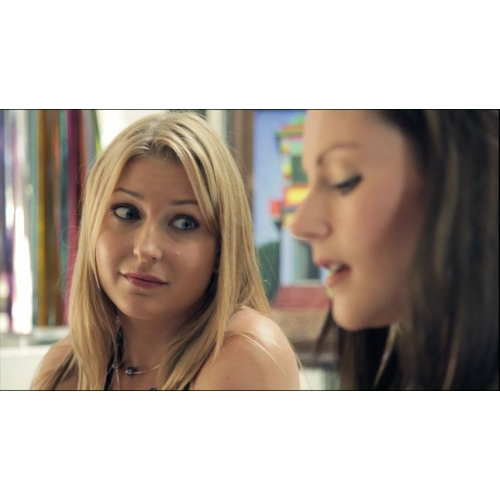 Sadly, much of that is undermined by Julia Ann. She's supposed to be a domineering bitch who makes all her interns quake with fear, but she manages to miss the mark entirely with her performance. She doesn't appear cruel or demanding; instead, her one-note acting throughout the film just makes her seem
sad
. Maybe there's something to that given the subplot with her husband's cheating, but it's impossible to tell because she's acting quite badly. However, it's worth sticking around for Zoe's lush figure and Avy's enthusiasm and sexy voice.
The film's notable production drawback is the weirdly naked (pardon the pun) audio — everything echoes a lot, as though the microphones were placed far away from the action in a very large room. The complete lack of music during most of the sex scenes combines with the bizarrely spacious audio to create a very strange aural aspect to the movie that takes some getting used to.
Outside of those two minuses, New Sensations' Sappho Series has set a high standard for future glossy, story-driven all-girl productions. While it's not perfect, its ambition is to be applauded, and that it succeeds far more often than not is, to my husband (who I purchased the movie for and who had a huge hand in this review), indisputable. The fact is that the story actually works, the acting is often quite engaging, and the sex is generous and enthusiastic. Add my husband's favorite type of cast — pretty, but not all waifish — and the
The Interns
gets a solid four stars.
This product was provided at a discounted price in exchange for an unbiased review. This review is in compliance with the FTC guidelines.

Thank you for viewing
The Interns
review page!