So Long Boob Sweat
FINALLY! A product that can eradicate boob sweat! Ladies you know what I am talking about. Whether it is 90 degrees, or you want to work out and not have your clothing totally sweat soaked in embarrassing areas, this IS for you. A sweet smelling cream that goes on like a lotion, absorbs completely and acts as an antiperspirant for a long duration of time is something that I didn't realize I NEEDED until I got my bottle of Happy Hooters. A must have win.
Published:
Pros:
Scent
Works to prevent moisture/sweat
Long Lasting
Good Size Bottle
Durable leak-proof container
Cons:
None
Happy Hooters is a "female comfort lotion" made by Doc Johnson. You may, like I did, ask yourself "what the hell does that mean? " Here's a link to Doc Johnson's website
Happy Hooters
Happy Hooters is designed to be applied like a lotion, but acts as an antiperspirant. For example, it is summer, you wear a D cup and you are wearing a tank top. No matter what you're bound to accumulate boob sweat. I do. Apply this to areas prone to being sweaty or "moist", and theoretically this amazing lotion will prevent the moisture. I got this assigned to me and accepted it right away. When I found out that this is a lotion that is supposed to prevent sweat/wetness from forming I just had to give it a go.
I received this generous 4.5 tube, a good size considering that you only need a quarter sized amount when applying. This is supposed to have a light feminine scent, and it does. There is no actual scent given. If I had to place it I would say it smells similar to my Victoria's Secret PINK! body spray I have in apple blossom and violet. Overall a nice, light scent that will last for awhile. The lotion is a thick, white cream that comes out of the tube sparingly, and easily. When applied, this is creamy and absorbs into the skin well, leaving the skin with a soft but slightly powdery feel to it. It doesn't leave any visible residue.
What I wondered after I evaluated the properties of the lotion, was whether or not the effects of this lotion would last long term. It is not summer here so I was wondering what I could do to produce sweat and see if this lotion held up. Well my lazy ass pulled out my yoga mat and did some hot yoga for about an hour wearing gray leggings and a pink tank top. Normally I would have sweat in between my breasts, on my lower back and under my butt cheeks. While I did sweat some, the amount of sweat was decreased and there was no wetness visible through my clothes. Performance wise this is a win.
Now the ingredients. There isn't a whole lot of them, but there are enough and it's important to know what they are and do before getting this. Some people with sensitive skin may not be able to use this. I myself can not use just any soap or lotion. I used this a few times with no ill effects. Regardless, here is a list of each ingredient and what it does:
1. Water - Good old H20 and the base of this lotion
2. Tapioca Starch - A starch made from tapioca that will keep liquids thick. It helps maintain the viscosity of this lotion. It is frequently used in cosmetics. It also helps keep the skin it is applied to dry.
3.Isopropyl Palmitate - A palm oil based emollient that is used as a moisturizer and thickening agent in many lotions and other cosmetic products.
4. Tocopheryl Acetate - A.K.A. Vitamin E Acetate. This is the vitamin E Doc Johnson boasts this product contains. It penetrates the skin and is used in many,many skin creams.
Kinda Interesting
5. Aloe Barbadensis Leaf Juice - The technical term for Aloe Juice. Supposed to be soothing to the skin but there actually is not a lot of conclusive research showing that it actually is.
Also interesting
6. Acrylates/C10-30 Alkyl Acrylate - After much research I found that in cosmetics/lotions this is an emulsifier and is also used as a thickening agent. Not 100% sure how it ties in with this lotion, but it's in there. Apparently non-toxic is small topical amounts like this and suitable for sensitive skin.
7. Crosspolymer - Also a thickening agent. This is a very generic term and I was not able to find out anymore since this is such a generic term.
8. Disodium EDTA - Used as a preservative and incidentally it has been shown to reduce bacterial growth. It is used in labs and tons of products from soft drinks to lotions like the one I am reviewing.
9. Fragrance - That's all I got (sorry)
10. Sodium Hydroxide - A compound used in many products and processes. It is used in soap making and is used in many cleansers and beauty products. It neutralizes acids amongst many other things but I could not find the exact use for it in this product. My best guess is as a preservative.
11. Colloidal Silver - Ahhh. My favorite. After much reading I found that it is used to prolong the shelf life of many cosmetics and lotions. It also has many properties in medicine as well.
Colloidal Silver
Experience
While there are a bunch of preservatives in this, I do not mind. My bottle came stamped with an expiration date of 1/12/2014. Nearly two years is awesome. I flat out love this stuff. I am not sure how much it will go for if Eden carries it, but whatever it is I would pay it. This is a good smelling lotion that has function too. I plan to use mine under and in between my breasts, in the crease under my butt where my upper thigh meets my ass, and on my lower back. Especially in summer when no matter what I sweat in the aforementioned areas. I also will use this before a work out, bike ride, yoga class or when/where ever else I may have sweat or wet areas that I want to have stay dry. The bottle is also adorable! Black with pink and silver lettering. Despite being called happy hooters this is pretty discreet.
SIZE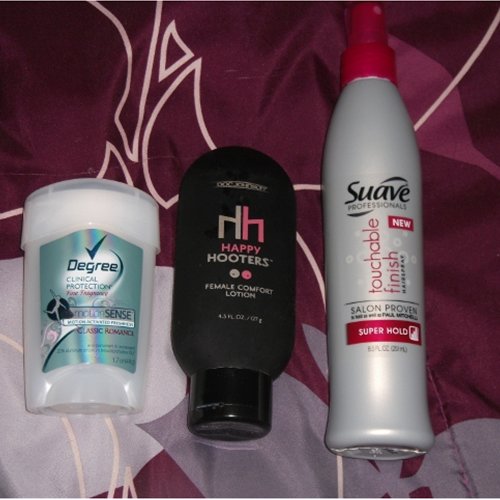 CUTE BOTTLE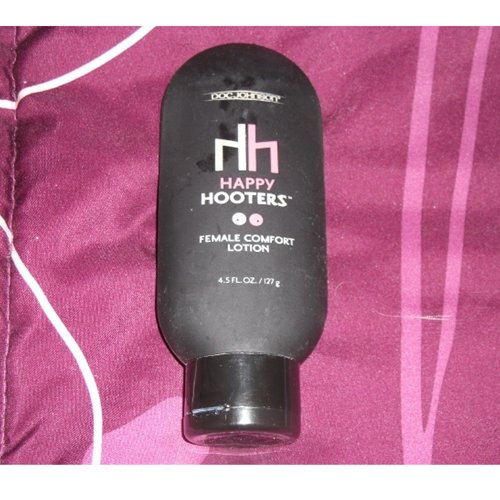 INGREDIENTS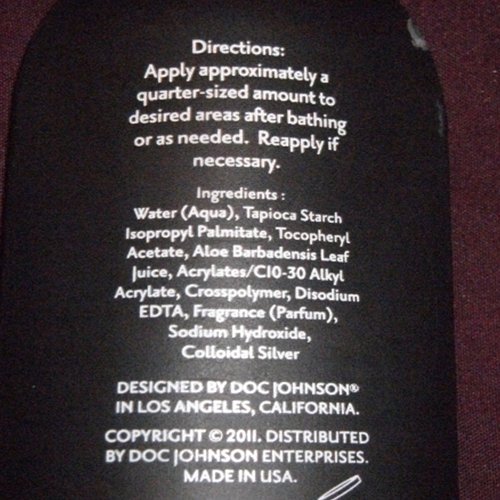 THICK CREAM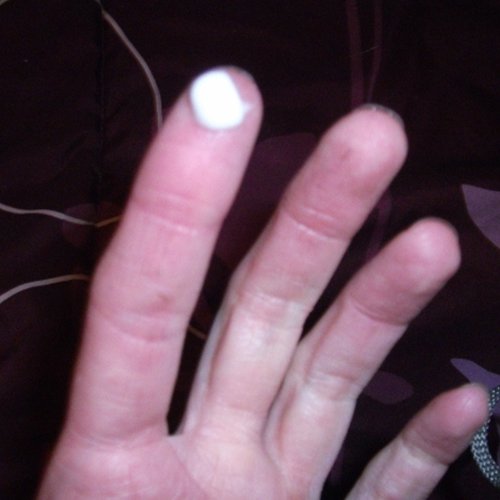 AFTER HOLDING MY ARM DOWN WITH THE LOTION ON MY WRIST,THIS CREAMY LOTION DID NOT RUN AT ALL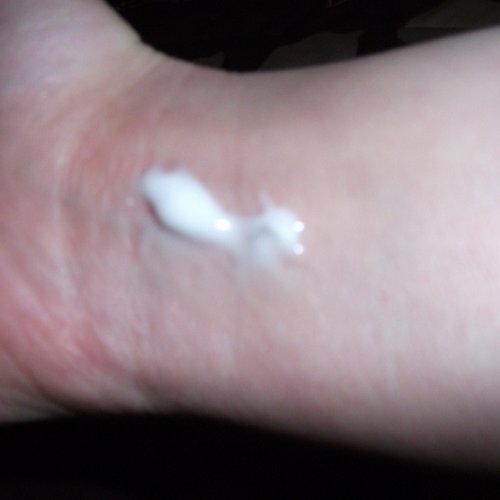 Follow-up commentary
3 months after original review
I love this stuff. Now that it is hotter than hell and summer has officially begun, I use this quite frequently. I use it in between and under my breasts. I also use it under the crease where my ass meets my thighs. This is highly effective in preventing sweat/wetness and it's fantastic for those days when you will be outside and wish to not have boob sweat bother you and/or show through your clothes. This is a fantastic product, and since you use so little this will last a long time. And another perk is that is smells absolutely wonderful.
This product was provided free of charge to the reviewer. This review is in compliance with the FTC guidelines.

Thank you for viewing
Happy Hooters
– female intimate lotion review page!