Ummm... Uma are you the next Monet???
Uma, the toy everyone is screaming over. The toy everyone says to "buy buy buy!" I am glad I bought you because while you do have some good points, and would be great for any level of user, you also have quite a few design flaws that I think should have been worked out before Je Joue decided to put you on display.
Published:
Pros:
Pretty strong motor,
motor located in the perfect spot
firm design
Cons:
Design flaws,
too light,
cheap feeling
Initial Impressions: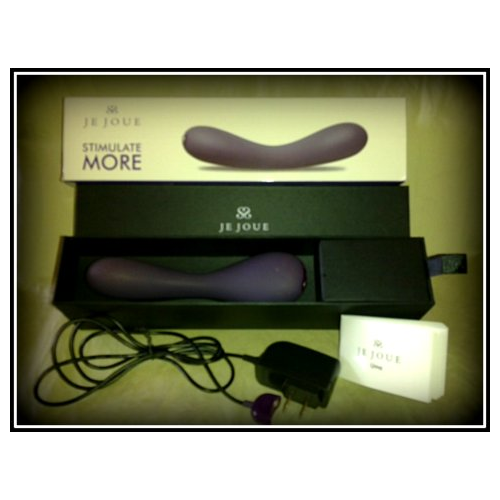 When I first opened the box containing Uma, I was impressed by the presentation. You can see in the photo how the Uma looked in his package. I liked the almost purple slate colour and thought that the colour was unique to all the bold purples out on the market today.
But then I held him in my hands.
To feel the silicone covering the hard plastic inner that felt amazing! I loved how I tried to bend him but was unsuccessful, and all I could think of was him pressing up with some amazing pressure along my g-spot. I played with his weight in my hands, and that was something that I really did not enjoy about him. The Uma is quite light for his size. It reminded me of a "Monet" looks great from far away, but get near it and not so much. For all his size (seven inches total, four inches insertable, one and a quarter inches in diametre (but for some reason feels more that g-bulge is fantastic!)) his weight... I don't know how to describe it really.
According to the product page here at EF, they say he weighs in at three quarters of a pound. He feels... cheap is the only way I can describe it. I have come to expect toys to make their presence known and especially luxury toys give me some sort of "weighted" feeling in my vagina. I am trying to explain it here but seem to be failing miserably. I like that weighted presence, that weight you feel inside you. You know what I mean?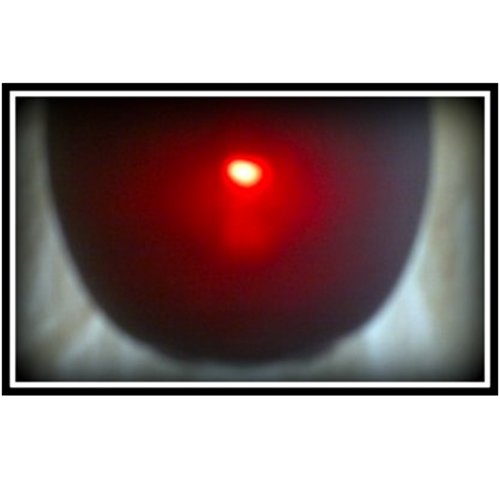 When I turned him on for the first time, I was again a little disappointed by the "cheap" looking indicator light. In my opinion it looks like the red light on your remote control for the TV.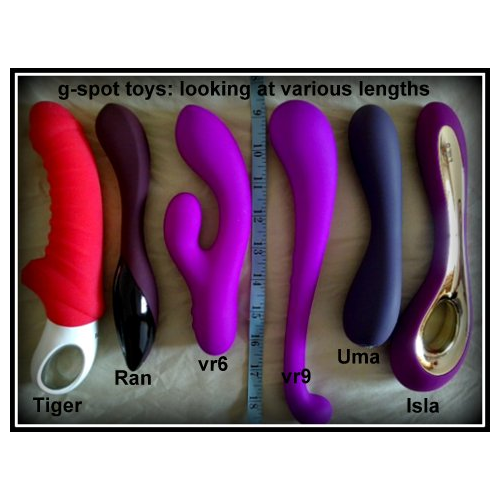 His shape though, there is nothing really that makes Uma unique to look at in terms of shape. If you look at a comparison of Uma to some out luxury brand g-spot vibrators you can see, that it is true. Je Joue has taken a time honoured design in plastic, covered that in medical grade silicone, tossed a pretty gosh darn good motor in the tip and bobs your uncle, put out on shelves. Or warehouses if you desire.
The other issue I have, is did they not test out this product? I would be keen to learn just how the testers rated the control panel. They buttons aren't really that bad, BUT you cannot change the intensity while it is in use. The Uma does come with a bunch of patterns, but because the pattern button is just way too hard to press, I have no idea what they are. And I am ok with that as I don't really dig patterns. The buttons are located on a strip of hard plastic on the base of the toy and in what I have come to cringe in all the Je Joue products I own, is the toy brush is a must while cleaning this toy. The plastic seal on the base of the unit, contains the buttons. When you go to wash Uma after use (with hot water and anti-bacterial soap), you need to scrub the base with a toy brush or else you run the risk of having your juices or lube getting all crusty in the seam.
Two things I really liked about the Uma is the hard plastic covered in medical grade silicone (which means water based lube while in use). I really liked how stiff the neck of the toy was; much different than the vr6 that could be bent in all sorts of angles- and how I could apply as much pressure as I wanted to my g-spot. The other part that I really must say Je Joue did remarkably well is that the motor is housed in the portion of the tip of the vibrator that strokes your g-spot so it provides direct stimulation where you need it without worry of loosing the intensity too much. I really liked how that motor is in the tip and not in the handle like for example Fun Factory toys. So there is more direct contact with your clit if you use it for clit play.
I adore the click n' charge (magnet) recharger that Uma has and that it is able to be used in any country in the world (110-240v). It really makes my life easier knowing that I can take Uma to Canada or keep him here in China and still be able to reuse him. With a two hour charge you usually get just over two hours of on-high-play time.
Experience
I ran out of room again...
Again, many have claimed that the Uma is the most powerful toy that they have encountered that was not plugged in. And I refuse and just cannot agree. He's powerful I will give him that, but not quite as powerful as the vr6. He has strange vibrations. They seem almost buzzy and deep thumpy at the same time. My g-spot loves this guy. But my clit? Not so much. I can have a clitoral orgasm from him, but it is not a satisfying orgasm. It prefers the vr6. If I have to rate him, and yes, I have too, I would give him a low to medium four on the vroom scale. If I had to rate his bee's; I'd say use him in your room with some tunes on, or in the bath tub because he is waterproof. Just to let the record know, that when he is recharging, I noticed a whine coming from where the magnets lined up and I would rate that at a one bee as it is more of a high pitched sound. According to all the reviews and even other sites, this is not a safety concern.
To be honest, I don't plan on eating him or snorting him in the long run but because this is a review, you have to check him out. Tasteless, and smell-less.
Personally; I am glad I bought this toy, and I hate to be so critical over a toy, but... I think he deserves some hype, but not the huge hype he is getting at the moment. I like the vibrations, but I find them to have a wee bit of buzz added to the deep thumping. When it comes to my body, my g-spot loves the Uma but my vagina wishes he weighed more, my clitoral orgasms just are not that deep and satisfying. I want more clit oomph and I find anything buzzy just does not make my clit very happy.
I recently published a huge g-spot comparison
blog post where I compared Fun Factory, Zini, Jopen, Je Joue and Lelo
.. I tore them apart and put them through the ringer. If you'd like to check it out, see further pictures, see it compared side by side to other toys, please feel free to check it out.
As many of you have come to expect, the standard photo comparison of Uma with some common and internationally sized products: Venus razor, Burt's Lip Balm, Uma and Maybelline mascara.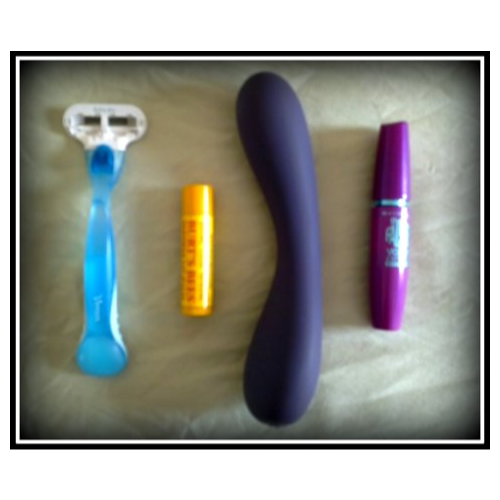 To conclude; Uma feels cheap. But Uma might feel cheap but he does not have a cheap motor. I do beleive a little more testing should have been done, I have had to return my Uma for a new one as there was some minor defects; the motor rattled a little, it would turn itself off if moved too quickly. These to me are design flaws and should not be in a finished product, and reading the reviews here, I am not the only one who has experienced this. This is why I have given the Uma a lower rank than other members.
Follow-up commentary
11 days after original review
I mentioned in my original review that I had to return mine due to it being defective. Due to some mis-communication, I will not be getting a replacement until Je Joue builds a model that has no defects or issues while in use like every other luxury brand out there.


This product was provided at a discounted price in exchange for an unbiased review. This review is in compliance with the FTC guidelines.

Thank you for viewing
Uma
– g-spot vibrator review page!