UMA - My New BFF, She does 3 somes!
You know you would only allow your absolute BFF and trust worthy friend to join in a 3 some with you and your partner. Uma is it!!! I have been willing to let her play with my husband, she likes to caress his scrotum. For weeks she has been under my pillow, on the counter, on the night stand. She never gets any rest. I will bring her out to the couch and play with her while watching TV. I am able to feel her through my clothes. No, I'm not to the point of taking her to work with me.
Published:
Pros:
Elegant
Rumbling and Powerful
Quiet
Sleek and Sexy
Cons:
NONE
UMA UMA UMA
Uma is a rumbling vibe, only in the sense of her vibe power, she is quiet and powerful, sleek and sexy. She has become one of my best friends. You know how you can even get made at your SO, Uma never makes me mad! She is great for clitoral stimulation and then she also goes diving for my g- spot. I know she wasn't meant to be double sided but when my husband inserted the end with the controls, I didn't complain. She does three somes, she likes to play with my husbands scrotal sac, especially the underside. He agrees she is a great partner for play. Uma could be used anally with a very careful partner . She has no real flared base and she could get carried away!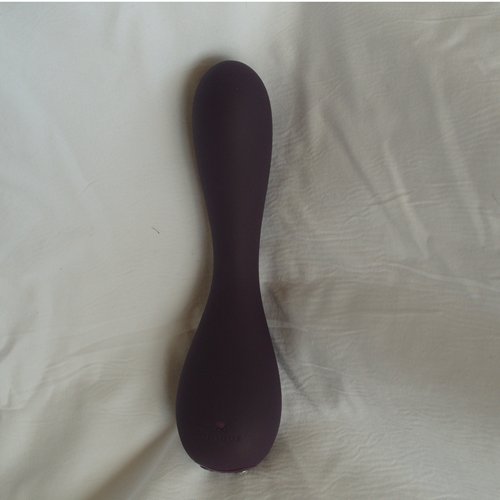 Uma is made of a matte finish silicone, She doesn't have any textures, just smooth. She has an Eden safety rating of 10. She is food grade, hypoallergenic, latex and phthalates free. Uma does have some drag due to the matte finish so just a touch of water based lube takes care of it. Please don't use any silicone lubes on her as it can hurt her finish. Uma doesn't come with any odors. She comes in a choice of purple, pink and lavender.
Uma is 7 inches long with 4 inches insertable. She is somewhat thin with a diameter of 1 ¼ inch. Her control area is 2 inches wide and basically 3 inches long. On her bottom is her + / ~ / - buttons. The plus and minus buttons are raised but the middle ~ button is level with her and has to be depressed to change her vibe patterns. These buttons can be tricky at times. You press the + button to turn her on and to increase the intensity of the vibrations and you press the - button to turn down the vibrations and to turn her off.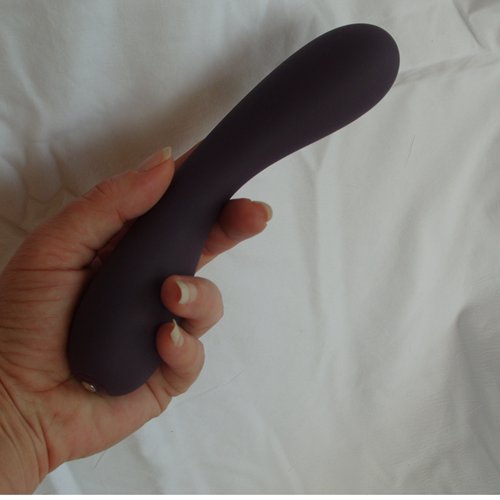 She has 5 intensity levels and 7 patterns. Uma is very quiet and she can't be heard from under the sheets.
Her patterns include:
1. Constant vibration
2. Constant Pulsing
3. Roller Coaster :)
4. Short pulsations
5. Medium intensity pulsations
6. Fast high pulsations
7. Long pulsations, stop and then restart. (kind of the wham stop wham version)
Uma cleans up easily with antibacterial soap and water, toy sprays, and Eden wipes. She is easy to clean since she is so smooth. She is completely waterproof. You can use her anywhere. Do not boil her or put her in the dishwasher as this may injure her internal workings. I wouldn't suggest submerging her in any cleaning solutions as soaking may hurt her finish. I really haven't had any issues wit her collect lint and hair as would be expected with silicone.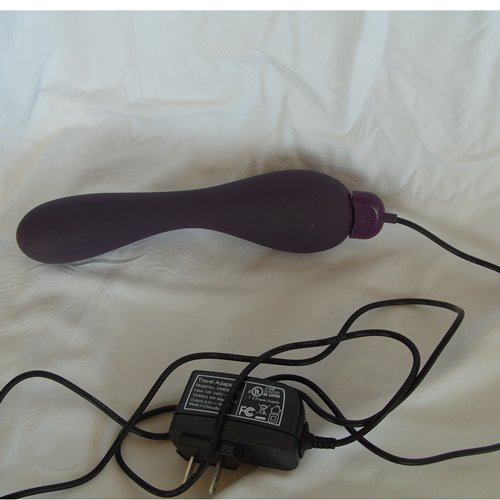 Uma is rechargeable so you don't have to worry about any battery issues such as running out of batteries or filling up land fills. She comes with a 54 inch long magnetic charging cable. You simply put the charging piece up to her and she grabs onto it. She takes approximately 2 hours to charge and she does for hours. She doesn't have any loss of power with usage. When she is charging she has a light that flashes and when she is fully charged her light stays constant. The light goes away after you disconnect the power cord. The Je Joue power cables are all the same and you can use one to charge all of your toys.
Uma actually hasn't made it to the drawer yet. She has been living under my pillow, on the bathroom counter on her drying towel and on my nightstand. I will be sure that when she actually does get put away that she is stored away from other silicone. I don't want to her mate.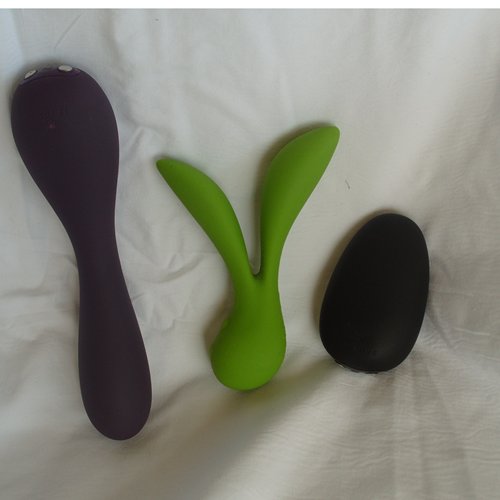 She isn't really discrete for traveling but I like her so much, Screw TSA if they know what she is for.
Uma comes elegantly dressed in a black box. There is an outer sleeve to her black box that states "stimulate MORE". They didn't lie with that marketing! The black box contains Uma, her charging cable and an owners manual.
Experience
UMA, UMA, UMA. I love this toy. I honestly haven't put her away for weeks. When we are relaxing watching movies I will bring her our and she becomes the foreplay piece that moves us into the bedroom. I use her alone, my husband uses her one me. I use Uma on him. She is Very versatile. When my husband had his first experience with anal play I used Uma on his scrotum to ease the tension. You know the child who drags his blankie? I drag my Uma around the house. Thank god she is waterproof since she gets really wet with my juices.
Follow-up commentary
4 months after original review
This is still one of my all time favorites!! I even own a back up. I would suggest this one to all toy users. My husband enjoys it almost as much as I do and I still drag it around the house. Sitting on the couch when the Children are in bed.
This content is the opinion of the submitting contributor and is not endorsed by EdenFantasys.com

Thank you for viewing
Uma
– g-spot vibrator review page!