Mr. Sexsmith Says: Strapped On Blow Jobs Are Deeply Pleasurable
April 06, 2012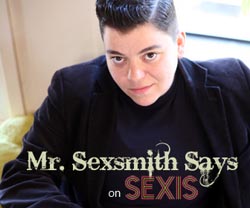 Just what is it about strap-on blow jobs that turns people on?
Dear Mr. Sexsmith,
When you're wearing your cock and harness, and your partner is sucking the cock, what kind of pleasure do you get from it? Call me an eejit, but I don't know how that works. Do you feel anything, is it just the sight of the partner sucking that is arousing, what does it generally do for the top? I've been wondering this for ages and hope you can give me an answer.

—Jill
Continue Reading "Mr. Sexsmith Says: Strapped On Blow Jobs Are Deeply Pleasurable"