A Handy-Dandy Guide to Penis Pumps: For Men
Part 1 - Your Cock; A Complete Owners Manual
Anatomy of Arousal and Ejaculation
Poll results

A Spooge Fun Fact Quiz
Part 1
What's the greatest number of ejaculations ever recorded by one man in an hour?
15%

(15)

15%

(15)

15%

(15)

15%

(15)
Total voted: 100

Poll results

A Spooge Fun Fact Quiz
Part 2
What's the greatest ever recorded distance a jet of jizz has traveled?
15%

(15)

15%

(15)

15%

(15)

15%

(15)
Total voted: 100

Poll results

A Spooge Fun Fact Quiz
Part 3
What's the average speed a man's spunk travels? (Clue: the average speed of a city bus is 25 miles per hour.)
15%

(15)

15%

(15)

15%

(15)

15%

(15)
Total voted: 100

Poll results

A Spooge Fun Fact Quiz
Part 4
What's the average volume of cum shot in an ejaculation?
15%

(15)

15%

(15)

15%

(15)

15%

(15)
Total voted: 100

Ok, so you think the outside of your junk is pretty impressive; well you ain't seen nothin' yet! Here's where things get really interesting. First, there is no "bone" in your boner. Don't laugh! Humans are one of the few mammals that don't have a penis bone; horses, donkeys, rhinoceros, marsupials, rabbits, whales and dolphins, elephants and hyenas are the others. Most males of other species have a unique bone called baculum in their penis. The baculum is designed for speed fucking. Sliding a bone in and out of a sheath is much faster than waiting for "hydraulics" to kick in. This enables our mammalian relatives to spend very little time actually mating; which is, after all, a vulnerable position for them to be in.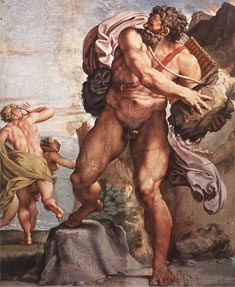 Acis and Galatea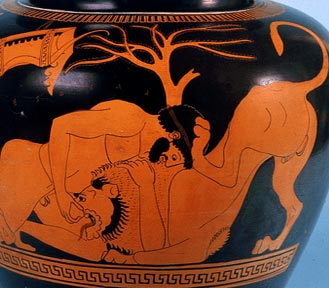 A)Heracles fighting against nemeian lion
If there's no bone in there, then what makes our dick hard? Good question. If you dissected your woody and looked at a cross-section you'd see three distinct spongy tubular structures, each are made up of smooth muscle tissue. Two of these tubular structures - one on either side of your cock; both of which run the length of your cock - are called the corpora cavernosa. These marvelous structures become engorged with blood lifting and thickening your cock to erection. The corpus spongiosum, the third tubular structure is located just below the corpora cavernosa. This baby houses your urethra, through which urine and semen pass during urination and ejaculation, respectively. This may also become slightly engorged with blood, but less so than the corpora cavernosa.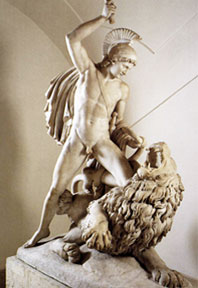 Bellerophone Fighting Chimaera
There are several points of interest in and around your balls too. I already mentioned your urethra, which stretches from your bladder to the tip of your dick. It carries your piss and cum, but not at the same time, I'm happy to report. Your prostate (Editor's note: To keep your prostate healthy use Prostate massagers) is an almond shaped gland that sits between your bladder and the root of your dick. Slightly behind this is a pair of glands called the seminal vesicles. These tubular glands open into the vas deferens as it enters the prostate gland. They secrete the lion's share of your spooge (ejaculate) about 70% to be precise. Most of us have two vas deferens tubes to correspond to the pair of balls (testicles) most of us have. These convey your mature sperm, the ones that have been comfortably relaxing in the epididymis, which is a tube-filled mass at the back of each of your balls.
Next: A Short History of Penis Enlargement Methods - and - The Mechanics of The Penis Pump