Types of Vibrators
Traditional Vibrators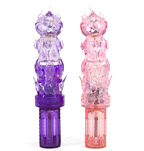 FlameVibrators - the most popular sex toys, mostly among women, as their shape resemble a penis and besides that, they also provide those sweet vibrations for incredibly delightful sensations. They can be applied both, either for your external hot spots or internal sensitive areas. In most cases, a traditional vibrator is a plastic, smooth, vibrating shaft for "in&out" motions covered with a lay of softer material for nicer sensations, just like the Flame. Some of them may also come with extra features, like G-spot stimulation or a realistic look, which is the case of Vibrating emperor.
Dual Action Vibrators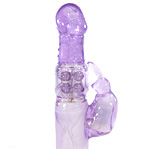 Rabbit Habit Dual action vibrator is a fantastic combination of two things going at the same time. The most popular and well-known dual action vibrators are, of course, Rabbit vibrators (we bet you've heard of them too). Their designers "hit the bull's eye" with these adult toys, as a large number of women desire exactly dual stimulation, clitoral and vaginal, going at once. One of our heroes, Rabbit Habit, a fancy vibrator that combines vibrating and twirling pearls for vaginal and G-spot stimulation with powerful, yet sensitive, vibrations for clitoral play. It also comes with several speeds and vibrating modes. It is a very unusual, but very pleasant, experience for trying this rabbit vibrator. It's only drawback, for some women, could be the noise level, a bit louder than other toys.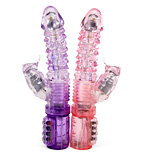 Sabi
Surprises go on with another amazing product Sabi. Although it's a bear who tickles your clit, be sure the "Winny Pooh" will get all "honey" out of you.
The easy-to-use control panel and multi functionality of Sabi will surely make the sex toy fun as good as it gets. Besides, it's splash-proof.
Clitoral Vibrators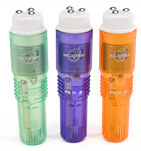 iVIBE pocket rocketMost of us are used to compare clitoral vibrators to an egg-shaped gizmo, connected via a wire to a remote control and getting their "life power" from a pack of batteries. Well, useless to say, but many modern models look somewhat else but an egg. They are more discreet nowadays and look more like a bullet, pocket flashlight or even resemble some lovely animals. Pocket Rocket range, the best example of what clitoral vibrators should be like - small, discreet, powerful. A splendid vibrator to try is I Vibe by Doc Johnson. After the very first use, you will start quivering only thinking of it. Powerful, yet very delicate, and rather quiet vibrator, it proved to be a real "gentlemen", if you know what I mean. The perfect adult toys to start with, recommended by many sex experts, clit vibrators can indulge ones but can be too powerful for others but it's enough to put a cloth over it to moderate the vibrations.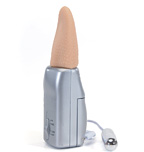 Mini tongue
In case you're looking for something more than just a vibrating sex toy, we recommend you the Tongue Vibrator or the Mini Tongue, with lifelike sensations of a cunnilingus. They look just like real tongues, made of ultra realistic materials, Jelly Rubber and Trueskin. The Mini Tongue also comes with a vibrating egg for a more delightful play.


Golden bumble Another product of the "adult industry revolution" are clit pumps, a real master piece that can help women achieve stronger orgasms in an easier way, by making it more sensitive through increasing the blood flow. What distinguishes clit pumps (and any other pumps) from other adult toys, is of course the suction cup, which fits perfectly over your clit and by pumping the handle you dive into the realistic sensations of oral sex. The Golden Bumble's is a pump that can give you all that pleasure as it comes with a vibrating egg for vaginal or anal stimulation.
G-Spot Vibrators
Still asking thyself, how on Earth you could reach a G-Spot orgasm? Well, thanks to G-Spot vibrators the answer is as clear and amazingly enjoyable, as one should be.


Rock-chick massager kit
Although the main purpose of these sex toys is to stimulate the G-Spot area (two inches inside the upper wall of the vagina), the Rock-Chick Silicone Personal Massager Kit has a double effect in its arsenal. Besides combining a blissful mixture of G-Spot stimulation, penetrating vagina with its curved end, and clitoral, as the other end tickles your clit for stronger sensations, it also comes equipped with its own wipes, cleaner and even lubricant.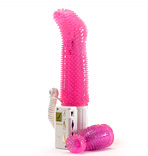 Pixie Plus Nevertheless, if you want a more traditional kind of G-Spot vibrator, allow us to introduce you to Pixie Plus. It's soft surface, covered with nodules, and specially curved tip, for a better contact with sensitive area, will surely amaze and rock your world.
The "Plus" standing in the name, is due to an additional vibrating suction cup that comes along with vibrator. It can be applied to you clit, nipples or any other area you decide deserves Pixie's attention.
Discreet
Incognito lipstick vibe
As times are changing, welcome to those days when you can take your favorite sex toys wherever you want, without getting embarrassed and uncomfortable. Lipstick vibrator, looks exactly the same as the real thing, but it's aim is to take you to a trip to "Pleasure Land", by means of its sexual vibrations. Another sex secret, accessible for both sexes, is Layaspot discreet vibrator. The customs officer will consider it nothing but a massager, whereas you will consider your best travel companion.
Waterproof
There is nothing in the whole world as pleasing as the amazing feeling of orgasm, while you're relaxing in a hot tub. But before you take your sex toys to the bathroom read carefully the instructions and make sure they are waterproof indeed. While choosing a vibrating waterproof sex toy, it is rather important for you to know that lifelike materials, like Cyberskin, Jelly Rubber and others, can be deteriorated by different chemical elements in pools and tubes.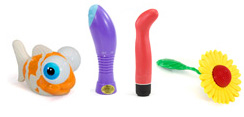 Waterproof vibrators Saltwater from your tap can also be an "enemy" for such types of vibrators. Lubricants play an extreme role in water fun as body fluids are easily dissolved in water and friction from pleasing can turn into annoying and even frustrating sensations. Water-based lubricants, as you may understand, are useless in this situation.
The last thing that is worth mentioning is: "Don't forget to dry off the vibrator after it rocked your world and bathroom"