The sexiest guy I have ever been intimate with is a free-spirited tree-hugger. This favorite playmate of mine (who use to work for Greenpeace and currently teaches urban kids about sustainable energy) knows how to shake my tree, if ya know what I mean. Anyway… needless to say, I find people with a "green" mentality to be very hot lovers.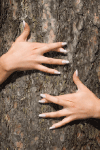 Environmentalists haven't always been considered sexy… but they should be. Why? Because they not only know how to satisfy and respect their lovers, but they do it while respecting nature. Now, I'm not saying you have to go out and have a wild, sweaty, hot love affair with a hippie, but there are a few things you can change about your sex life that can help out Mother Nature.
I, personally, have always been somewhat of the resident tree-hugging environmentalist here at Eden, but it seems I am not alone. All across the nation people are becoming more conscious about the issues concerning nature and pollution. America is finally catching up to the "green" movement that has been growing across the world. If you have been living under a rock for the past six months, a little documentary featuring a former US Vice President has brought issues of environmental importance to the forefront of national debate; issues which have not been ignored by the consumer marketplace. All this talk about hybrid cars and "green" products has been intergraded into all forms of industry, including the production of sex toys and adult novelties.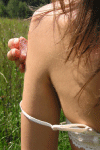 I have compiled a little look at sex toys and other adult products, available through EdenFantasys.com, which are environmentally friendly. This means the companies have consciously decreased waste produced by the products, or the product itself is biodegradable and will eventually return to the earth in a natural manner (not hang around in landfill for the rest of eternity).
Poll results

How many batteries do you use a month for sex toys?
15%

(15)

15%

(15)

15%

(15)

15%

(15)

15%

(15)
Total voted: 100

The simplest way you can help nature while helping yourself… STOP USING BATTERIES. Batteries contain some pretty toxic materials, none of which are particularly good for the planet and frankly, not good for you should they spring a leak. They are not biodegradable and will simply take up residence in a landfill or, worse yet, their chemicals will pollute if the outer shell is breached. If you get as much use out of your vibrators as I do, then you might want to save some money and the planet by purchasing a rechargeable or electric powered vibrator.
Products made of Meterial that, left to itself, will be decomposed by natural proceses. "biodegradable". The American Heritage® Dictionary of the English language, Fourth Edition. Houghton Mifflin Company, 2004. 22 Jun. 2007. or recyclable materials are also considered "green" and extremely sexy. Biodegradable items are made of wood, leather, natural fibers like cotton, and certain synthetic fibers like nylon. Many BDSM products are made of wood and/or leather; not only are these items super kinky and extremely strong, they are also made from material that will eventually decompose. But don't worry; you'll get more than enough use out of your flogger or paddle before is becomes compost. Toys made of Pyrex can be recycled conveniently, but silicone dildos, completely recyclable, are never processed because there aren't many easily accessible venues for the average person to hand in their old toys for recycling.

Using organic or natural lubricants and other sexual aides can not only benefit Mother Earth, but also your sensitive genital tissue. Many environmentally conscious people prefer to avoid using abrasive chemicals internally. Overall, these products tend to agree with our own body-chemistry more than synthetic products. The exceptions to this being the use of oil-based lubricants by women (a big no-no) and anyone with allergies to certain organic material (fruit for instance).

Taking care of the planet is not only smart and economical, but it's tremendously sexy. Nothing turns me on more than an earth conscious lover who wants to play with my "green" sex toys!