Care and Feeding of Your Vibrator
Keeping it lubed
Lubricants! A must-have ingredient for a delicate sex toy play, even if it seems to you that your own juices are enough to enjoy the fun, add a drop of lube for more pleasing sensations. Lubes give that silky touch and smooth glide for a more pleasant experience and also protect your skin from bacterias.


Astroglide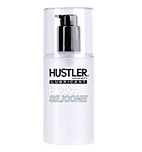 Lube hardcore silicon First of all what you'll have to remember is that water-based lubes, like Astroglide, can be used with any kind of adult toys but waterproof toys, they require silicone lubricant, as for example Lube hardcore silicone is. Secondly, though it'll sound quite paradoxical, never apply silicone lube on silicone toys – it will damage them. Also, never use water-based lubes during you fun in the bathroom. They will quickly dissolve in the water and it will turn into a waste of your money. Petroleum-based lubes can be used only with non-latex anal sex toys, as their main ingredient, petroleum, degrades soft materials and can provide irritating sensations to your vagina.
Keeping It Clean
What a sensational feeling of bliss, the marvel of Orgasm! And after all these, I'm now supposed to go and clean my vibrator? Well, you will have to do that, if you don't want to lose you favorite sex toy. The cleaning methods mostly depends on the material the toy is made of. Let's take a brief course on "How to clean my love machines?":
Silicone toys - use a soap with warm water or a toy cleaner;
Jelly Rubber toys - a splash of warm water and some cleaning solution for sex toys;
Elastomer toys - water and soap (and that's it);
Cyberskin (or other lifelike materials) toys - toy cleaner and warm water;
Glass, Acrylic or Plastic toys - some anti-bacterial toy cleaner on a washcloth or basic rubbing alcohol.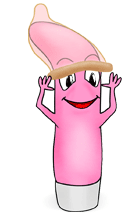 Nevertheless, putting a condom over your toy while playing with it, is the easiest way to maintain your vibrator clean. Please, also remember that condom use is compulsory when you're sharing a sex toy together with a partner or going to use it for mix fun, vaginal and anal sex, without cleaning it before changing orifices. Best storage room for you toys is a dry and cool place. High temperature and moisture can damage vibrators due to their soft and sensitive materials.
Vibrator Tips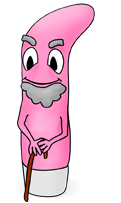 Allegedly, a large number of battery-driven vibrators have to "retire" short after they've been purchased. It is due to the sophisticated construction of their motors, made of many small parts that can easily deteriorate. If you use your favorite adult toy more than a quarter of an hour at maximum speed or more than half an hour at medium speed, it is rather probable that it may overheat and eventually burn out (there's nothing to worry about, it won't hurt but you can say "bye-bye" to your vibe). Same thing may happen to your coffee machine, when you set it to make coffee for 200 people non-stop. Hence, if you know you're a "marathon runner",make sure you have at hand more than one vibrator. Dual-action vibrators are even more sensitive. A fair and reasonable expectation would be 3 months, with a proper care and average frequency of usage. Finally, here's what you have to remember, the golden rule, the more a product costs, the more reliable it is.
For longer fun, it is better to use new batteries. Always make sure you fix them properly and there is nothing impeding a full contact with the wires. You can also rub the contact tips with an eraser, this usually helps providing a better connection. Another important thing you have to remember is that you have to remove the batteries after every usage. If you do so, the contacts will remain clean for longer period, on the one hand, and on the other, you will avoid a battery leakage and keep the batteries' lifespan much longer. An extra package of batteries will do its job when you vibrator needs power for another buzz.
Now Go Have Fun

Lesson's over. Class dismissed. And don't forget: "An orgasm a day keeps the bad mood away".